Kathmandu Bhadrapur Flight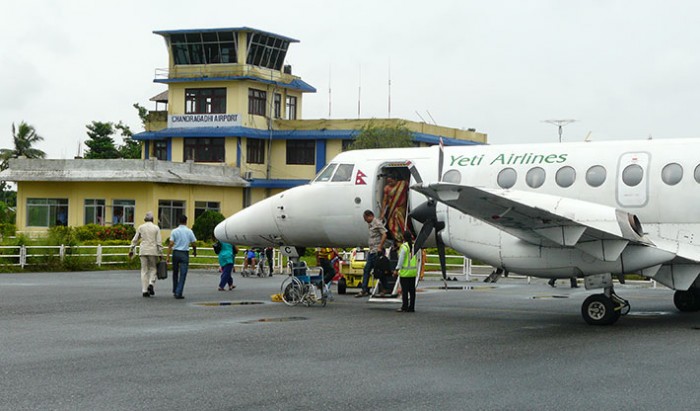 Bhadrapur is a beautiful town located in Jhapa district of southeast Nepal just at the west side of Mechi River. Bhadrapur is known as the oldest municipalities of Nepal and lies near the border of West Bengal of India. It is the center point for trekking into eastern Himalayan region like Illam, Panchthar, Taplejung, Kanchenjunga and Makalu Barun National Park.
Kathmandu Bhadrapur flights are only of 45 minutes which is full of scenic vistas of Himalayan Mountains, small villages, green valleys and forests, high hills, etc which gives you a quick access to Bhadrapur that lies close to India Border. Kathmandu Bhadrapur flights really are luxury despite the quite bumpy and uncomfortable roads to travel there by bus so Bhadrapur Airport is the ideal way to go Kakadvitta Border form where one can easily access India via Nepal. Likewise Kathmandu Bhadrapur flights gives access to Sikkim, Darjeeling and North east of India. Yeti Air and Buddha Air operated daily double flight for Bhadrapur from Kathmandu.
Flight Schedule
| Flight From | Flight To | Airlines | Flight No. | Flight Time | Arrival Time | |
| --- | --- | --- | --- | --- | --- | --- |
| Kathmandu | Pokhara | Yeti Airlines | YT 671 | 08:00:00 | 08:25:00 | |
| Kathmandu | Pokhara | Yeti Airlines | YT 673 | 08:05:00 | 08:30:00 | |
| Kathmandu | Pokhara | Buddha Air | U4 605 | 08:30:00 | 09:00:00 | |
| Kathmandu | Pokhara | Yeti Airlines | YT 675 | 09:10:00 | 09:35:00 | |
| Kathmandu | Pokhara | Buddha Air | U4 611 | 10:10:00 | 10:40:00 | |
| Kathmandu | Pokhara | Yeti Airlines | YT 677 | 10:50:00 | 11:15:00 | |
| Kathmandu | Pokhara | Buddha Air | U4 607 | 12:10:00 | 12:40:00 | |
| Kathmandu | Pokhara | Yeti Airlines | YT 679 | 12:30:00 | 12:55:00 | |
| Kathmandu | Pokhara | Buddha Air | U4 609 | 14:20:00 | 14:50:00 | |
| Kathmandu | Pokhara | Yeti Airlines | YT 683 | 14:50:00 | 15:15:00 | |
| Kathmandu | Pokhara | Yeti Airlines | YT 685 | 15:40:00 | 16:05:00 | |
| Pokhara | Kathmandu | Yeti Airlines | YT 672 | 08:45:00 | 09:10:00 | |
| Pokhara | Kathmandu | Yeti Airlines | YT 674 | 08:50:00 | 09:15:00 | |
| Pokhara | Kathmandu | Buddha Air | U4 606 | 09:20:00 | 09:50:00 | |
| Pokhara | Kathmandu | Yeti Airlines | YT 676 | 09:50:00 | 10:15:00 | |
| Pokhara | Kathmandu | Buddha Air | U4 612 | 11:00:00 | 11:30:00 | |
| Pokhara | Kathmandu | Yeti Airlines | YT 678 | 11:35:00 | 12:00:00 | |
| Pokhara | Kathmandu | Buddha Air | U4 608 | 13:00:00 | 13:30:00 | |
| Pokhara | Kathmandu | Yeti Airlines | YT 680 | 13:15:00 | 13:40:00 | |
| Pokhara | Kathmandu | Buddha Air | U4 610 | 15:10:00 | 15:40:00 | |
| Pokhara | Kathmandu | Yeti Airlines | YT 684 | 15:35:00 | 16:00:00 | |
| Pokhara | Kathmandu | Yeti Airlines | YT 686 | 16:25:00 | 16:50:00 | |
| Kathmandu | Bhairahawa | Yeti Airlines | 175 | 11:50:00 | 12:10:00 | |
| Bhairahawa | Kathmandu | Yeti Airlines | 176 | 12:30:00 | 12:50:00 | |
| Kathmandu | Dhangadhi | Yeti Airlines | 231 | 12:30:00 | 13:40:00 | |
| Dhangadhi | Kathmandu | Yeti Airlines | 232 | 14:00:00 | 15:10:00 | |
| Kathmandu | Mountain Flight | Yeti Airlines | 301 | 06:30:00 | 07:30:00 | |
| Kathmandu | Mountain Flight | Yeti Airlines | 302 | 06:30:00 | 07:30:00 | |
| Kathmandu | Mountain Flight | Yeti Airlines | 304 | 06:30:00 | 07:30:00 | |
| Kathmandu | Mountain Flight | Yeti Airlines | 305 | 06:35:00 | 07:35:00 | |
| Kathmandu | Mountain Flight | Yeti Airlines | 306 | 06:40:00 | 07:40:00 | |
| Kathmandu | Mountain Flight | Yeti Airlines | 307 | 06:45:00 | 07:45:00 | |
| Kathmandu | Mountain Flight | Yeti Airlines | 401 | 07:45:00 | 08:45:00 | |
| Kathmandu | Nepalgunj | Yeti Airlines | 421 | 09:20:00 | 10:15:00 | |
| Nepalgunj | Kathmandu | Yeti Airlines | 422 | 10:35:00 | 11:30:00 | |
| Kathmandu | Nepalgunj | Yeti Airlines | 423 | 15:50:00 | 16:45:00 | |
| Nepalgunj | Kathmandu | Yeti Airlines | 424 | 17:05:00 | 18:00:00 | |
| Kathmandu | Janakpur | Yeti Airlines | 571 | 10:30:00 | 10:55:00 | |
| Janakpur | Kathmandu | Yeti Airlines | 572 | 11:15:00 | 11:40:00 | |
| Kathmandu | Janakpur | Yeti Airlines | 573 | 15:40:00 | 16:05:00 | |
| Janakpur | Kathmandu | Yeti Airlines | 574 | 16:35:00 | 17:00:00 | |
| Kathmandu | Pokhara | Yeti Airlines | 681 | 14:10:00 | 14:35:00 | |
| Pokhara | Kathmandu | Yeti Airlines | 682 | 14:55:00 | 15:20:00 | |
| Kathmandu | Biratnagar | Yeti Airlines | 787 | 09:00:00 | 09:40:00 | |
| Biratnagar | Kathmandu | Yeti Airlines | 788 | 10:00:00 | 10:40:00 | |
| Kathmandu | Biratnagar | Yeti Airlines | 791 | 12:00:00 | 12:40:00 | |
| Biratnagar | Kathmandu | Yeti Airlines | 792 | 13:00:00 | 13:40:00 | |
| Kathmandu | Biratnagar | Yeti Airlines | 793 | 14:30:00 | 15:10:00 | |
| Biratnagar | Kathmandu | Yeti Airlines | 794 | 15:30:00 | 16:10:00 | |
| Kathmandu | Biratnagar | Yeti Airlines | 797 | 16:40:00 | 17:20:00 | |
| Biratnagar | Kathmandu | Yeti Airlines | 798 | 17:40:00 | 18:20:00 | |
| Kathmandu | Bhairahawa | Yeti Airlines | 891 | 09:20:00 | 09:50:00 | |
| Bhairahawa | Kathmandu | Yeti Airlines | 892 | 10:10:00 | 10:40:00 | |
| Kathmandu | Bhairahawa | Yeti Airlines | 893 | 16:30:00 | 17:00:00 | |
| Bhairahawa | Kathmandu | Yeti Airlines | 894 | 17:20:00 | 17:50:00 | |
| Kathmandu | Bhadrapur | Yeti Airlines | 921 | 10:10:00 | 10:55:00 | |
| Bhadrapur | Kathmandu | Yeti Airlines | 922 | 11:15:00 | 12:00:00 | |
| Kathmandu | Bhadrapur | Yeti Airlines | 925 | 13:50:00 | 14:35:00 | |
| Bhadrapur | Kathmandu | Yeti Airlines | 926 | 14:55:00 | 15:40:00 | |
| Kathmandu | Tumlingtar | Yeti Airlines | 751 | 11:10:00 | 11:45:00 | |
| Tumlingtar | Kathmandu | Yeti Airlines | 752 | 12:05:00 | 12:40:00 | |
| Kathmandu | Mountain Flight | Buddha Air | U4 102 | 06:15:00 | 07:15:00 | |
| Kathmandu | Mountain Flight | Buddha Air | U4 104 | 06:15:00 | 07:15:00 | |
| Kathmandu | Mountain Flight | Buddha Air | U4 100 | 06:15:00 | 07:15:00 | |
| Kathmandu | Mountain Flight | Buddha Air | U4 201 | 07:15:00 | 08:15:00 | |
| Kathmandu | Mountain Flight | Buddha Air | U4 202 | 07:15:00 | 08:15:00 | |
| Kathmandu | Mountain Flight | Buddha Air | U4 203 | 07:15:00 | 08:15:00 | |
| Kathmandu | Mountain Flight | Yeti Airlines | U4 204 | 08:00:00 | 09:00:00 | |
| Kathmandu | Bhadrapur | Buddha Air | U4 951 | 10:00:00 | 10:50:00 | |
| Kathmandu | Bhadrapur | Buddha Air | U4 953 | 13:40:00 | 14:30:00 | |
| Kathmandu | Bhairahawa | Buddha Air | U4 851 | 09:00:00 | 09:35:00 | |
| Kathmandu | Bhairahawa | Buddha Air | U4 853 | 13:30:00 | 14:05:00 | |
| Kathmandu | Bhairahawa | Buddha Air | U4 855 | 16:40:00 | 17:15:00 | |
| Kathmandu | Bharatpur | Buddha Air | U4 351 | 10:50:00 | 11:10:00 | |
| Kathmandu | Bharatpur | Buddha Air | U4 353 | 14:20:00 | 14:40:00 | |
| Kathmandu | Biratnagar | Buddha Air | U4 703 | 07:45:00 | 08:25:00 | |
| Kathmandu | Biratnagar | Buddha Air | U4 705 | 10:00:00 | 10:40:00 | |
| Kathmandu | Biratnagar | Buddha Air | U4 707 | 12:20:00 | 13:00:00 | |
| Kathmandu | Biratnagar | Buddha Air | U4 709 | 14:40:00 | 15:20:00 | |
| Kathmandu | Biratnagar | Buddha Air | U4 713 | 15:50:00 | 16:30:00 | |
| Kathmandu | Biratnagar | Buddha Air | U4 711 | 16:50:00 | 17:30:00 | |
| Kathmandu | Dhangadi | Buddha Air | U4 251 | 12:30:00 | 13:40:00 | |
| Kathmandu | Janakpur | Buddha Air | U4 501 | 09:30:00 | 09:55:00 | |
| Kathmandu | Janakpur | Buddha Air | U4 505 | 15:10:00 | 15:35:00 | |
| Kathmandu | Nepalgunj | Buddha Air | U4 451 | 08:00:00 | 09:00:00 | |
| Kathmandu | Nepalgunj | Buddha Air | U4 405 | 16:10:00 | 17:10:00 | |
| Kathmandu | Pokhara | Yeti Airlines | U4 601 | 07:40:00 | 08:10:00 | |
| Kathmandu | Pokhara | Buddha Air | U4 603 | 08:30:00 | 09:00:00 | |
| Kathmandu | Pokhara | Buddha Air | U4 617 | 15:20:00 | 15:50:00 | |
| Kathmandu | Simara | Buddha Air | U4 551 | 09:30:00 | 09:45:00 | |
| Kathmandu | Simara | Buddha Air | U4 553 | 10:30:00 | 10:45:00 | |
| Kathmandu | Simara | Buddha Air | U4 555 | 12:00:00 | 12:15:00 | |
| Kathmandu | Simara | Buddha Air | U4 559 | 14:00:00 | 14:15:00 | |
| Kathmandu | Simara | Buddha Air | U4 561 | 15:00:00 | 15:15:00 | |
| Kathmandu | Simara | Buddha Air | U4 563 | 16:00:00 | 16:15:00 | |
| Kathmandu | Surkhet | Buddha Air | U4 133 | 13:10:00 | 14:15:00 | |
| Kathmandu | Tumlingtar | Buddha Air | U4 281 | 10:20:00 | 10:55:00 | |
| Bhadrapur | Kathmandu | Buddha Air | U4 952 | 11:15:00 | 12:05:00 | |
| Bhadrapur | Kathmandu | Buddha Air | U4 954 | 14:55:00 | 15:45:00 | |
| Bhairahawa | Kathmandu | Buddha Air | U4 852 | 09:55:00 | 10:30:00 | |
| Bhairahawa | Kathmandu | Buddha Air | U4 854 | 14:20:00 | 14:55:00 | |
| Bhairahawa | Kathmandu | Buddha Air | U4 856 | 17:35:00 | 18:10:00 | |
| Bharatpur | Kathmandu | Buddha Air | U4 352 | 11:30:00 | 11:50:00 | |
| Bharatpur | Kathmandu | Buddha Air | U4 356 | 14:55:00 | 15:15:00 | |
| Biratnagar | Kathmandu | Buddha Air | U4 704 | 08:50:00 | 09:30:00 | |
| Biratnagar | Kathmandu | Buddha Air | U4 706 | 11:05:00 | 11:45:00 | |
| Biratnagar | Kathmandu | Buddha Air | U4 708 | 13:25:00 | 14:05:00 | |
| Biratnagar | Kathmandu | Buddha Air | U4 710 | 15:45:00 | 16:25:00 | |
| Biratnagar | Kathmandu | Buddha Air | U4 714 | 16:50:00 | 17:30:00 | |
| Biratnagar | Kathmandu | Buddha Air | U4 712 | 17:55:00 | 18:35:00 | |
| Biratnagar | Tumlingtar | Buddha Air | U4 692 | 11:45:00 | 12:00:00 | |
| Dhangadhi | Kathmandu | Buddha Air | U4 252 | 14:05:00 | 15:15:00 | |
| Janakpur | Kathmandu | Buddha Air | U4 502 | 10:15:00 | 10:40:00 | |
| Janakpur | Kathmandu | Buddha Air | U4 506 | 15:55:00 | 16:20:00 | |
| Nepalgunj | Kathmandu | Buddha Air | U4 452 | 09:20:00 | 10:20:00 | |
| Nepalgunj | Kathmandu | Buddha Air | U4 406 | 17:40:00 | 18:40:00 | |
| Pokhara | Kathmandu | Buddha Air | U4 602 | 08:30:00 | 09:00:00 | |
| Pokhara | Kathmandu | Buddha Air | U4 618 | 16:10:00 | 16:40:00 | |
| Simara | Kathmandu | Buddha Air | U4 552 | 09:50:00 | 10:05:00 | |
| Simara | Kathmandu | Buddha Air | U4 554 | 10:50:00 | 11:05:00 | |
| Simara | Kathmandu | Buddha Air | U4 556 | 12:20:00 | 12:35:00 | |
| Simara | Kathmandu | Buddha Air | U4 560 | 14:20:00 | 14:35:00 | |
| Simara | Kathmandu | Buddha Air | U4 562 | 15:20:00 | 15:35:00 | |
| Simara | Kathmandu | Buddha Air | U4 564 | 16:20:00 | 16:35:00 | |
| Surkhet | Kathmandu | Buddha Air | U4 134 | 14:30:00 | 15:35:00 | |
| Tumlingtar | Biratnagar | Buddha Air | U4 691 | 11:10:00 | 11:25:00 | |
| Tumlingtar | Kathmandu | Buddha Air | U4 282 | 12:20:00 | 12:55:00 | |
| Kathmandu | Lukla | Simrik Airlines | RMK-102 | 07:15:00 | 07:45:00 | |
| Kathmandu | Lukla | Simrik Airlines | RMK-103 | 08:00:00 | 08:30:00 | |
| Lukla | Kathmandu | Simrik Airlines | RMK-104 | 08:45:00 | 09:15:00 | |
| Kathmandu | Lukla | Simrik Airlines | RMK-105 | 09:30:00 | 10:00:00 | |
| Lukla | Kathmandu | Simrik Airlines | RMK-106 | 10:15:00 | 10:45:00 | |
| Kathmandu | Lukla | Simrik Airlines | RMK-107 | 11:00:00 | 11:30:00 | |
| Lukla | Kathmandu | Simrik Airlines | RMK-108 | 11:45:00 | 12:15:00 | |
| Kathmandu | Lukla | Simrik Airlines | RMK-109 | 14:00:00 | 14:30:00 | |
| Lukla | Kathmandu | Simrik Airlines | RMK-110 | 14:45:00 | 15:15:00 | |
| Kathmandu | Lukla | Simrik Airlines | RMK-301 | 06:30:00 | 07:00:00 | |
| Lukla | Kathmandu | Simrik Airlines | RMK-302 | 07:15:00 | 07:45:00 | |
| Kathmandu | Lukla | Simrik Airlines | RMK-303 | 08:00:00 | 08:30:00 | |
| Lukla | Kathmandu | Simrik Airlines | RMK-304 | 08:45:00 | 09:15:00 | |
| Kathmandu | Lukla | Simrik Airlines | RMK-305 | 09:30:00 | 10:00:00 | |
| Lukla | Kathmandu | Simrik Airlines | RMK-306 | 10:15:00 | 10:45:00 | |
| Kathmandu | Lukla | Simrik Airlines | RMK-307 | 11:00:00 | 11:30:00 | |
| Lukla | Kathmandu | Simrik Airlines | RMK-308 | 11:45:00 | 12:15:00 | |
| Phaplu | Kathmandu | Goma Air | GMA416 | 13:00:00 | 13:30:00 | |
| Pokhara | Jomsom | Tara Air | TA - CHT | 06:00:00 | 06:20:00 | |
| Jomsom | Pokhara | Tara Air | TA- CHT | 06:25:00 | 06:45:00 | |
| Pokhara | Jomsom | Tara Air | TA - CHT | 06:50:00 | 07:10:00 | |
| Jomsom | Pokhara | Tara Air | TA - CHT | 07:15:00 | 07:30:00 | |
| Pokhara | Jomsom | Tara Air | TA - CHT | 07:40:00 | 07:55:00 | |
| Jomsom | Pokhara | Tara Air | TA-CHT | 08:00:00 | 08:15:00 | |
| Kathmandu | Khanedada | Goma Air | GAM115 | 14:00:00 | 14:30:00 | |
| Kathmandu | Mountain Flight | Saurya Airlines | S1-101 | 06:30:00 | 07:15:00 | |
| Kathmandu | Mountain Flight | Saurya Airlines | S1-604 | 07:30:00 | 08:15:00 | |
| Kathmandu | Mountain Flight | Saurya Airlines | S1-605 | 07:30:00 | 08:15:00 | |
| Kathmandu | Mountain Flight | Saurya Airlines | S1-601 | 06:30:00 | 07:15:00 | |
| Kathmandu | Mountain Flight | Saurya Airlines | S1-602 | 06:30:00 | 07:15:00 | |
| Kathmandu | Taplejung | Goma Air | GMA118 | 10:30:00 | 11:20:00 | |
| Taplejung | Kathmandu | Goma Air | 119 | 11:35:00 | 12:20:00 | |
| Kathmandu | Tumlingtar | Goma Air | GMA101 | 13:00:00 | 13:40:00 | |
| Tumlingtar | Kahmandu | Goma Air | Gma102 | 13:54:00 | 14:35:00 | |
| Kathmandu | Biratnagar | Saurya Airlines | S1-801 | 09:00:00 | 09:40:00 | |
| Biratnagar | Kathmandu | Saurya Airlines | S1-802 | 09:50:00 | 10:30:00 | |
| Kathmandu | Biratnagar | Saurya Airlines | S1-805 | 12:30:00 | 13:10:00 | |
| Biratnagar | Kathmandu | Saurya Airlines | S1-806 | 13:20:00 | 13:50:00 | |
| Kathmandu | Biratnagar | Saurya Airlines | S1-807 | 16:30:00 | 17:05:00 | |
| Biratnagar | Kathmandu | Saurya Airlines | S1-808 | 17:20:00 | 18:55:00 | |
| Kathmandu | Bhadrapur | Saurya Airlines | S1-901 | 10:30:00 | 11:20:00 | |
| Bhadrapur | Kathmandu | Saurya Airlines | S1-902 | 11:30:00 | 12:20:00 | |
| Kathmandu | Bhadrapur | Saurya Airlines | S1-903 | 12:50:00 | 13:40:00 | |
| Bhadrapur | Kathmandu | Saurya Airlines | S1-904 | 13:50:00 | 14:40:00 | |
| Nepalgunj | Talcha | Goma Air | GMA151 | 08:30:00 | 09:39:00 | |
| Humla | Nepalgunj | Goma Air | GMA142 | 07:30:00 | 08:15:00 | |
| Nepalgunj | Humla | Goma Air | GMA141 | 06:30:00 | 07:15:00 | |
| Kathmandu | Lukla | Tara Airlines | TA 103 | 06:35:00 | 07:10:00 | |
| Kathmandu | Lukla | Tara Airlines | TA CHT | 06:40:00 | 07:15:00 | |
| Kathmandu | Lukla | Tara Airlines | TA CHT | 08:10:00 | 08:45:00 | |
| Kathmandu | Lukla | Tara Airlines | TA CHT | 08:15:00 | 08:50:00 | |
| Kathmandu | Lukla | Tara Airlines | TA CHT | 08:20:00 | 08:55:00 | |
| Kathmandu | Lukla | Tara Airlines | TA CHT | 09:50:00 | 10:25:00 | |
| Kathmandu | Lukla | Tara Airlines | TA CHT | 11:30:00 | 12:05:00 | |
| Kathmandu | Lukla | Tara Airlines | TA CHT | 11:35:00 | 12:10:00 | |
| Kathmandu | Lukla | Tara Airlines | TA CHT | 11:40:00 | 12:15:00 | |
| Kathmandu | Lukla | Tara Airlines | TA CHT | 13:20:00 | 13:55:00 | |
| Kathmandu | Phaplu | Tara Airlines | TA 181 (1,5) | 09:55:00 | 10:30:00 | |
| Kathmandu | Lamidanda | Tara Airlines | TA 191 (3,7) | 10:00:00 | 10:35:00 | |
| Kathmandu | Ramechhap | Tara Airlines | TA 431 (5) | 13:05:00 | 13:30:00 | |
| Lukla | Kathmandu | Tara Airlines | TA CHT | 07:25:00 | 08:00:00 | |
| Lukla | Kathmandu | Tara Airlines | TA CHT | 07:30:00 | 08:05:00 | |
| Lukla | Kathmandu | Tara Airlines | TA CHT | 09:00:00 | 09:35:00 | |
| Lukla | Kathmandu | Tara Airlines | TA CHT | 09:05:00 | 09:40:00 | |
| Lukla | Kathmandu | Tara Airlines | TA CHT | 09:10:00 | 09:45:00 | |
| Lukla | Kathmandu | Tara Airlines | TA CHT | 10:40:00 | 11:15:00 | |
| Lukla | Kathmandu | Tara Airlines | TA CHT | 12:20:00 | 12:55:00 | |
| Lukla | Kathmandu | Tara Airlines | TA CHT | 12:25:00 | 13:00:00 | |
| Lukla | Kathmandu | Tara Airlines | TA CHT | 12:30:00 | 13:05:00 | |
| Lukla | Kathmandu | Tara Airlines | TA CHT | 14:10:00 | 14:45:00 | |
| Phaplu | Kathmandu | Tara Airlines | TA 182 (1,5) | 10:45:00 | 11:20:00 | |
| Lamidanda | Kathmandu | Tara Airlines | TA 192 (3,7) | 10:50:00 | 11:25:00 | |
| Ramechhap | Kathmandu | Tara Airlines | TA 432 (5) | 15:10:00 | 15:35:00 | |
| Nepalgunj | Dolpo | Tara Airlines | TA 717 (1) | 06:30:00 | 07:15:00 | |
| Nepalgunj | Rara | Tara Airlines | TA 715 (5) | 06:30:00 | 07:20:00 | |
| Nepalgunj | Simikot | Tara Airlines | TA 711 (4) | 06:30:00 | 07:30:00 | |
| Nepalgunj | Jumla | Tara Airlines | TA 713 (6) | 06:30:00 | 07:15:00 | |
| Nepalgunj | Bajura | Tara Airlines | TA 722 (3) | 06:30:00 | 07:05:00 | |
| Dolpo | Nepalgunj | Tara Airlines | TA 718 (1) | 07:30:00 | 08:15:00 | |
| Rara | Nepalgunj | Tara Airlines | TA 716 (5) | 07:35:00 | 08:25:00 | |
| Simikot | Nepalgunj | Tara Airlines | TA 712 (4) | 07:45:00 | 08:45:00 | |
| Jumla | Nepalgunj | Tara Airlines | TA 714 (6) | 07:30:00 | 08:15:00 | |
| Bajura | Nepalgunj | Tara Airlines | TA 722 (3) | 07:20:00 | 07:55:00 | |
| Surkhet | Simikot | Tara Airlines | TA 719 (7) | 06:30:00 | 07:15:00 | |
| Surkhet | Dolpo | Tara Airlines | TA 709 (2) | 06:30:00 | 07:10:00 | |
| Surkhet | Jumla | Tara Airlines | TA 723 (2) | 08:20:00 | 08:45:00 | |
| Simikot | Surkhet | Tara Airlines | TA 720 (7) | 07:30:00 | 08:15:00 | |
| Dolpo | Surkhet | Tara Airlines | TA 710 (2) | 07:25:00 | 08:05:00 | |
| Jumla | Surkhet | Tara Airlines | TA 724 (3) | 09:00:00 | 09:25:00 | |
| Kathmandu | Pokhara | Tara Airlines | TA 227 | 15:30:00 | 16:00:00 | |
| Kathmandu | Lukla | Tara Airlines | TA 095 | 06:30:00 | 07:00:00 | |
| Kathmandu | Lukla | Tara Airlines | TA 097 | 08:00:00 | 08:30:00 | |
| Kathmandu | Lukla | Tara Airlines | TA 099 | 09:30:00 | 10:00:00 | |
| Lukla | Kathmandu | Tara Airlines | TA 096 | 07:15:00 | 07:45:00 | |
| Lukla | Kathmandu | Tara Airlines | TA 098 | 08:45:00 | 09:15:00 | |
| Lukla | Kathmandu | Tara Airlines | TA 100 | 10:15:00 | 10:45:00 | |
| Pokhara | Kathmandu | Tara Airlines | TA 228 | 09:30:00 | 10:00:00 | |
| Pokhara | Jomsom | Tara Airlines | TA 193 | 06:30:00 | 06:50:00 | |
| Jomsom | Pokhara | Tara Airlines | TA 194 | 07:05:00 | 07:25:00 | |
| Kathmandu | Mountain Flight | Simrik Airlines | SMA -100 | 06:30:00 | 07:30:00 | |
| Kathmandu | Mountain Flight | Simrik Airlines | SMA-102 | 06:30:00 | 07:30:00 | |
| Kathmandu | Mountain Flight | Simrik Airlines | SMA-200 | 07:45:00 | 08:45:00 | |
| Kathmandu | Mountain Flight | Simrik Airlines | SMA-201 | 07:45:00 | 08:45:00 | |
| Kathmandu | Pokhara | Simrik Airlines | SMA-151 | 10:00:00 | 10:25:00 | |
| Kathmandu | Pokhara | Simrik Airlines | SMA-153 | 12:00:00 | 12:25:00 | |
| Kathmandu | Pokhara | Simrik Airlines | SMA-155 | 14:00:00 | 14:25:00 | |
| Pokhara | Kathmandu | Simrik Airlines | SMA-152 | 10:45:00 | 11:10:00 | |
| pokhara | Kathmandu | Simrik Airlines | SMA-154 | 12:45:00 | 13:10:00 | |
| Pokhara | Kathmadnu | Simrik Airlines | SMA-156 | 14:45:00 | 15:10:00 | |
| Kathmandu | Bhairahwa | Simrik Airlines | SMA-171 | 12:15:00 | 13:55:00 | |
| Bhairahwa | Kathmandu | Simrik Airlines | SMA-172 | 13:05:00 | 12:35:00 | |
| Kathmadu | Simara | Simrik Airlines | SMA-113 | 15:15:00 | 15:30:00 | |
| Simara | Kathmandu | Simrik Airlines | SMA-114 | 15:45:00 | 16:00:00 | |
| Pokhara | Jomsom | Simrik Airlines | RMK 1 | 06:30:00 | 06:45:00 | |
| Pokhara | Jomsom | Simrik Airlines | RMK 3 | 00:07:05 | 00:07:20 | |
| Jomsom | Pokhara | Simrik Airlines | RMK 2 | 06:50:00 | 06:55:00 | |
| Jomsom | Pokhara | Simrik Airlines | RMK 4 | 07:20:00 | 07:35:00 | |
| Kathmandu | Lukla | Goma Air | GMA402 | 07:10:00 | 07:40:00 | |
| Lukla | Kathmandu | Goma Air | GMA401 | 06:30:00 | 07:00:00 | |
| Kathmandu | Lukla | Goma Air | GAM403 | 07:55:00 | 08:24:00 | |
| Lukla | Kathmandu | Goma Air | GAM404 | 08:35:00 | 09:05:00 | |
| Kathmandu | Lukla | Goma Air | GMA405 | 09:20:00 | 09:50:00 | |
| Lukla | Kathmandu | Goma Air | GMA406 | 10:00:00 | 10:30:00 | |
| Kathmandu | Lukla | Goma Air | GMA407 | 10:40:00 | 11:09:00 | |
| Lukla | Kathmandu | Goma Air | GMA408 | 11:20:00 | 11:50:00 | |
| Phaplu | Kathmandu | Goma Air | GMA415 | 12:30:00 | 13:00:00 | |
| Khidanda | Kathmandu | Goma Air | GMA116 | 13:00:00 | 13:30:00 | |
| Talcha | Nepalgunj | Goma Air | GMA152 | 09:50:00 | 10:30:00 | |
| Nepalguj | Jumla | Goma Air | GMA161 | 14:00:00 | 14:35:00 | |
| Jumla | Nepalgunj | Goma Air | GMA162 | 14:45:00 | 15:20:00 | |
| Nepalgunj | Bajura | Goma Air | GMA171 | 11:45:00 | 12:20:00 | |
| Bajura | Nepalgunj | Goma Air | GMA172 | 12:30:00 | 13:05:00 | |
| Pokhara | Jomsom | Goma Air | GA 602 | 00:06:30 | 00:06:45 | |
| Pokhara | Jomsom | Goma Air | GA 604 | 00:06:50 | 00:07:05 | |
| Pokhara | Jomsom | Goma Air | GA 606 | 00:08:05 | 00:08:20 | |
| Jomsom | Pokhara | Goma Air | GA 602 | 00:06:45 | 00:07:00 | |
| Jomsom | Pokhara | Goma Air | GA 603 | 00:06:50 | 00:07:05 | |
| Jomsom | Pokhara | Goma Air | GA 605 | 00:08:30 | 00:08:45 | |
| Pokhara | Bharatpur | Buddha Air | 641 | 00:00:10 | 00:00:10 | |
| Bharatpur | Pokhara | Buddha Air | 642 | 00:00:10 | 00:00:11 | |
| Pokhara | Bhairahwa | Buddha Air | 681 | 00:00:11 | 00:00:11 | |
| Bhairahwa | Pokhara | Buddha Air | 682 | 00:00:11 | 00:00:13 | |
Flight Schedule
| Flight From | Flight To | Airlines | Flight No. | Flight Time | Arrival Time | |
| --- | --- | --- | --- | --- | --- | --- |
| Kathmandu | Pokhara | Yeti Airlines | YT 671 | 08:00:00 | 08:25:00 | |
| Kathmandu | Pokhara | Yeti Airlines | YT 673 | 08:05:00 | 08:30:00 | |
| Kathmandu | Pokhara | Buddha Air | U4 605 | 08:30:00 | 09:00:00 | |
| Kathmandu | Pokhara | Yeti Airlines | YT 675 | 09:10:00 | 09:35:00 | |
| Kathmandu | Pokhara | Buddha Air | U4 611 | 10:10:00 | 10:40:00 | |
| Kathmandu | Pokhara | Yeti Airlines | YT 677 | 10:50:00 | 11:15:00 | |
| Kathmandu | Pokhara | Buddha Air | U4 607 | 12:10:00 | 12:40:00 | |
| Kathmandu | Pokhara | Yeti Airlines | YT 679 | 12:30:00 | 12:55:00 | |
| Kathmandu | Pokhara | Buddha Air | U4 609 | 14:20:00 | 14:50:00 | |
| Kathmandu | Pokhara | Yeti Airlines | YT 683 | 14:50:00 | 15:15:00 | |
| Kathmandu | Pokhara | Yeti Airlines | YT 685 | 15:40:00 | 16:05:00 | |
| Pokhara | Kathmandu | Yeti Airlines | YT 672 | 08:45:00 | 09:10:00 | |
| Pokhara | Kathmandu | Yeti Airlines | YT 674 | 08:50:00 | 09:15:00 | |
| Pokhara | Kathmandu | Buddha Air | U4 606 | 09:20:00 | 09:50:00 | |
| Pokhara | Kathmandu | Yeti Airlines | YT 676 | 09:50:00 | 10:15:00 | |
| Pokhara | Kathmandu | Buddha Air | U4 612 | 11:00:00 | 11:30:00 | |
| Pokhara | Kathmandu | Yeti Airlines | YT 678 | 11:35:00 | 12:00:00 | |
| Pokhara | Kathmandu | Buddha Air | U4 608 | 13:00:00 | 13:30:00 | |
| Pokhara | Kathmandu | Yeti Airlines | YT 680 | 13:15:00 | 13:40:00 | |
| Pokhara | Kathmandu | Buddha Air | U4 610 | 15:10:00 | 15:40:00 | |
| Pokhara | Kathmandu | Yeti Airlines | YT 684 | 15:35:00 | 16:00:00 | |
| Pokhara | Kathmandu | Yeti Airlines | YT 686 | 16:25:00 | 16:50:00 | |
| Kathmandu | Bhairahawa | Yeti Airlines | 175 | 11:50:00 | 12:10:00 | |
| Bhairahawa | Kathmandu | Yeti Airlines | 176 | 12:30:00 | 12:50:00 | |
| Kathmandu | Dhangadhi | Yeti Airlines | 231 | 12:30:00 | 13:40:00 | |
| Dhangadhi | Kathmandu | Yeti Airlines | 232 | 14:00:00 | 15:10:00 | |
| Kathmandu | Mountain Flight | Yeti Airlines | 301 | 06:30:00 | 07:30:00 | |
| Kathmandu | Mountain Flight | Yeti Airlines | 302 | 06:30:00 | 07:30:00 | |
| Kathmandu | Mountain Flight | Yeti Airlines | 304 | 06:30:00 | 07:30:00 | |
| Kathmandu | Mountain Flight | Yeti Airlines | 305 | 06:35:00 | 07:35:00 | |
| Kathmandu | Mountain Flight | Yeti Airlines | 306 | 06:40:00 | 07:40:00 | |
| Kathmandu | Mountain Flight | Yeti Airlines | 307 | 06:45:00 | 07:45:00 | |
| Kathmandu | Mountain Flight | Yeti Airlines | 401 | 07:45:00 | 08:45:00 | |
| Kathmandu | Nepalgunj | Yeti Airlines | 421 | 09:20:00 | 10:15:00 | |
| Nepalgunj | Kathmandu | Yeti Airlines | 422 | 10:35:00 | 11:30:00 | |
| Kathmandu | Nepalgunj | Yeti Airlines | 423 | 15:50:00 | 16:45:00 | |
| Nepalgunj | Kathmandu | Yeti Airlines | 424 | 17:05:00 | 18:00:00 | |
| Kathmandu | Janakpur | Yeti Airlines | 571 | 10:30:00 | 10:55:00 | |
| Janakpur | Kathmandu | Yeti Airlines | 572 | 11:15:00 | 11:40:00 | |
| Kathmandu | Janakpur | Yeti Airlines | 573 | 15:40:00 | 16:05:00 | |
| Janakpur | Kathmandu | Yeti Airlines | 574 | 16:35:00 | 17:00:00 | |
| Kathmandu | Pokhara | Yeti Airlines | 681 | 14:10:00 | 14:35:00 | |
| Pokhara | Kathmandu | Yeti Airlines | 682 | 14:55:00 | 15:20:00 | |
| Kathmandu | Biratnagar | Yeti Airlines | 787 | 09:00:00 | 09:40:00 | |
| Biratnagar | Kathmandu | Yeti Airlines | 788 | 10:00:00 | 10:40:00 | |
| Kathmandu | Biratnagar | Yeti Airlines | 791 | 12:00:00 | 12:40:00 | |
| Biratnagar | Kathmandu | Yeti Airlines | 792 | 13:00:00 | 13:40:00 | |
| Kathmandu | Biratnagar | Yeti Airlines | 793 | 14:30:00 | 15:10:00 | |
| Biratnagar | Kathmandu | Yeti Airlines | 794 | 15:30:00 | 16:10:00 | |
| Kathmandu | Biratnagar | Yeti Airlines | 797 | 16:40:00 | 17:20:00 | |
| Biratnagar | Kathmandu | Yeti Airlines | 798 | 17:40:00 | 18:20:00 | |
| Kathmandu | Bhairahawa | Yeti Airlines | 891 | 09:20:00 | 09:50:00 | |
| Bhairahawa | Kathmandu | Yeti Airlines | 892 | 10:10:00 | 10:40:00 | |
| Kathmandu | Bhairahawa | Yeti Airlines | 893 | 16:30:00 | 17:00:00 | |
| Bhairahawa | Kathmandu | Yeti Airlines | 894 | 17:20:00 | 17:50:00 | |
| Kathmandu | Bhadrapur | Yeti Airlines | 921 | 10:10:00 | 10:55:00 | |
| Bhadrapur | Kathmandu | Yeti Airlines | 922 | 11:15:00 | 12:00:00 | |
| Kathmandu | Bhadrapur | Yeti Airlines | 925 | 13:50:00 | 14:35:00 | |
| Bhadrapur | Kathmandu | Yeti Airlines | 926 | 14:55:00 | 15:40:00 | |
| Kathmandu | Tumlingtar | Yeti Airlines | 751 | 11:10:00 | 11:45:00 | |
| Tumlingtar | Kathmandu | Yeti Airlines | 752 | 12:05:00 | 12:40:00 | |
| Kathmandu | Mountain Flight | Buddha Air | U4 102 | 06:15:00 | 07:15:00 | |
| Kathmandu | Mountain Flight | Buddha Air | U4 104 | 06:15:00 | 07:15:00 | |
| Kathmandu | Mountain Flight | Buddha Air | U4 100 | 06:15:00 | 07:15:00 | |
| Kathmandu | Mountain Flight | Buddha Air | U4 201 | 07:15:00 | 08:15:00 | |
| Kathmandu | Mountain Flight | Buddha Air | U4 202 | 07:15:00 | 08:15:00 | |
| Kathmandu | Mountain Flight | Buddha Air | U4 203 | 07:15:00 | 08:15:00 | |
| Kathmandu | Mountain Flight | Yeti Airlines | U4 204 | 08:00:00 | 09:00:00 | |
| Kathmandu | Bhadrapur | Buddha Air | U4 951 | 10:00:00 | 10:50:00 | |
| Kathmandu | Bhadrapur | Buddha Air | U4 953 | 13:40:00 | 14:30:00 | |
| Kathmandu | Bhairahawa | Buddha Air | U4 851 | 09:00:00 | 09:35:00 | |
| Kathmandu | Bhairahawa | Buddha Air | U4 853 | 13:30:00 | 14:05:00 | |
| Kathmandu | Bhairahawa | Buddha Air | U4 855 | 16:40:00 | 17:15:00 | |
| Kathmandu | Bharatpur | Buddha Air | U4 351 | 10:50:00 | 11:10:00 | |
| Kathmandu | Bharatpur | Buddha Air | U4 353 | 14:20:00 | 14:40:00 | |
| Kathmandu | Biratnagar | Buddha Air | U4 703 | 07:45:00 | 08:25:00 | |
| Kathmandu | Biratnagar | Buddha Air | U4 705 | 10:00:00 | 10:40:00 | |
| Kathmandu | Biratnagar | Buddha Air | U4 707 | 12:20:00 | 13:00:00 | |
| Kathmandu | Biratnagar | Buddha Air | U4 709 | 14:40:00 | 15:20:00 | |
| Kathmandu | Biratnagar | Buddha Air | U4 713 | 15:50:00 | 16:30:00 | |
| Kathmandu | Biratnagar | Buddha Air | U4 711 | 16:50:00 | 17:30:00 | |
| Kathmandu | Dhangadi | Buddha Air | U4 251 | 12:30:00 | 13:40:00 | |
| Kathmandu | Janakpur | Buddha Air | U4 501 | 09:30:00 | 09:55:00 | |
| Kathmandu | Janakpur | Buddha Air | U4 505 | 15:10:00 | 15:35:00 | |
| Kathmandu | Nepalgunj | Buddha Air | U4 451 | 08:00:00 | 09:00:00 | |
| Kathmandu | Nepalgunj | Buddha Air | U4 405 | 16:10:00 | 17:10:00 | |
| Kathmandu | Pokhara | Yeti Airlines | U4 601 | 07:40:00 | 08:10:00 | |
| Kathmandu | Pokhara | Buddha Air | U4 603 | 08:30:00 | 09:00:00 | |
| Kathmandu | Pokhara | Buddha Air | U4 617 | 15:20:00 | 15:50:00 | |
| Kathmandu | Simara | Buddha Air | U4 551 | 09:30:00 | 09:45:00 | |
| Kathmandu | Simara | Buddha Air | U4 553 | 10:30:00 | 10:45:00 | |
| Kathmandu | Simara | Buddha Air | U4 555 | 12:00:00 | 12:15:00 | |
| Kathmandu | Simara | Buddha Air | U4 559 | 14:00:00 | 14:15:00 | |
| Kathmandu | Simara | Buddha Air | U4 561 | 15:00:00 | 15:15:00 | |
| Kathmandu | Simara | Buddha Air | U4 563 | 16:00:00 | 16:15:00 | |
| Kathmandu | Surkhet | Buddha Air | U4 133 | 13:10:00 | 14:15:00 | |
| Kathmandu | Tumlingtar | Buddha Air | U4 281 | 10:20:00 | 10:55:00 | |
| Bhadrapur | Kathmandu | Buddha Air | U4 952 | 11:15:00 | 12:05:00 | |
| Bhadrapur | Kathmandu | Buddha Air | U4 954 | 14:55:00 | 15:45:00 | |
| Bhairahawa | Kathmandu | Buddha Air | U4 852 | 09:55:00 | 10:30:00 | |
| Bhairahawa | Kathmandu | Buddha Air | U4 854 | 14:20:00 | 14:55:00 | |
| Bhairahawa | Kathmandu | Buddha Air | U4 856 | 17:35:00 | 18:10:00 | |
| Bharatpur | Kathmandu | Buddha Air | U4 352 | 11:30:00 | 11:50:00 | |
| Bharatpur | Kathmandu | Buddha Air | U4 356 | 14:55:00 | 15:15:00 | |
| Biratnagar | Kathmandu | Buddha Air | U4 704 | 08:50:00 | 09:30:00 | |
| Biratnagar | Kathmandu | Buddha Air | U4 706 | 11:05:00 | 11:45:00 | |
| Biratnagar | Kathmandu | Buddha Air | U4 708 | 13:25:00 | 14:05:00 | |
| Biratnagar | Kathmandu | Buddha Air | U4 710 | 15:45:00 | 16:25:00 | |
| Biratnagar | Kathmandu | Buddha Air | U4 714 | 16:50:00 | 17:30:00 | |
| Biratnagar | Kathmandu | Buddha Air | U4 712 | 17:55:00 | 18:35:00 | |
| Biratnagar | Tumlingtar | Buddha Air | U4 692 | 11:45:00 | 12:00:00 | |
| Dhangadhi | Kathmandu | Buddha Air | U4 252 | 14:05:00 | 15:15:00 | |
| Janakpur | Kathmandu | Buddha Air | U4 502 | 10:15:00 | 10:40:00 | |
| Janakpur | Kathmandu | Buddha Air | U4 506 | 15:55:00 | 16:20:00 | |
| Nepalgunj | Kathmandu | Buddha Air | U4 452 | 09:20:00 | 10:20:00 | |
| Nepalgunj | Kathmandu | Buddha Air | U4 406 | 17:40:00 | 18:40:00 | |
| Pokhara | Kathmandu | Buddha Air | U4 602 | 08:30:00 | 09:00:00 | |
| Pokhara | Kathmandu | Buddha Air | U4 618 | 16:10:00 | 16:40:00 | |
| Simara | Kathmandu | Buddha Air | U4 552 | 09:50:00 | 10:05:00 | |
| Simara | Kathmandu | Buddha Air | U4 554 | 10:50:00 | 11:05:00 | |
| Simara | Kathmandu | Buddha Air | U4 556 | 12:20:00 | 12:35:00 | |
| Simara | Kathmandu | Buddha Air | U4 560 | 14:20:00 | 14:35:00 | |
| Simara | Kathmandu | Buddha Air | U4 562 | 15:20:00 | 15:35:00 | |
| Simara | Kathmandu | Buddha Air | U4 564 | 16:20:00 | 16:35:00 | |
| Surkhet | Kathmandu | Buddha Air | U4 134 | 14:30:00 | 15:35:00 | |
| Tumlingtar | Biratnagar | Buddha Air | U4 691 | 11:10:00 | 11:25:00 | |
| Tumlingtar | Kathmandu | Buddha Air | U4 282 | 12:20:00 | 12:55:00 | |
| Kathmandu | Lukla | Simrik Airlines | RMK-102 | 07:15:00 | 07:45:00 | |
| Kathmandu | Lukla | Simrik Airlines | RMK-103 | 08:00:00 | 08:30:00 | |
| Lukla | Kathmandu | Simrik Airlines | RMK-104 | 08:45:00 | 09:15:00 | |
| Kathmandu | Lukla | Simrik Airlines | RMK-105 | 09:30:00 | 10:00:00 | |
| Lukla | Kathmandu | Simrik Airlines | RMK-106 | 10:15:00 | 10:45:00 | |
| Kathmandu | Lukla | Simrik Airlines | RMK-107 | 11:00:00 | 11:30:00 | |
| Lukla | Kathmandu | Simrik Airlines | RMK-108 | 11:45:00 | 12:15:00 | |
| Kathmandu | Lukla | Simrik Airlines | RMK-109 | 14:00:00 | 14:30:00 | |
| Lukla | Kathmandu | Simrik Airlines | RMK-110 | 14:45:00 | 15:15:00 | |
| Kathmandu | Lukla | Simrik Airlines | RMK-301 | 06:30:00 | 07:00:00 | |
| Lukla | Kathmandu | Simrik Airlines | RMK-302 | 07:15:00 | 07:45:00 | |
| Kathmandu | Lukla | Simrik Airlines | RMK-303 | 08:00:00 | 08:30:00 | |
| Lukla | Kathmandu | Simrik Airlines | RMK-304 | 08:45:00 | 09:15:00 | |
| Kathmandu | Lukla | Simrik Airlines | RMK-305 | 09:30:00 | 10:00:00 | |
| Lukla | Kathmandu | Simrik Airlines | RMK-306 | 10:15:00 | 10:45:00 | |
| Kathmandu | Lukla | Simrik Airlines | RMK-307 | 11:00:00 | 11:30:00 | |
| Lukla | Kathmandu | Simrik Airlines | RMK-308 | 11:45:00 | 12:15:00 | |
| Phaplu | Kathmandu | Goma Air | GMA416 | 13:00:00 | 13:30:00 | |
| Pokhara | Jomsom | Tara Air | TA - CHT | 06:00:00 | 06:20:00 | |
| Jomsom | Pokhara | Tara Air | TA- CHT | 06:25:00 | 06:45:00 | |
| Pokhara | Jomsom | Tara Air | TA - CHT | 06:50:00 | 07:10:00 | |
| Jomsom | Pokhara | Tara Air | TA - CHT | 07:15:00 | 07:30:00 | |
| Pokhara | Jomsom | Tara Air | TA - CHT | 07:40:00 | 07:55:00 | |
| Jomsom | Pokhara | Tara Air | TA-CHT | 08:00:00 | 08:15:00 | |
| Kathmandu | Khanedada | Goma Air | GAM115 | 14:00:00 | 14:30:00 | |
| Kathmandu | Mountain Flight | Saurya Airlines | S1-101 | 06:30:00 | 07:15:00 | |
| Kathmandu | Mountain Flight | Saurya Airlines | S1-604 | 07:30:00 | 08:15:00 | |
| Kathmandu | Mountain Flight | Saurya Airlines | S1-605 | 07:30:00 | 08:15:00 | |
| Kathmandu | Mountain Flight | Saurya Airlines | S1-601 | 06:30:00 | 07:15:00 | |
| Kathmandu | Mountain Flight | Saurya Airlines | S1-602 | 06:30:00 | 07:15:00 | |
| Kathmandu | Taplejung | Goma Air | GMA118 | 10:30:00 | 11:20:00 | |
| Taplejung | Kathmandu | Goma Air | 119 | 11:35:00 | 12:20:00 | |
| Kathmandu | Tumlingtar | Goma Air | GMA101 | 13:00:00 | 13:40:00 | |
| Tumlingtar | Kahmandu | Goma Air | Gma102 | 13:54:00 | 14:35:00 | |
| Kathmandu | Biratnagar | Saurya Airlines | S1-801 | 09:00:00 | 09:40:00 | |
| Biratnagar | Kathmandu | Saurya Airlines | S1-802 | 09:50:00 | 10:30:00 | |
| Kathmandu | Biratnagar | Saurya Airlines | S1-805 | 12:30:00 | 13:10:00 | |
| Biratnagar | Kathmandu | Saurya Airlines | S1-806 | 13:20:00 | 13:50:00 | |
| Kathmandu | Biratnagar | Saurya Airlines | S1-807 | 16:30:00 | 17:05:00 | |
| Biratnagar | Kathmandu | Saurya Airlines | S1-808 | 17:20:00 | 18:55:00 | |
| Kathmandu | Bhadrapur | Saurya Airlines | S1-901 | 10:30:00 | 11:20:00 | |
| Bhadrapur | Kathmandu | Saurya Airlines | S1-902 | 11:30:00 | 12:20:00 | |
| Kathmandu | Bhadrapur | Saurya Airlines | S1-903 | 12:50:00 | 13:40:00 | |
| Bhadrapur | Kathmandu | Saurya Airlines | S1-904 | 13:50:00 | 14:40:00 | |
| Nepalgunj | Talcha | Goma Air | GMA151 | 08:30:00 | 09:39:00 | |
| Humla | Nepalgunj | Goma Air | GMA142 | 07:30:00 | 08:15:00 | |
| Nepalgunj | Humla | Goma Air | GMA141 | 06:30:00 | 07:15:00 | |
| Kathmandu | Lukla | Tara Airlines | TA 103 | 06:35:00 | 07:10:00 | |
| Kathmandu | Lukla | Tara Airlines | TA CHT | 06:40:00 | 07:15:00 | |
| Kathmandu | Lukla | Tara Airlines | TA CHT | 08:10:00 | 08:45:00 | |
| Kathmandu | Lukla | Tara Airlines | TA CHT | 08:15:00 | 08:50:00 | |
| Kathmandu | Lukla | Tara Airlines | TA CHT | 08:20:00 | 08:55:00 | |
| Kathmandu | Lukla | Tara Airlines | TA CHT | 09:50:00 | 10:25:00 | |
| Kathmandu | Lukla | Tara Airlines | TA CHT | 11:30:00 | 12:05:00 | |
| Kathmandu | Lukla | Tara Airlines | TA CHT | 11:35:00 | 12:10:00 | |
| Kathmandu | Lukla | Tara Airlines | TA CHT | 11:40:00 | 12:15:00 | |
| Kathmandu | Lukla | Tara Airlines | TA CHT | 13:20:00 | 13:55:00 | |
| Kathmandu | Phaplu | Tara Airlines | TA 181 (1,5) | 09:55:00 | 10:30:00 | |
| Kathmandu | Lamidanda | Tara Airlines | TA 191 (3,7) | 10:00:00 | 10:35:00 | |
| Kathmandu | Ramechhap | Tara Airlines | TA 431 (5) | 13:05:00 | 13:30:00 | |
| Lukla | Kathmandu | Tara Airlines | TA CHT | 07:25:00 | 08:00:00 | |
| Lukla | Kathmandu | Tara Airlines | TA CHT | 07:30:00 | 08:05:00 | |
| Lukla | Kathmandu | Tara Airlines | TA CHT | 09:00:00 | 09:35:00 | |
| Lukla | Kathmandu | Tara Airlines | TA CHT | 09:05:00 | 09:40:00 | |
| Lukla | Kathmandu | Tara Airlines | TA CHT | 09:10:00 | 09:45:00 | |
| Lukla | Kathmandu | Tara Airlines | TA CHT | 10:40:00 | 11:15:00 | |
| Lukla | Kathmandu | Tara Airlines | TA CHT | 12:20:00 | 12:55:00 | |
| Lukla | Kathmandu | Tara Airlines | TA CHT | 12:25:00 | 13:00:00 | |
| Lukla | Kathmandu | Tara Airlines | TA CHT | 12:30:00 | 13:05:00 | |
| Lukla | Kathmandu | Tara Airlines | TA CHT | 14:10:00 | 14:45:00 | |
| Phaplu | Kathmandu | Tara Airlines | TA 182 (1,5) | 10:45:00 | 11:20:00 | |
| Lamidanda | Kathmandu | Tara Airlines | TA 192 (3,7) | 10:50:00 | 11:25:00 | |
| Ramechhap | Kathmandu | Tara Airlines | TA 432 (5) | 15:10:00 | 15:35:00 | |
| Nepalgunj | Dolpo | Tara Airlines | TA 717 (1) | 06:30:00 | 07:15:00 | |
| Nepalgunj | Rara | Tara Airlines | TA 715 (5) | 06:30:00 | 07:20:00 | |
| Nepalgunj | Simikot | Tara Airlines | TA 711 (4) | 06:30:00 | 07:30:00 | |
| Nepalgunj | Jumla | Tara Airlines | TA 713 (6) | 06:30:00 | 07:15:00 | |
| Nepalgunj | Bajura | Tara Airlines | TA 722 (3) | 06:30:00 | 07:05:00 | |
| Dolpo | Nepalgunj | Tara Airlines | TA 718 (1) | 07:30:00 | 08:15:00 | |
| Rara | Nepalgunj | Tara Airlines | TA 716 (5) | 07:35:00 | 08:25:00 | |
| Simikot | Nepalgunj | Tara Airlines | TA 712 (4) | 07:45:00 | 08:45:00 | |
| Jumla | Nepalgunj | Tara Airlines | TA 714 (6) | 07:30:00 | 08:15:00 | |
| Bajura | Nepalgunj | Tara Airlines | TA 722 (3) | 07:20:00 | 07:55:00 | |
| Surkhet | Simikot | Tara Airlines | TA 719 (7) | 06:30:00 | 07:15:00 | |
| Surkhet | Dolpo | Tara Airlines | TA 709 (2) | 06:30:00 | 07:10:00 | |
| Surkhet | Jumla | Tara Airlines | TA 723 (2) | 08:20:00 | 08:45:00 | |
| Simikot | Surkhet | Tara Airlines | TA 720 (7) | 07:30:00 | 08:15:00 | |
| Dolpo | Surkhet | Tara Airlines | TA 710 (2) | 07:25:00 | 08:05:00 | |
| Jumla | Surkhet | Tara Airlines | TA 724 (3) | 09:00:00 | 09:25:00 | |
| Kathmandu | Pokhara | Tara Airlines | TA 227 | 15:30:00 | 16:00:00 | |
| Kathmandu | Lukla | Tara Airlines | TA 095 | 06:30:00 | 07:00:00 | |
| Kathmandu | Lukla | Tara Airlines | TA 097 | 08:00:00 | 08:30:00 | |
| Kathmandu | Lukla | Tara Airlines | TA 099 | 09:30:00 | 10:00:00 | |
| Lukla | Kathmandu | Tara Airlines | TA 096 | 07:15:00 | 07:45:00 | |
| Lukla | Kathmandu | Tara Airlines | TA 098 | 08:45:00 | 09:15:00 | |
| Lukla | Kathmandu | Tara Airlines | TA 100 | 10:15:00 | 10:45:00 | |
| Pokhara | Kathmandu | Tara Airlines | TA 228 | 09:30:00 | 10:00:00 | |
| Pokhara | Jomsom | Tara Airlines | TA 193 | 06:30:00 | 06:50:00 | |
| Jomsom | Pokhara | Tara Airlines | TA 194 | 07:05:00 | 07:25:00 | |
| Kathmandu | Mountain Flight | Simrik Airlines | SMA -100 | 06:30:00 | 07:30:00 | |
| Kathmandu | Mountain Flight | Simrik Airlines | SMA-102 | 06:30:00 | 07:30:00 | |
| Kathmandu | Mountain Flight | Simrik Airlines | SMA-200 | 07:45:00 | 08:45:00 | |
| Kathmandu | Mountain Flight | Simrik Airlines | SMA-201 | 07:45:00 | 08:45:00 | |
| Kathmandu | Pokhara | Simrik Airlines | SMA-151 | 10:00:00 | 10:25:00 | |
| Kathmandu | Pokhara | Simrik Airlines | SMA-153 | 12:00:00 | 12:25:00 | |
| Kathmandu | Pokhara | Simrik Airlines | SMA-155 | 14:00:00 | 14:25:00 | |
| Pokhara | Kathmandu | Simrik Airlines | SMA-152 | 10:45:00 | 11:10:00 | |
| pokhara | Kathmandu | Simrik Airlines | SMA-154 | 12:45:00 | 13:10:00 | |
| Pokhara | Kathmadnu | Simrik Airlines | SMA-156 | 14:45:00 | 15:10:00 | |
| Kathmandu | Bhairahwa | Simrik Airlines | SMA-171 | 12:15:00 | 13:55:00 | |
| Bhairahwa | Kathmandu | Simrik Airlines | SMA-172 | 13:05:00 | 12:35:00 | |
| Kathmadu | Simara | Simrik Airlines | SMA-113 | 15:15:00 | 15:30:00 | |
| Simara | Kathmandu | Simrik Airlines | SMA-114 | 15:45:00 | 16:00:00 | |
| Pokhara | Jomsom | Simrik Airlines | RMK 1 | 06:30:00 | 06:45:00 | |
| Pokhara | Jomsom | Simrik Airlines | RMK 3 | 00:07:05 | 00:07:20 | |
| Jomsom | Pokhara | Simrik Airlines | RMK 2 | 06:50:00 | 06:55:00 | |
| Jomsom | Pokhara | Simrik Airlines | RMK 4 | 07:20:00 | 07:35:00 | |
| Kathmandu | Lukla | Goma Air | GMA402 | 07:10:00 | 07:40:00 | |
| Lukla | Kathmandu | Goma Air | GMA401 | 06:30:00 | 07:00:00 | |
| Kathmandu | Lukla | Goma Air | GAM403 | 07:55:00 | 08:24:00 | |
| Lukla | Kathmandu | Goma Air | GAM404 | 08:35:00 | 09:05:00 | |
| Kathmandu | Lukla | Goma Air | GMA405 | 09:20:00 | 09:50:00 | |
| Lukla | Kathmandu | Goma Air | GMA406 | 10:00:00 | 10:30:00 | |
| Kathmandu | Lukla | Goma Air | GMA407 | 10:40:00 | 11:09:00 | |
| Lukla | Kathmandu | Goma Air | GMA408 | 11:20:00 | 11:50:00 | |
| Phaplu | Kathmandu | Goma Air | GMA415 | 12:30:00 | 13:00:00 | |
| Khidanda | Kathmandu | Goma Air | GMA116 | 13:00:00 | 13:30:00 | |
| Talcha | Nepalgunj | Goma Air | GMA152 | 09:50:00 | 10:30:00 | |
| Nepalguj | Jumla | Goma Air | GMA161 | 14:00:00 | 14:35:00 | |
| Jumla | Nepalgunj | Goma Air | GMA162 | 14:45:00 | 15:20:00 | |
| Nepalgunj | Bajura | Goma Air | GMA171 | 11:45:00 | 12:20:00 | |
| Bajura | Nepalgunj | Goma Air | GMA172 | 12:30:00 | 13:05:00 | |
| Pokhara | Jomsom | Goma Air | GA 602 | 00:06:30 | 00:06:45 | |
| Pokhara | Jomsom | Goma Air | GA 604 | 00:06:50 | 00:07:05 | |
| Pokhara | Jomsom | Goma Air | GA 606 | 00:08:05 | 00:08:20 | |
| Jomsom | Pokhara | Goma Air | GA 602 | 00:06:45 | 00:07:00 | |
| Jomsom | Pokhara | Goma Air | GA 603 | 00:06:50 | 00:07:05 | |
| Jomsom | Pokhara | Goma Air | GA 605 | 00:08:30 | 00:08:45 | |
| Pokhara | Bharatpur | Buddha Air | 641 | 00:00:10 | 00:00:10 | |
| Bharatpur | Pokhara | Buddha Air | 642 | 00:00:10 | 00:00:11 | |
| Pokhara | Bhairahwa | Buddha Air | 681 | 00:00:11 | 00:00:11 | |
| Bhairahwa | Pokhara | Buddha Air | 682 | 00:00:11 | 00:00:13 | |