Nepalgunj Bajura Flights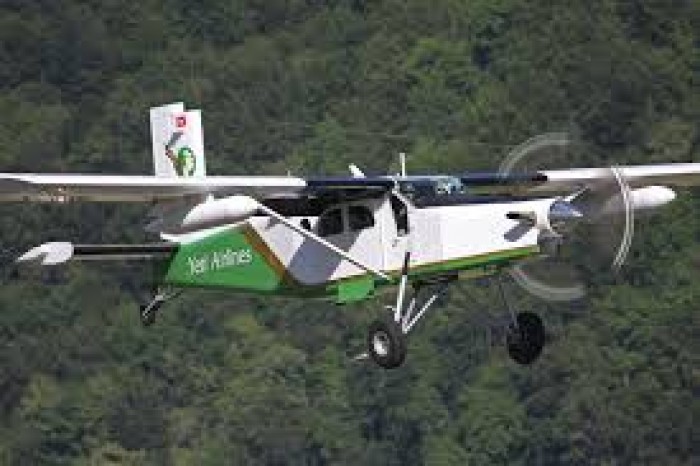 Bajura is another beautiful district of Nepal located in Far western Development region of Nepal at Seti zone. It is one of the underdeveloped regions of Nepal but with lots of potential of tourism due to its diverse landscapes, mountainous vistas, and hilly areas for trekking, people, cultures, lifestyle and much more. It has a district headquarter at Martadi at a distance of 950 Km from Kathmandu. It has several religious sites like Badimalika and Kailashmandu. The major Rivers like Budiganga, Karnali, Kawadi and Kunna flows through here.
Bajura has an airport at an elevation of 1311 M above the sea level with runway of length 573 M. we provide you Nepalgunj Bajura Flights or Bajura Nepalgunj Flights which takes only 35 Minutes to land at your destination. These Nepalgunj Bajura Flights are operated only few times a week and they are operated by Tara Air and Nepal Air. These Nepalgunj Bajura Flights have connected such remote areas to one of the main business trade centers of Nepal like Nepalgunj and certainly have promoted tourism in those sectors.
Flight Schedule
| Flight From | Flight To | Airlines | Flight No. | Flight Time | Arrival Time | |
| --- | --- | --- | --- | --- | --- | --- |
| Kathmandu | Pokhara | Yeti Airlines | YT 671 | 08:00:00 | 08:25:00 | |
| Kathmandu | Pokhara | Yeti Airlines | YT 673 | 08:05:00 | 08:30:00 | |
| Kathmandu | Pokhara | Buddha Air | U4 605 | 08:30:00 | 09:00:00 | |
| Kathmandu | Pokhara | Yeti Airlines | YT 675 | 09:10:00 | 09:35:00 | |
| Kathmandu | Pokhara | Buddha Air | U4 611 | 10:10:00 | 10:40:00 | |
| Kathmandu | Pokhara | Yeti Airlines | YT 677 | 10:50:00 | 11:15:00 | |
| Kathmandu | Pokhara | Buddha Air | U4 607 | 12:10:00 | 12:40:00 | |
| Kathmandu | Pokhara | Yeti Airlines | YT 679 | 12:30:00 | 12:55:00 | |
| Kathmandu | Pokhara | Buddha Air | U4 609 | 14:20:00 | 14:50:00 | |
| Kathmandu | Pokhara | Yeti Airlines | YT 683 | 14:50:00 | 15:15:00 | |
| Kathmandu | Pokhara | Yeti Airlines | YT 685 | 15:40:00 | 16:05:00 | |
| Pokhara | Kathmandu | Yeti Airlines | YT 672 | 08:45:00 | 09:10:00 | |
| Pokhara | Kathmandu | Yeti Airlines | YT 674 | 08:50:00 | 09:15:00 | |
| Pokhara | Kathmandu | Buddha Air | U4 606 | 09:20:00 | 09:50:00 | |
| Pokhara | Kathmandu | Yeti Airlines | YT 676 | 09:50:00 | 10:15:00 | |
| Pokhara | Kathmandu | Buddha Air | U4 612 | 11:00:00 | 11:30:00 | |
| Pokhara | Kathmandu | Yeti Airlines | YT 678 | 11:35:00 | 12:00:00 | |
| Pokhara | Kathmandu | Buddha Air | U4 608 | 13:00:00 | 13:30:00 | |
| Pokhara | Kathmandu | Yeti Airlines | YT 680 | 13:15:00 | 13:40:00 | |
| Pokhara | Kathmandu | Buddha Air | U4 610 | 15:10:00 | 15:40:00 | |
| Pokhara | Kathmandu | Yeti Airlines | YT 684 | 15:35:00 | 16:00:00 | |
| Pokhara | Kathmandu | Yeti Airlines | YT 686 | 16:25:00 | 16:50:00 | |
| Kathmandu | Bhairahawa | Yeti Airlines | 175 | 11:50:00 | 12:10:00 | |
| Bhairahawa | Kathmandu | Yeti Airlines | 176 | 12:30:00 | 12:50:00 | |
| Kathmandu | Dhangadhi | Yeti Airlines | 231 | 12:30:00 | 13:40:00 | |
| Dhangadhi | Kathmandu | Yeti Airlines | 232 | 14:00:00 | 15:10:00 | |
| Kathmandu | Mountain Flight | Yeti Airlines | 301 | 06:30:00 | 07:30:00 | |
| Kathmandu | Mountain Flight | Yeti Airlines | 302 | 06:30:00 | 07:30:00 | |
| Kathmandu | Mountain Flight | Yeti Airlines | 304 | 06:30:00 | 07:30:00 | |
| Kathmandu | Mountain Flight | Yeti Airlines | 305 | 06:35:00 | 07:35:00 | |
| Kathmandu | Mountain Flight | Yeti Airlines | 306 | 06:40:00 | 07:40:00 | |
| Kathmandu | Mountain Flight | Yeti Airlines | 307 | 06:45:00 | 07:45:00 | |
| Kathmandu | Mountain Flight | Yeti Airlines | 401 | 07:45:00 | 08:45:00 | |
| Kathmandu | Nepalgunj | Yeti Airlines | 421 | 09:20:00 | 10:15:00 | |
| Nepalgunj | Kathmandu | Yeti Airlines | 422 | 10:35:00 | 11:30:00 | |
| Kathmandu | Nepalgunj | Yeti Airlines | 423 | 15:50:00 | 16:45:00 | |
| Nepalgunj | Kathmandu | Yeti Airlines | 424 | 17:05:00 | 18:00:00 | |
| Kathmandu | Janakpur | Yeti Airlines | 571 | 10:30:00 | 10:55:00 | |
| Janakpur | Kathmandu | Yeti Airlines | 572 | 11:15:00 | 11:40:00 | |
| Kathmandu | Janakpur | Yeti Airlines | 573 | 15:40:00 | 16:05:00 | |
| Janakpur | Kathmandu | Yeti Airlines | 574 | 16:35:00 | 17:00:00 | |
| Kathmandu | Pokhara | Yeti Airlines | 681 | 14:10:00 | 14:35:00 | |
| Pokhara | Kathmandu | Yeti Airlines | 682 | 14:55:00 | 15:20:00 | |
| Kathmandu | Biratnagar | Yeti Airlines | 787 | 09:00:00 | 09:40:00 | |
| Biratnagar | Kathmandu | Yeti Airlines | 788 | 10:00:00 | 10:40:00 | |
| Kathmandu | Biratnagar | Yeti Airlines | 791 | 12:00:00 | 12:40:00 | |
| Biratnagar | Kathmandu | Yeti Airlines | 792 | 13:00:00 | 13:40:00 | |
| Kathmandu | Biratnagar | Yeti Airlines | 793 | 14:30:00 | 15:10:00 | |
| Biratnagar | Kathmandu | Yeti Airlines | 794 | 15:30:00 | 16:10:00 | |
| Kathmandu | Biratnagar | Yeti Airlines | 797 | 16:40:00 | 17:20:00 | |
| Biratnagar | Kathmandu | Yeti Airlines | 798 | 17:40:00 | 18:20:00 | |
| Kathmandu | Bhairahawa | Yeti Airlines | 891 | 09:20:00 | 09:50:00 | |
| Bhairahawa | Kathmandu | Yeti Airlines | 892 | 10:10:00 | 10:40:00 | |
| Kathmandu | Bhairahawa | Yeti Airlines | 893 | 16:30:00 | 17:00:00 | |
| Bhairahawa | Kathmandu | Yeti Airlines | 894 | 17:20:00 | 17:50:00 | |
| Kathmandu | Bhadrapur | Yeti Airlines | 921 | 10:10:00 | 10:55:00 | |
| Bhadrapur | Kathmandu | Yeti Airlines | 922 | 11:15:00 | 12:00:00 | |
| Kathmandu | Bhadrapur | Yeti Airlines | 925 | 13:50:00 | 14:35:00 | |
| Bhadrapur | Kathmandu | Yeti Airlines | 926 | 14:55:00 | 15:40:00 | |
| Kathmandu | Tumlingtar | Yeti Airlines | 751 | 11:10:00 | 11:45:00 | |
| Tumlingtar | Kathmandu | Yeti Airlines | 752 | 12:05:00 | 12:40:00 | |
| Kathmandu | Mountain Flight | Buddha Air | U4 102 | 06:15:00 | 07:15:00 | |
| Kathmandu | Mountain Flight | Buddha Air | U4 104 | 06:15:00 | 07:15:00 | |
| Kathmandu | Mountain Flight | Buddha Air | U4 100 | 06:15:00 | 07:15:00 | |
| Kathmandu | Mountain Flight | Buddha Air | U4 201 | 07:15:00 | 08:15:00 | |
| Kathmandu | Mountain Flight | Buddha Air | U4 202 | 07:15:00 | 08:15:00 | |
| Kathmandu | Mountain Flight | Buddha Air | U4 203 | 07:15:00 | 08:15:00 | |
| Kathmandu | Mountain Flight | Yeti Airlines | U4 204 | 08:00:00 | 09:00:00 | |
| Kathmandu | Bhadrapur | Buddha Air | U4 951 | 10:00:00 | 10:50:00 | |
| Kathmandu | Bhadrapur | Buddha Air | U4 953 | 13:40:00 | 14:30:00 | |
| Kathmandu | Bhairahawa | Buddha Air | U4 851 | 09:00:00 | 09:35:00 | |
| Kathmandu | Bhairahawa | Buddha Air | U4 853 | 13:30:00 | 14:05:00 | |
| Kathmandu | Bhairahawa | Buddha Air | U4 855 | 16:40:00 | 17:15:00 | |
| Kathmandu | Bharatpur | Buddha Air | U4 351 | 10:50:00 | 11:10:00 | |
| Kathmandu | Bharatpur | Buddha Air | U4 353 | 14:20:00 | 14:40:00 | |
| Kathmandu | Biratnagar | Buddha Air | U4 703 | 07:45:00 | 08:25:00 | |
| Kathmandu | Biratnagar | Buddha Air | U4 705 | 10:00:00 | 10:40:00 | |
| Kathmandu | Biratnagar | Buddha Air | U4 707 | 12:20:00 | 13:00:00 | |
| Kathmandu | Biratnagar | Buddha Air | U4 709 | 14:40:00 | 15:20:00 | |
| Kathmandu | Biratnagar | Buddha Air | U4 713 | 15:50:00 | 16:30:00 | |
| Kathmandu | Biratnagar | Buddha Air | U4 711 | 16:50:00 | 17:30:00 | |
| Kathmandu | Dhangadi | Buddha Air | U4 251 | 12:30:00 | 13:40:00 | |
| Kathmandu | Janakpur | Buddha Air | U4 501 | 09:30:00 | 09:55:00 | |
| Kathmandu | Janakpur | Buddha Air | U4 505 | 15:10:00 | 15:35:00 | |
| Kathmandu | Nepalgunj | Buddha Air | U4 451 | 08:00:00 | 09:00:00 | |
| Kathmandu | Nepalgunj | Buddha Air | U4 405 | 16:10:00 | 17:10:00 | |
| Kathmandu | Pokhara | Yeti Airlines | U4 601 | 07:40:00 | 08:10:00 | |
| Kathmandu | Pokhara | Buddha Air | U4 603 | 08:30:00 | 09:00:00 | |
| Kathmandu | Pokhara | Buddha Air | U4 617 | 15:20:00 | 15:50:00 | |
| Kathmandu | Simara | Buddha Air | U4 551 | 09:30:00 | 09:45:00 | |
| Kathmandu | Simara | Buddha Air | U4 553 | 10:30:00 | 10:45:00 | |
| Kathmandu | Simara | Buddha Air | U4 555 | 12:00:00 | 12:15:00 | |
| Kathmandu | Simara | Buddha Air | U4 559 | 14:00:00 | 14:15:00 | |
| Kathmandu | Simara | Buddha Air | U4 561 | 15:00:00 | 15:15:00 | |
| Kathmandu | Simara | Buddha Air | U4 563 | 16:00:00 | 16:15:00 | |
| Kathmandu | Surkhet | Buddha Air | U4 133 | 13:10:00 | 14:15:00 | |
| Kathmandu | Tumlingtar | Buddha Air | U4 281 | 10:20:00 | 10:55:00 | |
| Bhadrapur | Kathmandu | Buddha Air | U4 952 | 11:15:00 | 12:05:00 | |
| Bhadrapur | Kathmandu | Buddha Air | U4 954 | 14:55:00 | 15:45:00 | |
| Bhairahawa | Kathmandu | Buddha Air | U4 852 | 09:55:00 | 10:30:00 | |
| Bhairahawa | Kathmandu | Buddha Air | U4 854 | 14:20:00 | 14:55:00 | |
| Bhairahawa | Kathmandu | Buddha Air | U4 856 | 17:35:00 | 18:10:00 | |
| Bharatpur | Kathmandu | Buddha Air | U4 352 | 11:30:00 | 11:50:00 | |
| Bharatpur | Kathmandu | Buddha Air | U4 356 | 14:55:00 | 15:15:00 | |
| Biratnagar | Kathmandu | Buddha Air | U4 704 | 08:50:00 | 09:30:00 | |
| Biratnagar | Kathmandu | Buddha Air | U4 706 | 11:05:00 | 11:45:00 | |
| Biratnagar | Kathmandu | Buddha Air | U4 708 | 13:25:00 | 14:05:00 | |
| Biratnagar | Kathmandu | Buddha Air | U4 710 | 15:45:00 | 16:25:00 | |
| Biratnagar | Kathmandu | Buddha Air | U4 714 | 16:50:00 | 17:30:00 | |
| Biratnagar | Kathmandu | Buddha Air | U4 712 | 17:55:00 | 18:35:00 | |
| Biratnagar | Tumlingtar | Buddha Air | U4 692 | 11:45:00 | 12:00:00 | |
| Dhangadhi | Kathmandu | Buddha Air | U4 252 | 14:05:00 | 15:15:00 | |
| Janakpur | Kathmandu | Buddha Air | U4 502 | 10:15:00 | 10:40:00 | |
| Janakpur | Kathmandu | Buddha Air | U4 506 | 15:55:00 | 16:20:00 | |
| Nepalgunj | Kathmandu | Buddha Air | U4 452 | 09:20:00 | 10:20:00 | |
| Nepalgunj | Kathmandu | Buddha Air | U4 406 | 17:40:00 | 18:40:00 | |
| Pokhara | Kathmandu | Buddha Air | U4 602 | 08:30:00 | 09:00:00 | |
| Pokhara | Kathmandu | Buddha Air | U4 618 | 16:10:00 | 16:40:00 | |
| Simara | Kathmandu | Buddha Air | U4 552 | 09:50:00 | 10:05:00 | |
| Simara | Kathmandu | Buddha Air | U4 554 | 10:50:00 | 11:05:00 | |
| Simara | Kathmandu | Buddha Air | U4 556 | 12:20:00 | 12:35:00 | |
| Simara | Kathmandu | Buddha Air | U4 560 | 14:20:00 | 14:35:00 | |
| Simara | Kathmandu | Buddha Air | U4 562 | 15:20:00 | 15:35:00 | |
| Simara | Kathmandu | Buddha Air | U4 564 | 16:20:00 | 16:35:00 | |
| Surkhet | Kathmandu | Buddha Air | U4 134 | 14:30:00 | 15:35:00 | |
| Tumlingtar | Biratnagar | Buddha Air | U4 691 | 11:10:00 | 11:25:00 | |
| Tumlingtar | Kathmandu | Buddha Air | U4 282 | 12:20:00 | 12:55:00 | |
| Kathmandu | Lukla | Simrik Airlines | RMK-102 | 07:15:00 | 07:45:00 | |
| Kathmandu | Lukla | Simrik Airlines | RMK-103 | 08:00:00 | 08:30:00 | |
| Lukla | Kathmandu | Simrik Airlines | RMK-104 | 08:45:00 | 09:15:00 | |
| Kathmandu | Lukla | Simrik Airlines | RMK-105 | 09:30:00 | 10:00:00 | |
| Lukla | Kathmandu | Simrik Airlines | RMK-106 | 10:15:00 | 10:45:00 | |
| Kathmandu | Lukla | Simrik Airlines | RMK-107 | 11:00:00 | 11:30:00 | |
| Lukla | Kathmandu | Simrik Airlines | RMK-108 | 11:45:00 | 12:15:00 | |
| Kathmandu | Lukla | Simrik Airlines | RMK-109 | 14:00:00 | 14:30:00 | |
| Lukla | Kathmandu | Simrik Airlines | RMK-110 | 14:45:00 | 15:15:00 | |
| Kathmandu | Lukla | Simrik Airlines | RMK-301 | 06:30:00 | 07:00:00 | |
| Lukla | Kathmandu | Simrik Airlines | RMK-302 | 07:15:00 | 07:45:00 | |
| Kathmandu | Lukla | Simrik Airlines | RMK-303 | 08:00:00 | 08:30:00 | |
| Lukla | Kathmandu | Simrik Airlines | RMK-304 | 08:45:00 | 09:15:00 | |
| Kathmandu | Lukla | Simrik Airlines | RMK-305 | 09:30:00 | 10:00:00 | |
| Lukla | Kathmandu | Simrik Airlines | RMK-306 | 10:15:00 | 10:45:00 | |
| Kathmandu | Lukla | Simrik Airlines | RMK-307 | 11:00:00 | 11:30:00 | |
| Lukla | Kathmandu | Simrik Airlines | RMK-308 | 11:45:00 | 12:15:00 | |
| Phaplu | Kathmandu | Goma Air | GMA416 | 13:00:00 | 13:30:00 | |
| Pokhara | Jomsom | Tara Air | TA - CHT | 06:00:00 | 06:20:00 | |
| Jomsom | Pokhara | Tara Air | TA- CHT | 06:25:00 | 06:45:00 | |
| Pokhara | Jomsom | Tara Air | TA - CHT | 06:50:00 | 07:10:00 | |
| Jomsom | Pokhara | Tara Air | TA - CHT | 07:15:00 | 07:30:00 | |
| Pokhara | Jomsom | Tara Air | TA - CHT | 07:40:00 | 07:55:00 | |
| Jomsom | Pokhara | Tara Air | TA-CHT | 08:00:00 | 08:15:00 | |
| Kathmandu | Khanedada | Goma Air | GAM115 | 14:00:00 | 14:30:00 | |
| Kathmandu | Mountain Flight | Saurya Airlines | S1-101 | 06:30:00 | 07:15:00 | |
| Kathmandu | Mountain Flight | Saurya Airlines | S1-604 | 07:30:00 | 08:15:00 | |
| Kathmandu | Mountain Flight | Saurya Airlines | S1-605 | 07:30:00 | 08:15:00 | |
| Kathmandu | Mountain Flight | Saurya Airlines | S1-601 | 06:30:00 | 07:15:00 | |
| Kathmandu | Mountain Flight | Saurya Airlines | S1-602 | 06:30:00 | 07:15:00 | |
| Kathmandu | Taplejung | Goma Air | GMA118 | 10:30:00 | 11:20:00 | |
| Taplejung | Kathmandu | Goma Air | 119 | 11:35:00 | 12:20:00 | |
| Kathmandu | Tumlingtar | Goma Air | GMA101 | 13:00:00 | 13:40:00 | |
| Tumlingtar | Kahmandu | Goma Air | Gma102 | 13:54:00 | 14:35:00 | |
| Kathmandu | Biratnagar | Saurya Airlines | S1-801 | 09:00:00 | 09:40:00 | |
| Biratnagar | Kathmandu | Saurya Airlines | S1-802 | 09:50:00 | 10:30:00 | |
| Kathmandu | Biratnagar | Saurya Airlines | S1-805 | 12:30:00 | 13:10:00 | |
| Biratnagar | Kathmandu | Saurya Airlines | S1-806 | 13:20:00 | 13:50:00 | |
| Kathmandu | Biratnagar | Saurya Airlines | S1-807 | 16:30:00 | 17:05:00 | |
| Biratnagar | Kathmandu | Saurya Airlines | S1-808 | 17:20:00 | 18:55:00 | |
| Kathmandu | Bhadrapur | Saurya Airlines | S1-901 | 10:30:00 | 11:20:00 | |
| Bhadrapur | Kathmandu | Saurya Airlines | S1-902 | 11:30:00 | 12:20:00 | |
| Kathmandu | Bhadrapur | Saurya Airlines | S1-903 | 12:50:00 | 13:40:00 | |
| Bhadrapur | Kathmandu | Saurya Airlines | S1-904 | 13:50:00 | 14:40:00 | |
| Nepalgunj | Talcha | Goma Air | GMA151 | 08:30:00 | 09:39:00 | |
| Humla | Nepalgunj | Goma Air | GMA142 | 07:30:00 | 08:15:00 | |
| Nepalgunj | Humla | Goma Air | GMA141 | 06:30:00 | 07:15:00 | |
| Kathmandu | Lukla | Tara Airlines | TA 103 | 06:35:00 | 07:10:00 | |
| Kathmandu | Lukla | Tara Airlines | TA CHT | 06:40:00 | 07:15:00 | |
| Kathmandu | Lukla | Tara Airlines | TA CHT | 08:10:00 | 08:45:00 | |
| Kathmandu | Lukla | Tara Airlines | TA CHT | 08:15:00 | 08:50:00 | |
| Kathmandu | Lukla | Tara Airlines | TA CHT | 08:20:00 | 08:55:00 | |
| Kathmandu | Lukla | Tara Airlines | TA CHT | 09:50:00 | 10:25:00 | |
| Kathmandu | Lukla | Tara Airlines | TA CHT | 11:30:00 | 12:05:00 | |
| Kathmandu | Lukla | Tara Airlines | TA CHT | 11:35:00 | 12:10:00 | |
| Kathmandu | Lukla | Tara Airlines | TA CHT | 11:40:00 | 12:15:00 | |
| Kathmandu | Lukla | Tara Airlines | TA CHT | 13:20:00 | 13:55:00 | |
| Kathmandu | Phaplu | Tara Airlines | TA 181 (1,5) | 09:55:00 | 10:30:00 | |
| Kathmandu | Lamidanda | Tara Airlines | TA 191 (3,7) | 10:00:00 | 10:35:00 | |
| Kathmandu | Ramechhap | Tara Airlines | TA 431 (5) | 13:05:00 | 13:30:00 | |
| Lukla | Kathmandu | Tara Airlines | TA CHT | 07:25:00 | 08:00:00 | |
| Lukla | Kathmandu | Tara Airlines | TA CHT | 07:30:00 | 08:05:00 | |
| Lukla | Kathmandu | Tara Airlines | TA CHT | 09:00:00 | 09:35:00 | |
| Lukla | Kathmandu | Tara Airlines | TA CHT | 09:05:00 | 09:40:00 | |
| Lukla | Kathmandu | Tara Airlines | TA CHT | 09:10:00 | 09:45:00 | |
| Lukla | Kathmandu | Tara Airlines | TA CHT | 10:40:00 | 11:15:00 | |
| Lukla | Kathmandu | Tara Airlines | TA CHT | 12:20:00 | 12:55:00 | |
| Lukla | Kathmandu | Tara Airlines | TA CHT | 12:25:00 | 13:00:00 | |
| Lukla | Kathmandu | Tara Airlines | TA CHT | 12:30:00 | 13:05:00 | |
| Lukla | Kathmandu | Tara Airlines | TA CHT | 14:10:00 | 14:45:00 | |
| Phaplu | Kathmandu | Tara Airlines | TA 182 (1,5) | 10:45:00 | 11:20:00 | |
| Lamidanda | Kathmandu | Tara Airlines | TA 192 (3,7) | 10:50:00 | 11:25:00 | |
| Ramechhap | Kathmandu | Tara Airlines | TA 432 (5) | 15:10:00 | 15:35:00 | |
| Nepalgunj | Dolpo | Tara Airlines | TA 717 (1) | 06:30:00 | 07:15:00 | |
| Nepalgunj | Rara | Tara Airlines | TA 715 (5) | 06:30:00 | 07:20:00 | |
| Nepalgunj | Simikot | Tara Airlines | TA 711 (4) | 06:30:00 | 07:30:00 | |
| Nepalgunj | Jumla | Tara Airlines | TA 713 (6) | 06:30:00 | 07:15:00 | |
| Nepalgunj | Bajura | Tara Airlines | TA 722 (3) | 06:30:00 | 07:05:00 | |
| Dolpo | Nepalgunj | Tara Airlines | TA 718 (1) | 07:30:00 | 08:15:00 | |
| Rara | Nepalgunj | Tara Airlines | TA 716 (5) | 07:35:00 | 08:25:00 | |
| Simikot | Nepalgunj | Tara Airlines | TA 712 (4) | 07:45:00 | 08:45:00 | |
| Jumla | Nepalgunj | Tara Airlines | TA 714 (6) | 07:30:00 | 08:15:00 | |
| Bajura | Nepalgunj | Tara Airlines | TA 722 (3) | 07:20:00 | 07:55:00 | |
| Surkhet | Simikot | Tara Airlines | TA 719 (7) | 06:30:00 | 07:15:00 | |
| Surkhet | Dolpo | Tara Airlines | TA 709 (2) | 06:30:00 | 07:10:00 | |
| Surkhet | Jumla | Tara Airlines | TA 723 (2) | 08:20:00 | 08:45:00 | |
| Simikot | Surkhet | Tara Airlines | TA 720 (7) | 07:30:00 | 08:15:00 | |
| Dolpo | Surkhet | Tara Airlines | TA 710 (2) | 07:25:00 | 08:05:00 | |
| Jumla | Surkhet | Tara Airlines | TA 724 (3) | 09:00:00 | 09:25:00 | |
| Kathmandu | Pokhara | Tara Airlines | TA 227 | 15:30:00 | 16:00:00 | |
| Kathmandu | Lukla | Tara Airlines | TA 095 | 06:30:00 | 07:00:00 | |
| Kathmandu | Lukla | Tara Airlines | TA 097 | 08:00:00 | 08:30:00 | |
| Kathmandu | Lukla | Tara Airlines | TA 099 | 09:30:00 | 10:00:00 | |
| Lukla | Kathmandu | Tara Airlines | TA 096 | 07:15:00 | 07:45:00 | |
| Lukla | Kathmandu | Tara Airlines | TA 098 | 08:45:00 | 09:15:00 | |
| Lukla | Kathmandu | Tara Airlines | TA 100 | 10:15:00 | 10:45:00 | |
| Pokhara | Kathmandu | Tara Airlines | TA 228 | 09:30:00 | 10:00:00 | |
| Pokhara | Jomsom | Tara Airlines | TA 193 | 06:30:00 | 06:50:00 | |
| Jomsom | Pokhara | Tara Airlines | TA 194 | 07:05:00 | 07:25:00 | |
| Kathmandu | Mountain Flight | Simrik Airlines | SMA -100 | 06:30:00 | 07:30:00 | |
| Kathmandu | Mountain Flight | Simrik Airlines | SMA-102 | 06:30:00 | 07:30:00 | |
| Kathmandu | Mountain Flight | Simrik Airlines | SMA-200 | 07:45:00 | 08:45:00 | |
| Kathmandu | Mountain Flight | Simrik Airlines | SMA-201 | 07:45:00 | 08:45:00 | |
| Kathmandu | Pokhara | Simrik Airlines | SMA-151 | 10:00:00 | 10:25:00 | |
| Kathmandu | Pokhara | Simrik Airlines | SMA-153 | 12:00:00 | 12:25:00 | |
| Kathmandu | Pokhara | Simrik Airlines | SMA-155 | 14:00:00 | 14:25:00 | |
| Pokhara | Kathmandu | Simrik Airlines | SMA-152 | 10:45:00 | 11:10:00 | |
| pokhara | Kathmandu | Simrik Airlines | SMA-154 | 12:45:00 | 13:10:00 | |
| Pokhara | Kathmadnu | Simrik Airlines | SMA-156 | 14:45:00 | 15:10:00 | |
| Kathmandu | Bhairahwa | Simrik Airlines | SMA-171 | 12:15:00 | 13:55:00 | |
| Bhairahwa | Kathmandu | Simrik Airlines | SMA-172 | 13:05:00 | 12:35:00 | |
| Kathmadu | Simara | Simrik Airlines | SMA-113 | 15:15:00 | 15:30:00 | |
| Simara | Kathmandu | Simrik Airlines | SMA-114 | 15:45:00 | 16:00:00 | |
| Pokhara | Jomsom | Simrik Airlines | RMK 1 | 06:30:00 | 06:45:00 | |
| Pokhara | Jomsom | Simrik Airlines | RMK 3 | 00:07:05 | 00:07:20 | |
| Jomsom | Pokhara | Simrik Airlines | RMK 2 | 06:50:00 | 06:55:00 | |
| Jomsom | Pokhara | Simrik Airlines | RMK 4 | 07:20:00 | 07:35:00 | |
| Kathmandu | Lukla | Goma Air | GMA402 | 07:10:00 | 07:40:00 | |
| Lukla | Kathmandu | Goma Air | GMA401 | 06:30:00 | 07:00:00 | |
| Kathmandu | Lukla | Goma Air | GAM403 | 07:55:00 | 08:24:00 | |
| Lukla | Kathmandu | Goma Air | GAM404 | 08:35:00 | 09:05:00 | |
| Kathmandu | Lukla | Goma Air | GMA405 | 09:20:00 | 09:50:00 | |
| Lukla | Kathmandu | Goma Air | GMA406 | 10:00:00 | 10:30:00 | |
| Kathmandu | Lukla | Goma Air | GMA407 | 10:40:00 | 11:09:00 | |
| Lukla | Kathmandu | Goma Air | GMA408 | 11:20:00 | 11:50:00 | |
| Phaplu | Kathmandu | Goma Air | GMA415 | 12:30:00 | 13:00:00 | |
| Khidanda | Kathmandu | Goma Air | GMA116 | 13:00:00 | 13:30:00 | |
| Talcha | Nepalgunj | Goma Air | GMA152 | 09:50:00 | 10:30:00 | |
| Nepalguj | Jumla | Goma Air | GMA161 | 14:00:00 | 14:35:00 | |
| Jumla | Nepalgunj | Goma Air | GMA162 | 14:45:00 | 15:20:00 | |
| Nepalgunj | Bajura | Goma Air | GMA171 | 11:45:00 | 12:20:00 | |
| Bajura | Nepalgunj | Goma Air | GMA172 | 12:30:00 | 13:05:00 | |
| Pokhara | Jomsom | Goma Air | GA 602 | 00:06:30 | 00:06:45 | |
| Pokhara | Jomsom | Goma Air | GA 604 | 00:06:50 | 00:07:05 | |
| Pokhara | Jomsom | Goma Air | GA 606 | 00:08:05 | 00:08:20 | |
| Jomsom | Pokhara | Goma Air | GA 602 | 00:06:45 | 00:07:00 | |
| Jomsom | Pokhara | Goma Air | GA 603 | 00:06:50 | 00:07:05 | |
| Jomsom | Pokhara | Goma Air | GA 605 | 00:08:30 | 00:08:45 | |
| Pokhara | Bharatpur | Buddha Air | 641 | 00:00:10 | 00:00:10 | |
| Bharatpur | Pokhara | Buddha Air | 642 | 00:00:10 | 00:00:11 | |
| Pokhara | Bhairahwa | Buddha Air | 681 | 00:00:11 | 00:00:11 | |
| Bhairahwa | Pokhara | Buddha Air | 682 | 00:00:11 | 00:00:13 | |
Flight Schedule
| Flight From | Flight To | Airlines | Flight No. | Flight Time | Arrival Time | |
| --- | --- | --- | --- | --- | --- | --- |
| Kathmandu | Pokhara | Yeti Airlines | YT 671 | 08:00:00 | 08:25:00 | |
| Kathmandu | Pokhara | Yeti Airlines | YT 673 | 08:05:00 | 08:30:00 | |
| Kathmandu | Pokhara | Buddha Air | U4 605 | 08:30:00 | 09:00:00 | |
| Kathmandu | Pokhara | Yeti Airlines | YT 675 | 09:10:00 | 09:35:00 | |
| Kathmandu | Pokhara | Buddha Air | U4 611 | 10:10:00 | 10:40:00 | |
| Kathmandu | Pokhara | Yeti Airlines | YT 677 | 10:50:00 | 11:15:00 | |
| Kathmandu | Pokhara | Buddha Air | U4 607 | 12:10:00 | 12:40:00 | |
| Kathmandu | Pokhara | Yeti Airlines | YT 679 | 12:30:00 | 12:55:00 | |
| Kathmandu | Pokhara | Buddha Air | U4 609 | 14:20:00 | 14:50:00 | |
| Kathmandu | Pokhara | Yeti Airlines | YT 683 | 14:50:00 | 15:15:00 | |
| Kathmandu | Pokhara | Yeti Airlines | YT 685 | 15:40:00 | 16:05:00 | |
| Pokhara | Kathmandu | Yeti Airlines | YT 672 | 08:45:00 | 09:10:00 | |
| Pokhara | Kathmandu | Yeti Airlines | YT 674 | 08:50:00 | 09:15:00 | |
| Pokhara | Kathmandu | Buddha Air | U4 606 | 09:20:00 | 09:50:00 | |
| Pokhara | Kathmandu | Yeti Airlines | YT 676 | 09:50:00 | 10:15:00 | |
| Pokhara | Kathmandu | Buddha Air | U4 612 | 11:00:00 | 11:30:00 | |
| Pokhara | Kathmandu | Yeti Airlines | YT 678 | 11:35:00 | 12:00:00 | |
| Pokhara | Kathmandu | Buddha Air | U4 608 | 13:00:00 | 13:30:00 | |
| Pokhara | Kathmandu | Yeti Airlines | YT 680 | 13:15:00 | 13:40:00 | |
| Pokhara | Kathmandu | Buddha Air | U4 610 | 15:10:00 | 15:40:00 | |
| Pokhara | Kathmandu | Yeti Airlines | YT 684 | 15:35:00 | 16:00:00 | |
| Pokhara | Kathmandu | Yeti Airlines | YT 686 | 16:25:00 | 16:50:00 | |
| Kathmandu | Bhairahawa | Yeti Airlines | 175 | 11:50:00 | 12:10:00 | |
| Bhairahawa | Kathmandu | Yeti Airlines | 176 | 12:30:00 | 12:50:00 | |
| Kathmandu | Dhangadhi | Yeti Airlines | 231 | 12:30:00 | 13:40:00 | |
| Dhangadhi | Kathmandu | Yeti Airlines | 232 | 14:00:00 | 15:10:00 | |
| Kathmandu | Mountain Flight | Yeti Airlines | 301 | 06:30:00 | 07:30:00 | |
| Kathmandu | Mountain Flight | Yeti Airlines | 302 | 06:30:00 | 07:30:00 | |
| Kathmandu | Mountain Flight | Yeti Airlines | 304 | 06:30:00 | 07:30:00 | |
| Kathmandu | Mountain Flight | Yeti Airlines | 305 | 06:35:00 | 07:35:00 | |
| Kathmandu | Mountain Flight | Yeti Airlines | 306 | 06:40:00 | 07:40:00 | |
| Kathmandu | Mountain Flight | Yeti Airlines | 307 | 06:45:00 | 07:45:00 | |
| Kathmandu | Mountain Flight | Yeti Airlines | 401 | 07:45:00 | 08:45:00 | |
| Kathmandu | Nepalgunj | Yeti Airlines | 421 | 09:20:00 | 10:15:00 | |
| Nepalgunj | Kathmandu | Yeti Airlines | 422 | 10:35:00 | 11:30:00 | |
| Kathmandu | Nepalgunj | Yeti Airlines | 423 | 15:50:00 | 16:45:00 | |
| Nepalgunj | Kathmandu | Yeti Airlines | 424 | 17:05:00 | 18:00:00 | |
| Kathmandu | Janakpur | Yeti Airlines | 571 | 10:30:00 | 10:55:00 | |
| Janakpur | Kathmandu | Yeti Airlines | 572 | 11:15:00 | 11:40:00 | |
| Kathmandu | Janakpur | Yeti Airlines | 573 | 15:40:00 | 16:05:00 | |
| Janakpur | Kathmandu | Yeti Airlines | 574 | 16:35:00 | 17:00:00 | |
| Kathmandu | Pokhara | Yeti Airlines | 681 | 14:10:00 | 14:35:00 | |
| Pokhara | Kathmandu | Yeti Airlines | 682 | 14:55:00 | 15:20:00 | |
| Kathmandu | Biratnagar | Yeti Airlines | 787 | 09:00:00 | 09:40:00 | |
| Biratnagar | Kathmandu | Yeti Airlines | 788 | 10:00:00 | 10:40:00 | |
| Kathmandu | Biratnagar | Yeti Airlines | 791 | 12:00:00 | 12:40:00 | |
| Biratnagar | Kathmandu | Yeti Airlines | 792 | 13:00:00 | 13:40:00 | |
| Kathmandu | Biratnagar | Yeti Airlines | 793 | 14:30:00 | 15:10:00 | |
| Biratnagar | Kathmandu | Yeti Airlines | 794 | 15:30:00 | 16:10:00 | |
| Kathmandu | Biratnagar | Yeti Airlines | 797 | 16:40:00 | 17:20:00 | |
| Biratnagar | Kathmandu | Yeti Airlines | 798 | 17:40:00 | 18:20:00 | |
| Kathmandu | Bhairahawa | Yeti Airlines | 891 | 09:20:00 | 09:50:00 | |
| Bhairahawa | Kathmandu | Yeti Airlines | 892 | 10:10:00 | 10:40:00 | |
| Kathmandu | Bhairahawa | Yeti Airlines | 893 | 16:30:00 | 17:00:00 | |
| Bhairahawa | Kathmandu | Yeti Airlines | 894 | 17:20:00 | 17:50:00 | |
| Kathmandu | Bhadrapur | Yeti Airlines | 921 | 10:10:00 | 10:55:00 | |
| Bhadrapur | Kathmandu | Yeti Airlines | 922 | 11:15:00 | 12:00:00 | |
| Kathmandu | Bhadrapur | Yeti Airlines | 925 | 13:50:00 | 14:35:00 | |
| Bhadrapur | Kathmandu | Yeti Airlines | 926 | 14:55:00 | 15:40:00 | |
| Kathmandu | Tumlingtar | Yeti Airlines | 751 | 11:10:00 | 11:45:00 | |
| Tumlingtar | Kathmandu | Yeti Airlines | 752 | 12:05:00 | 12:40:00 | |
| Kathmandu | Mountain Flight | Buddha Air | U4 102 | 06:15:00 | 07:15:00 | |
| Kathmandu | Mountain Flight | Buddha Air | U4 104 | 06:15:00 | 07:15:00 | |
| Kathmandu | Mountain Flight | Buddha Air | U4 100 | 06:15:00 | 07:15:00 | |
| Kathmandu | Mountain Flight | Buddha Air | U4 201 | 07:15:00 | 08:15:00 | |
| Kathmandu | Mountain Flight | Buddha Air | U4 202 | 07:15:00 | 08:15:00 | |
| Kathmandu | Mountain Flight | Buddha Air | U4 203 | 07:15:00 | 08:15:00 | |
| Kathmandu | Mountain Flight | Yeti Airlines | U4 204 | 08:00:00 | 09:00:00 | |
| Kathmandu | Bhadrapur | Buddha Air | U4 951 | 10:00:00 | 10:50:00 | |
| Kathmandu | Bhadrapur | Buddha Air | U4 953 | 13:40:00 | 14:30:00 | |
| Kathmandu | Bhairahawa | Buddha Air | U4 851 | 09:00:00 | 09:35:00 | |
| Kathmandu | Bhairahawa | Buddha Air | U4 853 | 13:30:00 | 14:05:00 | |
| Kathmandu | Bhairahawa | Buddha Air | U4 855 | 16:40:00 | 17:15:00 | |
| Kathmandu | Bharatpur | Buddha Air | U4 351 | 10:50:00 | 11:10:00 | |
| Kathmandu | Bharatpur | Buddha Air | U4 353 | 14:20:00 | 14:40:00 | |
| Kathmandu | Biratnagar | Buddha Air | U4 703 | 07:45:00 | 08:25:00 | |
| Kathmandu | Biratnagar | Buddha Air | U4 705 | 10:00:00 | 10:40:00 | |
| Kathmandu | Biratnagar | Buddha Air | U4 707 | 12:20:00 | 13:00:00 | |
| Kathmandu | Biratnagar | Buddha Air | U4 709 | 14:40:00 | 15:20:00 | |
| Kathmandu | Biratnagar | Buddha Air | U4 713 | 15:50:00 | 16:30:00 | |
| Kathmandu | Biratnagar | Buddha Air | U4 711 | 16:50:00 | 17:30:00 | |
| Kathmandu | Dhangadi | Buddha Air | U4 251 | 12:30:00 | 13:40:00 | |
| Kathmandu | Janakpur | Buddha Air | U4 501 | 09:30:00 | 09:55:00 | |
| Kathmandu | Janakpur | Buddha Air | U4 505 | 15:10:00 | 15:35:00 | |
| Kathmandu | Nepalgunj | Buddha Air | U4 451 | 08:00:00 | 09:00:00 | |
| Kathmandu | Nepalgunj | Buddha Air | U4 405 | 16:10:00 | 17:10:00 | |
| Kathmandu | Pokhara | Yeti Airlines | U4 601 | 07:40:00 | 08:10:00 | |
| Kathmandu | Pokhara | Buddha Air | U4 603 | 08:30:00 | 09:00:00 | |
| Kathmandu | Pokhara | Buddha Air | U4 617 | 15:20:00 | 15:50:00 | |
| Kathmandu | Simara | Buddha Air | U4 551 | 09:30:00 | 09:45:00 | |
| Kathmandu | Simara | Buddha Air | U4 553 | 10:30:00 | 10:45:00 | |
| Kathmandu | Simara | Buddha Air | U4 555 | 12:00:00 | 12:15:00 | |
| Kathmandu | Simara | Buddha Air | U4 559 | 14:00:00 | 14:15:00 | |
| Kathmandu | Simara | Buddha Air | U4 561 | 15:00:00 | 15:15:00 | |
| Kathmandu | Simara | Buddha Air | U4 563 | 16:00:00 | 16:15:00 | |
| Kathmandu | Surkhet | Buddha Air | U4 133 | 13:10:00 | 14:15:00 | |
| Kathmandu | Tumlingtar | Buddha Air | U4 281 | 10:20:00 | 10:55:00 | |
| Bhadrapur | Kathmandu | Buddha Air | U4 952 | 11:15:00 | 12:05:00 | |
| Bhadrapur | Kathmandu | Buddha Air | U4 954 | 14:55:00 | 15:45:00 | |
| Bhairahawa | Kathmandu | Buddha Air | U4 852 | 09:55:00 | 10:30:00 | |
| Bhairahawa | Kathmandu | Buddha Air | U4 854 | 14:20:00 | 14:55:00 | |
| Bhairahawa | Kathmandu | Buddha Air | U4 856 | 17:35:00 | 18:10:00 | |
| Bharatpur | Kathmandu | Buddha Air | U4 352 | 11:30:00 | 11:50:00 | |
| Bharatpur | Kathmandu | Buddha Air | U4 356 | 14:55:00 | 15:15:00 | |
| Biratnagar | Kathmandu | Buddha Air | U4 704 | 08:50:00 | 09:30:00 | |
| Biratnagar | Kathmandu | Buddha Air | U4 706 | 11:05:00 | 11:45:00 | |
| Biratnagar | Kathmandu | Buddha Air | U4 708 | 13:25:00 | 14:05:00 | |
| Biratnagar | Kathmandu | Buddha Air | U4 710 | 15:45:00 | 16:25:00 | |
| Biratnagar | Kathmandu | Buddha Air | U4 714 | 16:50:00 | 17:30:00 | |
| Biratnagar | Kathmandu | Buddha Air | U4 712 | 17:55:00 | 18:35:00 | |
| Biratnagar | Tumlingtar | Buddha Air | U4 692 | 11:45:00 | 12:00:00 | |
| Dhangadhi | Kathmandu | Buddha Air | U4 252 | 14:05:00 | 15:15:00 | |
| Janakpur | Kathmandu | Buddha Air | U4 502 | 10:15:00 | 10:40:00 | |
| Janakpur | Kathmandu | Buddha Air | U4 506 | 15:55:00 | 16:20:00 | |
| Nepalgunj | Kathmandu | Buddha Air | U4 452 | 09:20:00 | 10:20:00 | |
| Nepalgunj | Kathmandu | Buddha Air | U4 406 | 17:40:00 | 18:40:00 | |
| Pokhara | Kathmandu | Buddha Air | U4 602 | 08:30:00 | 09:00:00 | |
| Pokhara | Kathmandu | Buddha Air | U4 618 | 16:10:00 | 16:40:00 | |
| Simara | Kathmandu | Buddha Air | U4 552 | 09:50:00 | 10:05:00 | |
| Simara | Kathmandu | Buddha Air | U4 554 | 10:50:00 | 11:05:00 | |
| Simara | Kathmandu | Buddha Air | U4 556 | 12:20:00 | 12:35:00 | |
| Simara | Kathmandu | Buddha Air | U4 560 | 14:20:00 | 14:35:00 | |
| Simara | Kathmandu | Buddha Air | U4 562 | 15:20:00 | 15:35:00 | |
| Simara | Kathmandu | Buddha Air | U4 564 | 16:20:00 | 16:35:00 | |
| Surkhet | Kathmandu | Buddha Air | U4 134 | 14:30:00 | 15:35:00 | |
| Tumlingtar | Biratnagar | Buddha Air | U4 691 | 11:10:00 | 11:25:00 | |
| Tumlingtar | Kathmandu | Buddha Air | U4 282 | 12:20:00 | 12:55:00 | |
| Kathmandu | Lukla | Simrik Airlines | RMK-102 | 07:15:00 | 07:45:00 | |
| Kathmandu | Lukla | Simrik Airlines | RMK-103 | 08:00:00 | 08:30:00 | |
| Lukla | Kathmandu | Simrik Airlines | RMK-104 | 08:45:00 | 09:15:00 | |
| Kathmandu | Lukla | Simrik Airlines | RMK-105 | 09:30:00 | 10:00:00 | |
| Lukla | Kathmandu | Simrik Airlines | RMK-106 | 10:15:00 | 10:45:00 | |
| Kathmandu | Lukla | Simrik Airlines | RMK-107 | 11:00:00 | 11:30:00 | |
| Lukla | Kathmandu | Simrik Airlines | RMK-108 | 11:45:00 | 12:15:00 | |
| Kathmandu | Lukla | Simrik Airlines | RMK-109 | 14:00:00 | 14:30:00 | |
| Lukla | Kathmandu | Simrik Airlines | RMK-110 | 14:45:00 | 15:15:00 | |
| Kathmandu | Lukla | Simrik Airlines | RMK-301 | 06:30:00 | 07:00:00 | |
| Lukla | Kathmandu | Simrik Airlines | RMK-302 | 07:15:00 | 07:45:00 | |
| Kathmandu | Lukla | Simrik Airlines | RMK-303 | 08:00:00 | 08:30:00 | |
| Lukla | Kathmandu | Simrik Airlines | RMK-304 | 08:45:00 | 09:15:00 | |
| Kathmandu | Lukla | Simrik Airlines | RMK-305 | 09:30:00 | 10:00:00 | |
| Lukla | Kathmandu | Simrik Airlines | RMK-306 | 10:15:00 | 10:45:00 | |
| Kathmandu | Lukla | Simrik Airlines | RMK-307 | 11:00:00 | 11:30:00 | |
| Lukla | Kathmandu | Simrik Airlines | RMK-308 | 11:45:00 | 12:15:00 | |
| Phaplu | Kathmandu | Goma Air | GMA416 | 13:00:00 | 13:30:00 | |
| Pokhara | Jomsom | Tara Air | TA - CHT | 06:00:00 | 06:20:00 | |
| Jomsom | Pokhara | Tara Air | TA- CHT | 06:25:00 | 06:45:00 | |
| Pokhara | Jomsom | Tara Air | TA - CHT | 06:50:00 | 07:10:00 | |
| Jomsom | Pokhara | Tara Air | TA - CHT | 07:15:00 | 07:30:00 | |
| Pokhara | Jomsom | Tara Air | TA - CHT | 07:40:00 | 07:55:00 | |
| Jomsom | Pokhara | Tara Air | TA-CHT | 08:00:00 | 08:15:00 | |
| Kathmandu | Khanedada | Goma Air | GAM115 | 14:00:00 | 14:30:00 | |
| Kathmandu | Mountain Flight | Saurya Airlines | S1-101 | 06:30:00 | 07:15:00 | |
| Kathmandu | Mountain Flight | Saurya Airlines | S1-604 | 07:30:00 | 08:15:00 | |
| Kathmandu | Mountain Flight | Saurya Airlines | S1-605 | 07:30:00 | 08:15:00 | |
| Kathmandu | Mountain Flight | Saurya Airlines | S1-601 | 06:30:00 | 07:15:00 | |
| Kathmandu | Mountain Flight | Saurya Airlines | S1-602 | 06:30:00 | 07:15:00 | |
| Kathmandu | Taplejung | Goma Air | GMA118 | 10:30:00 | 11:20:00 | |
| Taplejung | Kathmandu | Goma Air | 119 | 11:35:00 | 12:20:00 | |
| Kathmandu | Tumlingtar | Goma Air | GMA101 | 13:00:00 | 13:40:00 | |
| Tumlingtar | Kahmandu | Goma Air | Gma102 | 13:54:00 | 14:35:00 | |
| Kathmandu | Biratnagar | Saurya Airlines | S1-801 | 09:00:00 | 09:40:00 | |
| Biratnagar | Kathmandu | Saurya Airlines | S1-802 | 09:50:00 | 10:30:00 | |
| Kathmandu | Biratnagar | Saurya Airlines | S1-805 | 12:30:00 | 13:10:00 | |
| Biratnagar | Kathmandu | Saurya Airlines | S1-806 | 13:20:00 | 13:50:00 | |
| Kathmandu | Biratnagar | Saurya Airlines | S1-807 | 16:30:00 | 17:05:00 | |
| Biratnagar | Kathmandu | Saurya Airlines | S1-808 | 17:20:00 | 18:55:00 | |
| Kathmandu | Bhadrapur | Saurya Airlines | S1-901 | 10:30:00 | 11:20:00 | |
| Bhadrapur | Kathmandu | Saurya Airlines | S1-902 | 11:30:00 | 12:20:00 | |
| Kathmandu | Bhadrapur | Saurya Airlines | S1-903 | 12:50:00 | 13:40:00 | |
| Bhadrapur | Kathmandu | Saurya Airlines | S1-904 | 13:50:00 | 14:40:00 | |
| Nepalgunj | Talcha | Goma Air | GMA151 | 08:30:00 | 09:39:00 | |
| Humla | Nepalgunj | Goma Air | GMA142 | 07:30:00 | 08:15:00 | |
| Nepalgunj | Humla | Goma Air | GMA141 | 06:30:00 | 07:15:00 | |
| Kathmandu | Lukla | Tara Airlines | TA 103 | 06:35:00 | 07:10:00 | |
| Kathmandu | Lukla | Tara Airlines | TA CHT | 06:40:00 | 07:15:00 | |
| Kathmandu | Lukla | Tara Airlines | TA CHT | 08:10:00 | 08:45:00 | |
| Kathmandu | Lukla | Tara Airlines | TA CHT | 08:15:00 | 08:50:00 | |
| Kathmandu | Lukla | Tara Airlines | TA CHT | 08:20:00 | 08:55:00 | |
| Kathmandu | Lukla | Tara Airlines | TA CHT | 09:50:00 | 10:25:00 | |
| Kathmandu | Lukla | Tara Airlines | TA CHT | 11:30:00 | 12:05:00 | |
| Kathmandu | Lukla | Tara Airlines | TA CHT | 11:35:00 | 12:10:00 | |
| Kathmandu | Lukla | Tara Airlines | TA CHT | 11:40:00 | 12:15:00 | |
| Kathmandu | Lukla | Tara Airlines | TA CHT | 13:20:00 | 13:55:00 | |
| Kathmandu | Phaplu | Tara Airlines | TA 181 (1,5) | 09:55:00 | 10:30:00 | |
| Kathmandu | Lamidanda | Tara Airlines | TA 191 (3,7) | 10:00:00 | 10:35:00 | |
| Kathmandu | Ramechhap | Tara Airlines | TA 431 (5) | 13:05:00 | 13:30:00 | |
| Lukla | Kathmandu | Tara Airlines | TA CHT | 07:25:00 | 08:00:00 | |
| Lukla | Kathmandu | Tara Airlines | TA CHT | 07:30:00 | 08:05:00 | |
| Lukla | Kathmandu | Tara Airlines | TA CHT | 09:00:00 | 09:35:00 | |
| Lukla | Kathmandu | Tara Airlines | TA CHT | 09:05:00 | 09:40:00 | |
| Lukla | Kathmandu | Tara Airlines | TA CHT | 09:10:00 | 09:45:00 | |
| Lukla | Kathmandu | Tara Airlines | TA CHT | 10:40:00 | 11:15:00 | |
| Lukla | Kathmandu | Tara Airlines | TA CHT | 12:20:00 | 12:55:00 | |
| Lukla | Kathmandu | Tara Airlines | TA CHT | 12:25:00 | 13:00:00 | |
| Lukla | Kathmandu | Tara Airlines | TA CHT | 12:30:00 | 13:05:00 | |
| Lukla | Kathmandu | Tara Airlines | TA CHT | 14:10:00 | 14:45:00 | |
| Phaplu | Kathmandu | Tara Airlines | TA 182 (1,5) | 10:45:00 | 11:20:00 | |
| Lamidanda | Kathmandu | Tara Airlines | TA 192 (3,7) | 10:50:00 | 11:25:00 | |
| Ramechhap | Kathmandu | Tara Airlines | TA 432 (5) | 15:10:00 | 15:35:00 | |
| Nepalgunj | Dolpo | Tara Airlines | TA 717 (1) | 06:30:00 | 07:15:00 | |
| Nepalgunj | Rara | Tara Airlines | TA 715 (5) | 06:30:00 | 07:20:00 | |
| Nepalgunj | Simikot | Tara Airlines | TA 711 (4) | 06:30:00 | 07:30:00 | |
| Nepalgunj | Jumla | Tara Airlines | TA 713 (6) | 06:30:00 | 07:15:00 | |
| Nepalgunj | Bajura | Tara Airlines | TA 722 (3) | 06:30:00 | 07:05:00 | |
| Dolpo | Nepalgunj | Tara Airlines | TA 718 (1) | 07:30:00 | 08:15:00 | |
| Rara | Nepalgunj | Tara Airlines | TA 716 (5) | 07:35:00 | 08:25:00 | |
| Simikot | Nepalgunj | Tara Airlines | TA 712 (4) | 07:45:00 | 08:45:00 | |
| Jumla | Nepalgunj | Tara Airlines | TA 714 (6) | 07:30:00 | 08:15:00 | |
| Bajura | Nepalgunj | Tara Airlines | TA 722 (3) | 07:20:00 | 07:55:00 | |
| Surkhet | Simikot | Tara Airlines | TA 719 (7) | 06:30:00 | 07:15:00 | |
| Surkhet | Dolpo | Tara Airlines | TA 709 (2) | 06:30:00 | 07:10:00 | |
| Surkhet | Jumla | Tara Airlines | TA 723 (2) | 08:20:00 | 08:45:00 | |
| Simikot | Surkhet | Tara Airlines | TA 720 (7) | 07:30:00 | 08:15:00 | |
| Dolpo | Surkhet | Tara Airlines | TA 710 (2) | 07:25:00 | 08:05:00 | |
| Jumla | Surkhet | Tara Airlines | TA 724 (3) | 09:00:00 | 09:25:00 | |
| Kathmandu | Pokhara | Tara Airlines | TA 227 | 15:30:00 | 16:00:00 | |
| Kathmandu | Lukla | Tara Airlines | TA 095 | 06:30:00 | 07:00:00 | |
| Kathmandu | Lukla | Tara Airlines | TA 097 | 08:00:00 | 08:30:00 | |
| Kathmandu | Lukla | Tara Airlines | TA 099 | 09:30:00 | 10:00:00 | |
| Lukla | Kathmandu | Tara Airlines | TA 096 | 07:15:00 | 07:45:00 | |
| Lukla | Kathmandu | Tara Airlines | TA 098 | 08:45:00 | 09:15:00 | |
| Lukla | Kathmandu | Tara Airlines | TA 100 | 10:15:00 | 10:45:00 | |
| Pokhara | Kathmandu | Tara Airlines | TA 228 | 09:30:00 | 10:00:00 | |
| Pokhara | Jomsom | Tara Airlines | TA 193 | 06:30:00 | 06:50:00 | |
| Jomsom | Pokhara | Tara Airlines | TA 194 | 07:05:00 | 07:25:00 | |
| Kathmandu | Mountain Flight | Simrik Airlines | SMA -100 | 06:30:00 | 07:30:00 | |
| Kathmandu | Mountain Flight | Simrik Airlines | SMA-102 | 06:30:00 | 07:30:00 | |
| Kathmandu | Mountain Flight | Simrik Airlines | SMA-200 | 07:45:00 | 08:45:00 | |
| Kathmandu | Mountain Flight | Simrik Airlines | SMA-201 | 07:45:00 | 08:45:00 | |
| Kathmandu | Pokhara | Simrik Airlines | SMA-151 | 10:00:00 | 10:25:00 | |
| Kathmandu | Pokhara | Simrik Airlines | SMA-153 | 12:00:00 | 12:25:00 | |
| Kathmandu | Pokhara | Simrik Airlines | SMA-155 | 14:00:00 | 14:25:00 | |
| Pokhara | Kathmandu | Simrik Airlines | SMA-152 | 10:45:00 | 11:10:00 | |
| pokhara | Kathmandu | Simrik Airlines | SMA-154 | 12:45:00 | 13:10:00 | |
| Pokhara | Kathmadnu | Simrik Airlines | SMA-156 | 14:45:00 | 15:10:00 | |
| Kathmandu | Bhairahwa | Simrik Airlines | SMA-171 | 12:15:00 | 13:55:00 | |
| Bhairahwa | Kathmandu | Simrik Airlines | SMA-172 | 13:05:00 | 12:35:00 | |
| Kathmadu | Simara | Simrik Airlines | SMA-113 | 15:15:00 | 15:30:00 | |
| Simara | Kathmandu | Simrik Airlines | SMA-114 | 15:45:00 | 16:00:00 | |
| Pokhara | Jomsom | Simrik Airlines | RMK 1 | 06:30:00 | 06:45:00 | |
| Pokhara | Jomsom | Simrik Airlines | RMK 3 | 00:07:05 | 00:07:20 | |
| Jomsom | Pokhara | Simrik Airlines | RMK 2 | 06:50:00 | 06:55:00 | |
| Jomsom | Pokhara | Simrik Airlines | RMK 4 | 07:20:00 | 07:35:00 | |
| Kathmandu | Lukla | Goma Air | GMA402 | 07:10:00 | 07:40:00 | |
| Lukla | Kathmandu | Goma Air | GMA401 | 06:30:00 | 07:00:00 | |
| Kathmandu | Lukla | Goma Air | GAM403 | 07:55:00 | 08:24:00 | |
| Lukla | Kathmandu | Goma Air | GAM404 | 08:35:00 | 09:05:00 | |
| Kathmandu | Lukla | Goma Air | GMA405 | 09:20:00 | 09:50:00 | |
| Lukla | Kathmandu | Goma Air | GMA406 | 10:00:00 | 10:30:00 | |
| Kathmandu | Lukla | Goma Air | GMA407 | 10:40:00 | 11:09:00 | |
| Lukla | Kathmandu | Goma Air | GMA408 | 11:20:00 | 11:50:00 | |
| Phaplu | Kathmandu | Goma Air | GMA415 | 12:30:00 | 13:00:00 | |
| Khidanda | Kathmandu | Goma Air | GMA116 | 13:00:00 | 13:30:00 | |
| Talcha | Nepalgunj | Goma Air | GMA152 | 09:50:00 | 10:30:00 | |
| Nepalguj | Jumla | Goma Air | GMA161 | 14:00:00 | 14:35:00 | |
| Jumla | Nepalgunj | Goma Air | GMA162 | 14:45:00 | 15:20:00 | |
| Nepalgunj | Bajura | Goma Air | GMA171 | 11:45:00 | 12:20:00 | |
| Bajura | Nepalgunj | Goma Air | GMA172 | 12:30:00 | 13:05:00 | |
| Pokhara | Jomsom | Goma Air | GA 602 | 00:06:30 | 00:06:45 | |
| Pokhara | Jomsom | Goma Air | GA 604 | 00:06:50 | 00:07:05 | |
| Pokhara | Jomsom | Goma Air | GA 606 | 00:08:05 | 00:08:20 | |
| Jomsom | Pokhara | Goma Air | GA 602 | 00:06:45 | 00:07:00 | |
| Jomsom | Pokhara | Goma Air | GA 603 | 00:06:50 | 00:07:05 | |
| Jomsom | Pokhara | Goma Air | GA 605 | 00:08:30 | 00:08:45 | |
| Pokhara | Bharatpur | Buddha Air | 641 | 00:00:10 | 00:00:10 | |
| Bharatpur | Pokhara | Buddha Air | 642 | 00:00:10 | 00:00:11 | |
| Pokhara | Bhairahwa | Buddha Air | 681 | 00:00:11 | 00:00:11 | |
| Bhairahwa | Pokhara | Buddha Air | 682 | 00:00:11 | 00:00:13 | |