Kathmandu Pokhara Flight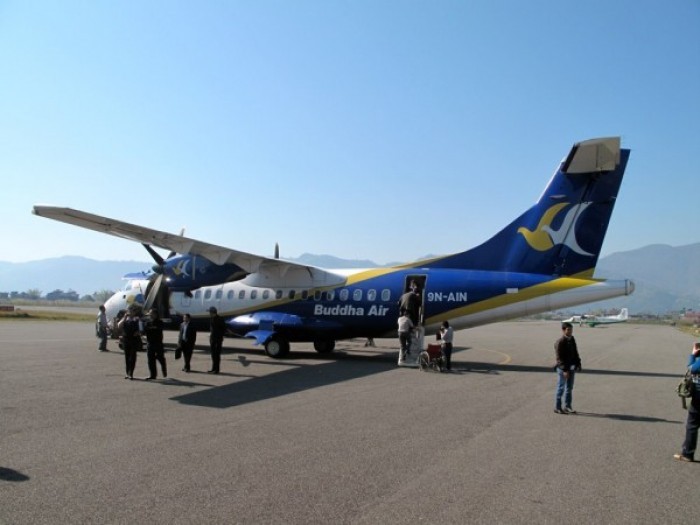 Pokhara, also called as a paradise on earth, lies 200 Km west of Kathmandu Valley at an elevation of 827 M above sea level. It embraces the beauty of Nature reflecting the pristine snowy mountainous vistas of Annapurna Range, Dhaulagiri, Manaslu and Machhapuchhre at proximate distance. It holds diversity both naturally and culturally. One can enjoy green lush valley, forest area, flora and fauna, beautiful Phewa Lake, David's fall, Mahendra Caves and other caves, Rivers, green hills, mountain views and much more including typical villages of Nepal reflecting traditional way of life. The climate and adventurous activities with nature ecstasy (Zip Flyer, Boating, Fishing, Paragliding, etc) lures several tourists including you to visit this beautiful Heaven at Nepal.
Kathmandu Pokhara Flights are a short 25 minutes flight from Kathmandu Airport. You can catch daily Kathmandu Pokhara flights from Morning 8.30 AM to 16.00 PM in the evening.You can take this Kathmanu Pokhara flights making your journey short and comfortable with beauty of Dhaulagiri, Annapurna, Fishtail and Manaslu Range as well as surrounding peaks. Getting Pokhara is time consuming as one decides to travel by road but it gives you amazing experience of rural areas and natures beauty of Nepal on the way. It usually takes 6 hours to get by private vehicle on road and yes it gets little uncomfortable meanwhile so Kathmandu Pokhara Flights are the best alternatives. Yeti Airlines, Tara Airlines, Buddha Air, Simrik Air and Agni air operates these Kathmandu Pokhara flights on regular basis.
Price :-
| | | | | |
| --- | --- | --- | --- | --- |
| Sector | USD Rate ( Adult) | USD Child | Indian/Nepali | NPR Child |
| Kathmandu -Pokhara | 108.00 | 80.00 | NPR 4940.00 | NPR 3295.00 |
| Pokhara - Kathmadnu | 108.00 | 80.00 | NPR 4940.00 | NPR 3295.00 |
Note :
- UAD Fair is for Foreign Passport Holders & NPR Fair is for Indian Passport Holders & Nepali Client only
- The rate is inclusive of applicable taxes (FSC & PSC)
- Child Age Should be below 12 years
- Write us email for Group rate
Flight Schedule
| Flight From | Flight To | Airlines | Flight No. | Flight Time | Arrival Time | |
| --- | --- | --- | --- | --- | --- | --- |
| Kathmandu | Pokhara | Yeti Airlines | YT 671 | 08:00:00 | 08:25:00 | |
| Kathmandu | Pokhara | Yeti Airlines | YT 673 | 08:05:00 | 08:30:00 | |
| Kathmandu | Pokhara | Buddha Air | U4 605 | 08:30:00 | 09:00:00 | |
| Kathmandu | Pokhara | Yeti Airlines | YT 675 | 09:10:00 | 09:35:00 | |
| Kathmandu | Pokhara | Buddha Air | U4 611 | 10:10:00 | 10:40:00 | |
| Kathmandu | Pokhara | Yeti Airlines | YT 677 | 10:50:00 | 11:15:00 | |
| Kathmandu | Pokhara | Buddha Air | U4 607 | 12:10:00 | 12:40:00 | |
| Kathmandu | Pokhara | Yeti Airlines | YT 679 | 12:30:00 | 12:55:00 | |
| Kathmandu | Pokhara | Buddha Air | U4 609 | 14:20:00 | 14:50:00 | |
| Kathmandu | Pokhara | Yeti Airlines | YT 683 | 14:50:00 | 15:15:00 | |
| Kathmandu | Pokhara | Yeti Airlines | YT 685 | 15:40:00 | 16:05:00 | |
| Pokhara | Kathmandu | Yeti Airlines | YT 672 | 08:45:00 | 09:10:00 | |
| Pokhara | Kathmandu | Yeti Airlines | YT 674 | 08:50:00 | 09:15:00 | |
| Pokhara | Kathmandu | Buddha Air | U4 606 | 09:20:00 | 09:50:00 | |
| Pokhara | Kathmandu | Yeti Airlines | YT 676 | 09:50:00 | 10:15:00 | |
| Pokhara | Kathmandu | Buddha Air | U4 612 | 11:00:00 | 11:30:00 | |
| Pokhara | Kathmandu | Yeti Airlines | YT 678 | 11:35:00 | 12:00:00 | |
| Pokhara | Kathmandu | Buddha Air | U4 608 | 13:00:00 | 13:30:00 | |
| Pokhara | Kathmandu | Yeti Airlines | YT 680 | 13:15:00 | 13:40:00 | |
| Pokhara | Kathmandu | Buddha Air | U4 610 | 15:10:00 | 15:40:00 | |
| Pokhara | Kathmandu | Yeti Airlines | YT 684 | 15:35:00 | 16:00:00 | |
| Pokhara | Kathmandu | Yeti Airlines | YT 686 | 16:25:00 | 16:50:00 | |
| Kathmandu | Bhairahawa | Yeti Airlines | 175 | 11:50:00 | 12:10:00 | |
| Bhairahawa | Kathmandu | Yeti Airlines | 176 | 12:30:00 | 12:50:00 | |
| Kathmandu | Dhangadhi | Yeti Airlines | 231 | 12:30:00 | 13:40:00 | |
| Dhangadhi | Kathmandu | Yeti Airlines | 232 | 14:00:00 | 15:10:00 | |
| Kathmandu | Mountain Flight | Yeti Airlines | 301 | 06:30:00 | 07:30:00 | |
| Kathmandu | Mountain Flight | Yeti Airlines | 302 | 06:30:00 | 07:30:00 | |
| Kathmandu | Mountain Flight | Yeti Airlines | 304 | 06:30:00 | 07:30:00 | |
| Kathmandu | Mountain Flight | Yeti Airlines | 305 | 06:35:00 | 07:35:00 | |
| Kathmandu | Mountain Flight | Yeti Airlines | 306 | 06:40:00 | 07:40:00 | |
| Kathmandu | Mountain Flight | Yeti Airlines | 307 | 06:45:00 | 07:45:00 | |
| Kathmandu | Mountain Flight | Yeti Airlines | 401 | 07:45:00 | 08:45:00 | |
| Kathmandu | Nepalgunj | Yeti Airlines | 421 | 09:20:00 | 10:15:00 | |
| Nepalgunj | Kathmandu | Yeti Airlines | 422 | 10:35:00 | 11:30:00 | |
| Kathmandu | Nepalgunj | Yeti Airlines | 423 | 15:50:00 | 16:45:00 | |
| Nepalgunj | Kathmandu | Yeti Airlines | 424 | 17:05:00 | 18:00:00 | |
| Kathmandu | Janakpur | Yeti Airlines | 571 | 10:30:00 | 10:55:00 | |
| Janakpur | Kathmandu | Yeti Airlines | 572 | 11:15:00 | 11:40:00 | |
| Kathmandu | Janakpur | Yeti Airlines | 573 | 15:40:00 | 16:05:00 | |
| Janakpur | Kathmandu | Yeti Airlines | 574 | 16:35:00 | 17:00:00 | |
| Kathmandu | Pokhara | Yeti Airlines | 681 | 14:10:00 | 14:35:00 | |
| Pokhara | Kathmandu | Yeti Airlines | 682 | 14:55:00 | 15:20:00 | |
| Kathmandu | Biratnagar | Yeti Airlines | 787 | 09:00:00 | 09:40:00 | |
| Biratnagar | Kathmandu | Yeti Airlines | 788 | 10:00:00 | 10:40:00 | |
| Kathmandu | Biratnagar | Yeti Airlines | 791 | 12:00:00 | 12:40:00 | |
| Biratnagar | Kathmandu | Yeti Airlines | 792 | 13:00:00 | 13:40:00 | |
| Kathmandu | Biratnagar | Yeti Airlines | 793 | 14:30:00 | 15:10:00 | |
| Biratnagar | Kathmandu | Yeti Airlines | 794 | 15:30:00 | 16:10:00 | |
| Kathmandu | Biratnagar | Yeti Airlines | 797 | 16:40:00 | 17:20:00 | |
| Biratnagar | Kathmandu | Yeti Airlines | 798 | 17:40:00 | 18:20:00 | |
| Kathmandu | Bhairahawa | Yeti Airlines | 891 | 09:20:00 | 09:50:00 | |
| Bhairahawa | Kathmandu | Yeti Airlines | 892 | 10:10:00 | 10:40:00 | |
| Kathmandu | Bhairahawa | Yeti Airlines | 893 | 16:30:00 | 17:00:00 | |
| Bhairahawa | Kathmandu | Yeti Airlines | 894 | 17:20:00 | 17:50:00 | |
| Kathmandu | Bhadrapur | Yeti Airlines | 921 | 10:10:00 | 10:55:00 | |
| Bhadrapur | Kathmandu | Yeti Airlines | 922 | 11:15:00 | 12:00:00 | |
| Kathmandu | Bhadrapur | Yeti Airlines | 925 | 13:50:00 | 14:35:00 | |
| Bhadrapur | Kathmandu | Yeti Airlines | 926 | 14:55:00 | 15:40:00 | |
| Kathmandu | Tumlingtar | Yeti Airlines | 751 | 11:10:00 | 11:45:00 | |
| Tumlingtar | Kathmandu | Yeti Airlines | 752 | 12:05:00 | 12:40:00 | |
| Kathmandu | Mountain Flight | Buddha Air | U4 102 | 06:15:00 | 07:15:00 | |
| Kathmandu | Mountain Flight | Buddha Air | U4 104 | 06:15:00 | 07:15:00 | |
| Kathmandu | Mountain Flight | Buddha Air | U4 100 | 06:15:00 | 07:15:00 | |
| Kathmandu | Mountain Flight | Buddha Air | U4 201 | 07:15:00 | 08:15:00 | |
| Kathmandu | Mountain Flight | Buddha Air | U4 202 | 07:15:00 | 08:15:00 | |
| Kathmandu | Mountain Flight | Buddha Air | U4 203 | 07:15:00 | 08:15:00 | |
| Kathmandu | Mountain Flight | Yeti Airlines | U4 204 | 08:00:00 | 09:00:00 | |
| Kathmandu | Bhadrapur | Buddha Air | U4 951 | 10:00:00 | 10:50:00 | |
| Kathmandu | Bhadrapur | Buddha Air | U4 953 | 13:40:00 | 14:30:00 | |
| Kathmandu | Bhairahawa | Buddha Air | U4 851 | 09:00:00 | 09:35:00 | |
| Kathmandu | Bhairahawa | Buddha Air | U4 853 | 13:30:00 | 14:05:00 | |
| Kathmandu | Bhairahawa | Buddha Air | U4 855 | 16:40:00 | 17:15:00 | |
| Kathmandu | Bharatpur | Buddha Air | U4 351 | 10:50:00 | 11:10:00 | |
| Kathmandu | Bharatpur | Buddha Air | U4 353 | 14:20:00 | 14:40:00 | |
| Kathmandu | Biratnagar | Buddha Air | U4 703 | 07:45:00 | 08:25:00 | |
| Kathmandu | Biratnagar | Buddha Air | U4 705 | 10:00:00 | 10:40:00 | |
| Kathmandu | Biratnagar | Buddha Air | U4 707 | 12:20:00 | 13:00:00 | |
| Kathmandu | Biratnagar | Buddha Air | U4 709 | 14:40:00 | 15:20:00 | |
| Kathmandu | Biratnagar | Buddha Air | U4 713 | 15:50:00 | 16:30:00 | |
| Kathmandu | Biratnagar | Buddha Air | U4 711 | 16:50:00 | 17:30:00 | |
| Kathmandu | Dhangadi | Buddha Air | U4 251 | 12:30:00 | 13:40:00 | |
| Kathmandu | Janakpur | Buddha Air | U4 501 | 09:30:00 | 09:55:00 | |
| Kathmandu | Janakpur | Buddha Air | U4 505 | 15:10:00 | 15:35:00 | |
| Kathmandu | Nepalgunj | Buddha Air | U4 451 | 08:00:00 | 09:00:00 | |
| Kathmandu | Nepalgunj | Buddha Air | U4 405 | 16:10:00 | 17:10:00 | |
| Kathmandu | Pokhara | Yeti Airlines | U4 601 | 07:40:00 | 08:10:00 | |
| Kathmandu | Pokhara | Buddha Air | U4 603 | 08:30:00 | 09:00:00 | |
| Kathmandu | Pokhara | Buddha Air | U4 617 | 15:20:00 | 15:50:00 | |
| Kathmandu | Simara | Buddha Air | U4 551 | 09:30:00 | 09:45:00 | |
| Kathmandu | Simara | Buddha Air | U4 553 | 10:30:00 | 10:45:00 | |
| Kathmandu | Simara | Buddha Air | U4 555 | 12:00:00 | 12:15:00 | |
| Kathmandu | Simara | Buddha Air | U4 559 | 14:00:00 | 14:15:00 | |
| Kathmandu | Simara | Buddha Air | U4 561 | 15:00:00 | 15:15:00 | |
| Kathmandu | Simara | Buddha Air | U4 563 | 16:00:00 | 16:15:00 | |
| Kathmandu | Surkhet | Buddha Air | U4 133 | 13:10:00 | 14:15:00 | |
| Kathmandu | Tumlingtar | Buddha Air | U4 281 | 10:20:00 | 10:55:00 | |
| Bhadrapur | Kathmandu | Buddha Air | U4 952 | 11:15:00 | 12:05:00 | |
| Bhadrapur | Kathmandu | Buddha Air | U4 954 | 14:55:00 | 15:45:00 | |
| Bhairahawa | Kathmandu | Buddha Air | U4 852 | 09:55:00 | 10:30:00 | |
| Bhairahawa | Kathmandu | Buddha Air | U4 854 | 14:20:00 | 14:55:00 | |
| Bhairahawa | Kathmandu | Buddha Air | U4 856 | 17:35:00 | 18:10:00 | |
| Bharatpur | Kathmandu | Buddha Air | U4 352 | 11:30:00 | 11:50:00 | |
| Bharatpur | Kathmandu | Buddha Air | U4 356 | 14:55:00 | 15:15:00 | |
| Biratnagar | Kathmandu | Buddha Air | U4 704 | 08:50:00 | 09:30:00 | |
| Biratnagar | Kathmandu | Buddha Air | U4 706 | 11:05:00 | 11:45:00 | |
| Biratnagar | Kathmandu | Buddha Air | U4 708 | 13:25:00 | 14:05:00 | |
| Biratnagar | Kathmandu | Buddha Air | U4 710 | 15:45:00 | 16:25:00 | |
| Biratnagar | Kathmandu | Buddha Air | U4 714 | 16:50:00 | 17:30:00 | |
| Biratnagar | Kathmandu | Buddha Air | U4 712 | 17:55:00 | 18:35:00 | |
| Biratnagar | Tumlingtar | Buddha Air | U4 692 | 11:45:00 | 12:00:00 | |
| Dhangadhi | Kathmandu | Buddha Air | U4 252 | 14:05:00 | 15:15:00 | |
| Janakpur | Kathmandu | Buddha Air | U4 502 | 10:15:00 | 10:40:00 | |
| Janakpur | Kathmandu | Buddha Air | U4 506 | 15:55:00 | 16:20:00 | |
| Nepalgunj | Kathmandu | Buddha Air | U4 452 | 09:20:00 | 10:20:00 | |
| Nepalgunj | Kathmandu | Buddha Air | U4 406 | 17:40:00 | 18:40:00 | |
| Pokhara | Kathmandu | Buddha Air | U4 602 | 08:30:00 | 09:00:00 | |
| Pokhara | Kathmandu | Buddha Air | U4 618 | 16:10:00 | 16:40:00 | |
| Simara | Kathmandu | Buddha Air | U4 552 | 09:50:00 | 10:05:00 | |
| Simara | Kathmandu | Buddha Air | U4 554 | 10:50:00 | 11:05:00 | |
| Simara | Kathmandu | Buddha Air | U4 556 | 12:20:00 | 12:35:00 | |
| Simara | Kathmandu | Buddha Air | U4 560 | 14:20:00 | 14:35:00 | |
| Simara | Kathmandu | Buddha Air | U4 562 | 15:20:00 | 15:35:00 | |
| Simara | Kathmandu | Buddha Air | U4 564 | 16:20:00 | 16:35:00 | |
| Surkhet | Kathmandu | Buddha Air | U4 134 | 14:30:00 | 15:35:00 | |
| Tumlingtar | Biratnagar | Buddha Air | U4 691 | 11:10:00 | 11:25:00 | |
| Tumlingtar | Kathmandu | Buddha Air | U4 282 | 12:20:00 | 12:55:00 | |
| Kathmandu | Lukla | Simrik Airlines | RMK-102 | 07:15:00 | 07:45:00 | |
| Kathmandu | Lukla | Simrik Airlines | RMK-103 | 08:00:00 | 08:30:00 | |
| Lukla | Kathmandu | Simrik Airlines | RMK-104 | 08:45:00 | 09:15:00 | |
| Kathmandu | Lukla | Simrik Airlines | RMK-105 | 09:30:00 | 10:00:00 | |
| Lukla | Kathmandu | Simrik Airlines | RMK-106 | 10:15:00 | 10:45:00 | |
| Kathmandu | Lukla | Simrik Airlines | RMK-107 | 11:00:00 | 11:30:00 | |
| Lukla | Kathmandu | Simrik Airlines | RMK-108 | 11:45:00 | 12:15:00 | |
| Kathmandu | Lukla | Simrik Airlines | RMK-109 | 14:00:00 | 14:30:00 | |
| Lukla | Kathmandu | Simrik Airlines | RMK-110 | 14:45:00 | 15:15:00 | |
| Kathmandu | Lukla | Simrik Airlines | RMK-301 | 06:30:00 | 07:00:00 | |
| Lukla | Kathmandu | Simrik Airlines | RMK-302 | 07:15:00 | 07:45:00 | |
| Kathmandu | Lukla | Simrik Airlines | RMK-303 | 08:00:00 | 08:30:00 | |
| Lukla | Kathmandu | Simrik Airlines | RMK-304 | 08:45:00 | 09:15:00 | |
| Kathmandu | Lukla | Simrik Airlines | RMK-305 | 09:30:00 | 10:00:00 | |
| Lukla | Kathmandu | Simrik Airlines | RMK-306 | 10:15:00 | 10:45:00 | |
| Kathmandu | Lukla | Simrik Airlines | RMK-307 | 11:00:00 | 11:30:00 | |
| Lukla | Kathmandu | Simrik Airlines | RMK-308 | 11:45:00 | 12:15:00 | |
| Phaplu | Kathmandu | Goma Air | GMA416 | 13:00:00 | 13:30:00 | |
| Pokhara | Jomsom | Tara Air | TA - CHT | 06:00:00 | 06:20:00 | |
| Jomsom | Pokhara | Tara Air | TA- CHT | 06:25:00 | 06:45:00 | |
| Pokhara | Jomsom | Tara Air | TA - CHT | 06:50:00 | 07:10:00 | |
| Jomsom | Pokhara | Tara Air | TA - CHT | 07:15:00 | 07:30:00 | |
| Pokhara | Jomsom | Tara Air | TA - CHT | 07:40:00 | 07:55:00 | |
| Jomsom | Pokhara | Tara Air | TA-CHT | 08:00:00 | 08:15:00 | |
| Kathmandu | Khanedada | Goma Air | GAM115 | 14:00:00 | 14:30:00 | |
| Kathmandu | Mountain Flight | Saurya Airlines | S1-101 | 06:30:00 | 07:15:00 | |
| Kathmandu | Mountain Flight | Saurya Airlines | S1-604 | 07:30:00 | 08:15:00 | |
| Kathmandu | Mountain Flight | Saurya Airlines | S1-605 | 07:30:00 | 08:15:00 | |
| Kathmandu | Mountain Flight | Saurya Airlines | S1-601 | 06:30:00 | 07:15:00 | |
| Kathmandu | Mountain Flight | Saurya Airlines | S1-602 | 06:30:00 | 07:15:00 | |
| Kathmandu | Taplejung | Goma Air | GMA118 | 10:30:00 | 11:20:00 | |
| Taplejung | Kathmandu | Goma Air | 119 | 11:35:00 | 12:20:00 | |
| Kathmandu | Tumlingtar | Goma Air | GMA101 | 13:00:00 | 13:40:00 | |
| Tumlingtar | Kahmandu | Goma Air | Gma102 | 13:54:00 | 14:35:00 | |
| Kathmandu | Biratnagar | Saurya Airlines | S1-801 | 09:00:00 | 09:40:00 | |
| Biratnagar | Kathmandu | Saurya Airlines | S1-802 | 09:50:00 | 10:30:00 | |
| Kathmandu | Biratnagar | Saurya Airlines | S1-805 | 12:30:00 | 13:10:00 | |
| Biratnagar | Kathmandu | Saurya Airlines | S1-806 | 13:20:00 | 13:50:00 | |
| Kathmandu | Biratnagar | Saurya Airlines | S1-807 | 16:30:00 | 17:05:00 | |
| Biratnagar | Kathmandu | Saurya Airlines | S1-808 | 17:20:00 | 18:55:00 | |
| Kathmandu | Bhadrapur | Saurya Airlines | S1-901 | 10:30:00 | 11:20:00 | |
| Bhadrapur | Kathmandu | Saurya Airlines | S1-902 | 11:30:00 | 12:20:00 | |
| Kathmandu | Bhadrapur | Saurya Airlines | S1-903 | 12:50:00 | 13:40:00 | |
| Bhadrapur | Kathmandu | Saurya Airlines | S1-904 | 13:50:00 | 14:40:00 | |
| Nepalgunj | Talcha | Goma Air | GMA151 | 08:30:00 | 09:39:00 | |
| Humla | Nepalgunj | Goma Air | GMA142 | 07:30:00 | 08:15:00 | |
| Nepalgunj | Humla | Goma Air | GMA141 | 06:30:00 | 07:15:00 | |
| Kathmandu | Lukla | Tara Airlines | TA 103 | 06:35:00 | 07:10:00 | |
| Kathmandu | Lukla | Tara Airlines | TA CHT | 06:40:00 | 07:15:00 | |
| Kathmandu | Lukla | Tara Airlines | TA CHT | 08:10:00 | 08:45:00 | |
| Kathmandu | Lukla | Tara Airlines | TA CHT | 08:15:00 | 08:50:00 | |
| Kathmandu | Lukla | Tara Airlines | TA CHT | 08:20:00 | 08:55:00 | |
| Kathmandu | Lukla | Tara Airlines | TA CHT | 09:50:00 | 10:25:00 | |
| Kathmandu | Lukla | Tara Airlines | TA CHT | 11:30:00 | 12:05:00 | |
| Kathmandu | Lukla | Tara Airlines | TA CHT | 11:35:00 | 12:10:00 | |
| Kathmandu | Lukla | Tara Airlines | TA CHT | 11:40:00 | 12:15:00 | |
| Kathmandu | Lukla | Tara Airlines | TA CHT | 13:20:00 | 13:55:00 | |
| Kathmandu | Phaplu | Tara Airlines | TA 181 (1,5) | 09:55:00 | 10:30:00 | |
| Kathmandu | Lamidanda | Tara Airlines | TA 191 (3,7) | 10:00:00 | 10:35:00 | |
| Kathmandu | Ramechhap | Tara Airlines | TA 431 (5) | 13:05:00 | 13:30:00 | |
| Lukla | Kathmandu | Tara Airlines | TA CHT | 07:25:00 | 08:00:00 | |
| Lukla | Kathmandu | Tara Airlines | TA CHT | 07:30:00 | 08:05:00 | |
| Lukla | Kathmandu | Tara Airlines | TA CHT | 09:00:00 | 09:35:00 | |
| Lukla | Kathmandu | Tara Airlines | TA CHT | 09:05:00 | 09:40:00 | |
| Lukla | Kathmandu | Tara Airlines | TA CHT | 09:10:00 | 09:45:00 | |
| Lukla | Kathmandu | Tara Airlines | TA CHT | 10:40:00 | 11:15:00 | |
| Lukla | Kathmandu | Tara Airlines | TA CHT | 12:20:00 | 12:55:00 | |
| Lukla | Kathmandu | Tara Airlines | TA CHT | 12:25:00 | 13:00:00 | |
| Lukla | Kathmandu | Tara Airlines | TA CHT | 12:30:00 | 13:05:00 | |
| Lukla | Kathmandu | Tara Airlines | TA CHT | 14:10:00 | 14:45:00 | |
| Phaplu | Kathmandu | Tara Airlines | TA 182 (1,5) | 10:45:00 | 11:20:00 | |
| Lamidanda | Kathmandu | Tara Airlines | TA 192 (3,7) | 10:50:00 | 11:25:00 | |
| Ramechhap | Kathmandu | Tara Airlines | TA 432 (5) | 15:10:00 | 15:35:00 | |
| Nepalgunj | Dolpo | Tara Airlines | TA 717 (1) | 06:30:00 | 07:15:00 | |
| Nepalgunj | Rara | Tara Airlines | TA 715 (5) | 06:30:00 | 07:20:00 | |
| Nepalgunj | Simikot | Tara Airlines | TA 711 (4) | 06:30:00 | 07:30:00 | |
| Nepalgunj | Jumla | Tara Airlines | TA 713 (6) | 06:30:00 | 07:15:00 | |
| Nepalgunj | Bajura | Tara Airlines | TA 722 (3) | 06:30:00 | 07:05:00 | |
| Dolpo | Nepalgunj | Tara Airlines | TA 718 (1) | 07:30:00 | 08:15:00 | |
| Rara | Nepalgunj | Tara Airlines | TA 716 (5) | 07:35:00 | 08:25:00 | |
| Simikot | Nepalgunj | Tara Airlines | TA 712 (4) | 07:45:00 | 08:45:00 | |
| Jumla | Nepalgunj | Tara Airlines | TA 714 (6) | 07:30:00 | 08:15:00 | |
| Bajura | Nepalgunj | Tara Airlines | TA 722 (3) | 07:20:00 | 07:55:00 | |
| Surkhet | Simikot | Tara Airlines | TA 719 (7) | 06:30:00 | 07:15:00 | |
| Surkhet | Dolpo | Tara Airlines | TA 709 (2) | 06:30:00 | 07:10:00 | |
| Surkhet | Jumla | Tara Airlines | TA 723 (2) | 08:20:00 | 08:45:00 | |
| Simikot | Surkhet | Tara Airlines | TA 720 (7) | 07:30:00 | 08:15:00 | |
| Dolpo | Surkhet | Tara Airlines | TA 710 (2) | 07:25:00 | 08:05:00 | |
| Jumla | Surkhet | Tara Airlines | TA 724 (3) | 09:00:00 | 09:25:00 | |
| Kathmandu | Pokhara | Tara Airlines | TA 227 | 15:30:00 | 16:00:00 | |
| Kathmandu | Lukla | Tara Airlines | TA 095 | 06:30:00 | 07:00:00 | |
| Kathmandu | Lukla | Tara Airlines | TA 097 | 08:00:00 | 08:30:00 | |
| Kathmandu | Lukla | Tara Airlines | TA 099 | 09:30:00 | 10:00:00 | |
| Lukla | Kathmandu | Tara Airlines | TA 096 | 07:15:00 | 07:45:00 | |
| Lukla | Kathmandu | Tara Airlines | TA 098 | 08:45:00 | 09:15:00 | |
| Lukla | Kathmandu | Tara Airlines | TA 100 | 10:15:00 | 10:45:00 | |
| Pokhara | Kathmandu | Tara Airlines | TA 228 | 09:30:00 | 10:00:00 | |
| Pokhara | Jomsom | Tara Airlines | TA 193 | 06:30:00 | 06:50:00 | |
| Jomsom | Pokhara | Tara Airlines | TA 194 | 07:05:00 | 07:25:00 | |
| Kathmandu | Mountain Flight | Simrik Airlines | SMA -100 | 06:30:00 | 07:30:00 | |
| Kathmandu | Mountain Flight | Simrik Airlines | SMA-102 | 06:30:00 | 07:30:00 | |
| Kathmandu | Mountain Flight | Simrik Airlines | SMA-200 | 07:45:00 | 08:45:00 | |
| Kathmandu | Mountain Flight | Simrik Airlines | SMA-201 | 07:45:00 | 08:45:00 | |
| Kathmandu | Pokhara | Simrik Airlines | SMA-151 | 10:00:00 | 10:25:00 | |
| Kathmandu | Pokhara | Simrik Airlines | SMA-153 | 12:00:00 | 12:25:00 | |
| Kathmandu | Pokhara | Simrik Airlines | SMA-155 | 14:00:00 | 14:25:00 | |
| Pokhara | Kathmandu | Simrik Airlines | SMA-152 | 10:45:00 | 11:10:00 | |
| pokhara | Kathmandu | Simrik Airlines | SMA-154 | 12:45:00 | 13:10:00 | |
| Pokhara | Kathmadnu | Simrik Airlines | SMA-156 | 14:45:00 | 15:10:00 | |
| Kathmandu | Bhairahwa | Simrik Airlines | SMA-171 | 12:15:00 | 13:55:00 | |
| Bhairahwa | Kathmandu | Simrik Airlines | SMA-172 | 13:05:00 | 12:35:00 | |
| Kathmadu | Simara | Simrik Airlines | SMA-113 | 15:15:00 | 15:30:00 | |
| Simara | Kathmandu | Simrik Airlines | SMA-114 | 15:45:00 | 16:00:00 | |
| Pokhara | Jomsom | Simrik Airlines | RMK 1 | 06:30:00 | 06:45:00 | |
| Pokhara | Jomsom | Simrik Airlines | RMK 3 | 00:07:05 | 00:07:20 | |
| Jomsom | Pokhara | Simrik Airlines | RMK 2 | 06:50:00 | 06:55:00 | |
| Jomsom | Pokhara | Simrik Airlines | RMK 4 | 07:20:00 | 07:35:00 | |
| Kathmandu | Lukla | Goma Air | GMA402 | 07:10:00 | 07:40:00 | |
| Lukla | Kathmandu | Goma Air | GMA401 | 06:30:00 | 07:00:00 | |
| Kathmandu | Lukla | Goma Air | GAM403 | 07:55:00 | 08:24:00 | |
| Lukla | Kathmandu | Goma Air | GAM404 | 08:35:00 | 09:05:00 | |
| Kathmandu | Lukla | Goma Air | GMA405 | 09:20:00 | 09:50:00 | |
| Lukla | Kathmandu | Goma Air | GMA406 | 10:00:00 | 10:30:00 | |
| Kathmandu | Lukla | Goma Air | GMA407 | 10:40:00 | 11:09:00 | |
| Lukla | Kathmandu | Goma Air | GMA408 | 11:20:00 | 11:50:00 | |
| Phaplu | Kathmandu | Goma Air | GMA415 | 12:30:00 | 13:00:00 | |
| Khidanda | Kathmandu | Goma Air | GMA116 | 13:00:00 | 13:30:00 | |
| Talcha | Nepalgunj | Goma Air | GMA152 | 09:50:00 | 10:30:00 | |
| Nepalguj | Jumla | Goma Air | GMA161 | 14:00:00 | 14:35:00 | |
| Jumla | Nepalgunj | Goma Air | GMA162 | 14:45:00 | 15:20:00 | |
| Nepalgunj | Bajura | Goma Air | GMA171 | 11:45:00 | 12:20:00 | |
| Bajura | Nepalgunj | Goma Air | GMA172 | 12:30:00 | 13:05:00 | |
| Pokhara | Jomsom | Goma Air | GA 602 | 00:06:30 | 00:06:45 | |
| Pokhara | Jomsom | Goma Air | GA 604 | 00:06:50 | 00:07:05 | |
| Pokhara | Jomsom | Goma Air | GA 606 | 00:08:05 | 00:08:20 | |
| Jomsom | Pokhara | Goma Air | GA 602 | 00:06:45 | 00:07:00 | |
| Jomsom | Pokhara | Goma Air | GA 603 | 00:06:50 | 00:07:05 | |
| Jomsom | Pokhara | Goma Air | GA 605 | 00:08:30 | 00:08:45 | |
| Pokhara | Bharatpur | Buddha Air | 641 | 00:00:10 | 00:00:10 | |
| Bharatpur | Pokhara | Buddha Air | 642 | 00:00:10 | 00:00:11 | |
| Pokhara | Bhairahwa | Buddha Air | 681 | 00:00:11 | 00:00:11 | |
| Bhairahwa | Pokhara | Buddha Air | 682 | 00:00:11 | 00:00:13 | |
Flight Schedule
| Flight From | Flight To | Airlines | Flight No. | Flight Time | Arrival Time | |
| --- | --- | --- | --- | --- | --- | --- |
| Kathmandu | Pokhara | Yeti Airlines | YT 671 | 08:00:00 | 08:25:00 | |
| Kathmandu | Pokhara | Yeti Airlines | YT 673 | 08:05:00 | 08:30:00 | |
| Kathmandu | Pokhara | Buddha Air | U4 605 | 08:30:00 | 09:00:00 | |
| Kathmandu | Pokhara | Yeti Airlines | YT 675 | 09:10:00 | 09:35:00 | |
| Kathmandu | Pokhara | Buddha Air | U4 611 | 10:10:00 | 10:40:00 | |
| Kathmandu | Pokhara | Yeti Airlines | YT 677 | 10:50:00 | 11:15:00 | |
| Kathmandu | Pokhara | Buddha Air | U4 607 | 12:10:00 | 12:40:00 | |
| Kathmandu | Pokhara | Yeti Airlines | YT 679 | 12:30:00 | 12:55:00 | |
| Kathmandu | Pokhara | Buddha Air | U4 609 | 14:20:00 | 14:50:00 | |
| Kathmandu | Pokhara | Yeti Airlines | YT 683 | 14:50:00 | 15:15:00 | |
| Kathmandu | Pokhara | Yeti Airlines | YT 685 | 15:40:00 | 16:05:00 | |
| Pokhara | Kathmandu | Yeti Airlines | YT 672 | 08:45:00 | 09:10:00 | |
| Pokhara | Kathmandu | Yeti Airlines | YT 674 | 08:50:00 | 09:15:00 | |
| Pokhara | Kathmandu | Buddha Air | U4 606 | 09:20:00 | 09:50:00 | |
| Pokhara | Kathmandu | Yeti Airlines | YT 676 | 09:50:00 | 10:15:00 | |
| Pokhara | Kathmandu | Buddha Air | U4 612 | 11:00:00 | 11:30:00 | |
| Pokhara | Kathmandu | Yeti Airlines | YT 678 | 11:35:00 | 12:00:00 | |
| Pokhara | Kathmandu | Buddha Air | U4 608 | 13:00:00 | 13:30:00 | |
| Pokhara | Kathmandu | Yeti Airlines | YT 680 | 13:15:00 | 13:40:00 | |
| Pokhara | Kathmandu | Buddha Air | U4 610 | 15:10:00 | 15:40:00 | |
| Pokhara | Kathmandu | Yeti Airlines | YT 684 | 15:35:00 | 16:00:00 | |
| Pokhara | Kathmandu | Yeti Airlines | YT 686 | 16:25:00 | 16:50:00 | |
| Kathmandu | Bhairahawa | Yeti Airlines | 175 | 11:50:00 | 12:10:00 | |
| Bhairahawa | Kathmandu | Yeti Airlines | 176 | 12:30:00 | 12:50:00 | |
| Kathmandu | Dhangadhi | Yeti Airlines | 231 | 12:30:00 | 13:40:00 | |
| Dhangadhi | Kathmandu | Yeti Airlines | 232 | 14:00:00 | 15:10:00 | |
| Kathmandu | Mountain Flight | Yeti Airlines | 301 | 06:30:00 | 07:30:00 | |
| Kathmandu | Mountain Flight | Yeti Airlines | 302 | 06:30:00 | 07:30:00 | |
| Kathmandu | Mountain Flight | Yeti Airlines | 304 | 06:30:00 | 07:30:00 | |
| Kathmandu | Mountain Flight | Yeti Airlines | 305 | 06:35:00 | 07:35:00 | |
| Kathmandu | Mountain Flight | Yeti Airlines | 306 | 06:40:00 | 07:40:00 | |
| Kathmandu | Mountain Flight | Yeti Airlines | 307 | 06:45:00 | 07:45:00 | |
| Kathmandu | Mountain Flight | Yeti Airlines | 401 | 07:45:00 | 08:45:00 | |
| Kathmandu | Nepalgunj | Yeti Airlines | 421 | 09:20:00 | 10:15:00 | |
| Nepalgunj | Kathmandu | Yeti Airlines | 422 | 10:35:00 | 11:30:00 | |
| Kathmandu | Nepalgunj | Yeti Airlines | 423 | 15:50:00 | 16:45:00 | |
| Nepalgunj | Kathmandu | Yeti Airlines | 424 | 17:05:00 | 18:00:00 | |
| Kathmandu | Janakpur | Yeti Airlines | 571 | 10:30:00 | 10:55:00 | |
| Janakpur | Kathmandu | Yeti Airlines | 572 | 11:15:00 | 11:40:00 | |
| Kathmandu | Janakpur | Yeti Airlines | 573 | 15:40:00 | 16:05:00 | |
| Janakpur | Kathmandu | Yeti Airlines | 574 | 16:35:00 | 17:00:00 | |
| Kathmandu | Pokhara | Yeti Airlines | 681 | 14:10:00 | 14:35:00 | |
| Pokhara | Kathmandu | Yeti Airlines | 682 | 14:55:00 | 15:20:00 | |
| Kathmandu | Biratnagar | Yeti Airlines | 787 | 09:00:00 | 09:40:00 | |
| Biratnagar | Kathmandu | Yeti Airlines | 788 | 10:00:00 | 10:40:00 | |
| Kathmandu | Biratnagar | Yeti Airlines | 791 | 12:00:00 | 12:40:00 | |
| Biratnagar | Kathmandu | Yeti Airlines | 792 | 13:00:00 | 13:40:00 | |
| Kathmandu | Biratnagar | Yeti Airlines | 793 | 14:30:00 | 15:10:00 | |
| Biratnagar | Kathmandu | Yeti Airlines | 794 | 15:30:00 | 16:10:00 | |
| Kathmandu | Biratnagar | Yeti Airlines | 797 | 16:40:00 | 17:20:00 | |
| Biratnagar | Kathmandu | Yeti Airlines | 798 | 17:40:00 | 18:20:00 | |
| Kathmandu | Bhairahawa | Yeti Airlines | 891 | 09:20:00 | 09:50:00 | |
| Bhairahawa | Kathmandu | Yeti Airlines | 892 | 10:10:00 | 10:40:00 | |
| Kathmandu | Bhairahawa | Yeti Airlines | 893 | 16:30:00 | 17:00:00 | |
| Bhairahawa | Kathmandu | Yeti Airlines | 894 | 17:20:00 | 17:50:00 | |
| Kathmandu | Bhadrapur | Yeti Airlines | 921 | 10:10:00 | 10:55:00 | |
| Bhadrapur | Kathmandu | Yeti Airlines | 922 | 11:15:00 | 12:00:00 | |
| Kathmandu | Bhadrapur | Yeti Airlines | 925 | 13:50:00 | 14:35:00 | |
| Bhadrapur | Kathmandu | Yeti Airlines | 926 | 14:55:00 | 15:40:00 | |
| Kathmandu | Tumlingtar | Yeti Airlines | 751 | 11:10:00 | 11:45:00 | |
| Tumlingtar | Kathmandu | Yeti Airlines | 752 | 12:05:00 | 12:40:00 | |
| Kathmandu | Mountain Flight | Buddha Air | U4 102 | 06:15:00 | 07:15:00 | |
| Kathmandu | Mountain Flight | Buddha Air | U4 104 | 06:15:00 | 07:15:00 | |
| Kathmandu | Mountain Flight | Buddha Air | U4 100 | 06:15:00 | 07:15:00 | |
| Kathmandu | Mountain Flight | Buddha Air | U4 201 | 07:15:00 | 08:15:00 | |
| Kathmandu | Mountain Flight | Buddha Air | U4 202 | 07:15:00 | 08:15:00 | |
| Kathmandu | Mountain Flight | Buddha Air | U4 203 | 07:15:00 | 08:15:00 | |
| Kathmandu | Mountain Flight | Yeti Airlines | U4 204 | 08:00:00 | 09:00:00 | |
| Kathmandu | Bhadrapur | Buddha Air | U4 951 | 10:00:00 | 10:50:00 | |
| Kathmandu | Bhadrapur | Buddha Air | U4 953 | 13:40:00 | 14:30:00 | |
| Kathmandu | Bhairahawa | Buddha Air | U4 851 | 09:00:00 | 09:35:00 | |
| Kathmandu | Bhairahawa | Buddha Air | U4 853 | 13:30:00 | 14:05:00 | |
| Kathmandu | Bhairahawa | Buddha Air | U4 855 | 16:40:00 | 17:15:00 | |
| Kathmandu | Bharatpur | Buddha Air | U4 351 | 10:50:00 | 11:10:00 | |
| Kathmandu | Bharatpur | Buddha Air | U4 353 | 14:20:00 | 14:40:00 | |
| Kathmandu | Biratnagar | Buddha Air | U4 703 | 07:45:00 | 08:25:00 | |
| Kathmandu | Biratnagar | Buddha Air | U4 705 | 10:00:00 | 10:40:00 | |
| Kathmandu | Biratnagar | Buddha Air | U4 707 | 12:20:00 | 13:00:00 | |
| Kathmandu | Biratnagar | Buddha Air | U4 709 | 14:40:00 | 15:20:00 | |
| Kathmandu | Biratnagar | Buddha Air | U4 713 | 15:50:00 | 16:30:00 | |
| Kathmandu | Biratnagar | Buddha Air | U4 711 | 16:50:00 | 17:30:00 | |
| Kathmandu | Dhangadi | Buddha Air | U4 251 | 12:30:00 | 13:40:00 | |
| Kathmandu | Janakpur | Buddha Air | U4 501 | 09:30:00 | 09:55:00 | |
| Kathmandu | Janakpur | Buddha Air | U4 505 | 15:10:00 | 15:35:00 | |
| Kathmandu | Nepalgunj | Buddha Air | U4 451 | 08:00:00 | 09:00:00 | |
| Kathmandu | Nepalgunj | Buddha Air | U4 405 | 16:10:00 | 17:10:00 | |
| Kathmandu | Pokhara | Yeti Airlines | U4 601 | 07:40:00 | 08:10:00 | |
| Kathmandu | Pokhara | Buddha Air | U4 603 | 08:30:00 | 09:00:00 | |
| Kathmandu | Pokhara | Buddha Air | U4 617 | 15:20:00 | 15:50:00 | |
| Kathmandu | Simara | Buddha Air | U4 551 | 09:30:00 | 09:45:00 | |
| Kathmandu | Simara | Buddha Air | U4 553 | 10:30:00 | 10:45:00 | |
| Kathmandu | Simara | Buddha Air | U4 555 | 12:00:00 | 12:15:00 | |
| Kathmandu | Simara | Buddha Air | U4 559 | 14:00:00 | 14:15:00 | |
| Kathmandu | Simara | Buddha Air | U4 561 | 15:00:00 | 15:15:00 | |
| Kathmandu | Simara | Buddha Air | U4 563 | 16:00:00 | 16:15:00 | |
| Kathmandu | Surkhet | Buddha Air | U4 133 | 13:10:00 | 14:15:00 | |
| Kathmandu | Tumlingtar | Buddha Air | U4 281 | 10:20:00 | 10:55:00 | |
| Bhadrapur | Kathmandu | Buddha Air | U4 952 | 11:15:00 | 12:05:00 | |
| Bhadrapur | Kathmandu | Buddha Air | U4 954 | 14:55:00 | 15:45:00 | |
| Bhairahawa | Kathmandu | Buddha Air | U4 852 | 09:55:00 | 10:30:00 | |
| Bhairahawa | Kathmandu | Buddha Air | U4 854 | 14:20:00 | 14:55:00 | |
| Bhairahawa | Kathmandu | Buddha Air | U4 856 | 17:35:00 | 18:10:00 | |
| Bharatpur | Kathmandu | Buddha Air | U4 352 | 11:30:00 | 11:50:00 | |
| Bharatpur | Kathmandu | Buddha Air | U4 356 | 14:55:00 | 15:15:00 | |
| Biratnagar | Kathmandu | Buddha Air | U4 704 | 08:50:00 | 09:30:00 | |
| Biratnagar | Kathmandu | Buddha Air | U4 706 | 11:05:00 | 11:45:00 | |
| Biratnagar | Kathmandu | Buddha Air | U4 708 | 13:25:00 | 14:05:00 | |
| Biratnagar | Kathmandu | Buddha Air | U4 710 | 15:45:00 | 16:25:00 | |
| Biratnagar | Kathmandu | Buddha Air | U4 714 | 16:50:00 | 17:30:00 | |
| Biratnagar | Kathmandu | Buddha Air | U4 712 | 17:55:00 | 18:35:00 | |
| Biratnagar | Tumlingtar | Buddha Air | U4 692 | 11:45:00 | 12:00:00 | |
| Dhangadhi | Kathmandu | Buddha Air | U4 252 | 14:05:00 | 15:15:00 | |
| Janakpur | Kathmandu | Buddha Air | U4 502 | 10:15:00 | 10:40:00 | |
| Janakpur | Kathmandu | Buddha Air | U4 506 | 15:55:00 | 16:20:00 | |
| Nepalgunj | Kathmandu | Buddha Air | U4 452 | 09:20:00 | 10:20:00 | |
| Nepalgunj | Kathmandu | Buddha Air | U4 406 | 17:40:00 | 18:40:00 | |
| Pokhara | Kathmandu | Buddha Air | U4 602 | 08:30:00 | 09:00:00 | |
| Pokhara | Kathmandu | Buddha Air | U4 618 | 16:10:00 | 16:40:00 | |
| Simara | Kathmandu | Buddha Air | U4 552 | 09:50:00 | 10:05:00 | |
| Simara | Kathmandu | Buddha Air | U4 554 | 10:50:00 | 11:05:00 | |
| Simara | Kathmandu | Buddha Air | U4 556 | 12:20:00 | 12:35:00 | |
| Simara | Kathmandu | Buddha Air | U4 560 | 14:20:00 | 14:35:00 | |
| Simara | Kathmandu | Buddha Air | U4 562 | 15:20:00 | 15:35:00 | |
| Simara | Kathmandu | Buddha Air | U4 564 | 16:20:00 | 16:35:00 | |
| Surkhet | Kathmandu | Buddha Air | U4 134 | 14:30:00 | 15:35:00 | |
| Tumlingtar | Biratnagar | Buddha Air | U4 691 | 11:10:00 | 11:25:00 | |
| Tumlingtar | Kathmandu | Buddha Air | U4 282 | 12:20:00 | 12:55:00 | |
| Kathmandu | Lukla | Simrik Airlines | RMK-102 | 07:15:00 | 07:45:00 | |
| Kathmandu | Lukla | Simrik Airlines | RMK-103 | 08:00:00 | 08:30:00 | |
| Lukla | Kathmandu | Simrik Airlines | RMK-104 | 08:45:00 | 09:15:00 | |
| Kathmandu | Lukla | Simrik Airlines | RMK-105 | 09:30:00 | 10:00:00 | |
| Lukla | Kathmandu | Simrik Airlines | RMK-106 | 10:15:00 | 10:45:00 | |
| Kathmandu | Lukla | Simrik Airlines | RMK-107 | 11:00:00 | 11:30:00 | |
| Lukla | Kathmandu | Simrik Airlines | RMK-108 | 11:45:00 | 12:15:00 | |
| Kathmandu | Lukla | Simrik Airlines | RMK-109 | 14:00:00 | 14:30:00 | |
| Lukla | Kathmandu | Simrik Airlines | RMK-110 | 14:45:00 | 15:15:00 | |
| Kathmandu | Lukla | Simrik Airlines | RMK-301 | 06:30:00 | 07:00:00 | |
| Lukla | Kathmandu | Simrik Airlines | RMK-302 | 07:15:00 | 07:45:00 | |
| Kathmandu | Lukla | Simrik Airlines | RMK-303 | 08:00:00 | 08:30:00 | |
| Lukla | Kathmandu | Simrik Airlines | RMK-304 | 08:45:00 | 09:15:00 | |
| Kathmandu | Lukla | Simrik Airlines | RMK-305 | 09:30:00 | 10:00:00 | |
| Lukla | Kathmandu | Simrik Airlines | RMK-306 | 10:15:00 | 10:45:00 | |
| Kathmandu | Lukla | Simrik Airlines | RMK-307 | 11:00:00 | 11:30:00 | |
| Lukla | Kathmandu | Simrik Airlines | RMK-308 | 11:45:00 | 12:15:00 | |
| Phaplu | Kathmandu | Goma Air | GMA416 | 13:00:00 | 13:30:00 | |
| Pokhara | Jomsom | Tara Air | TA - CHT | 06:00:00 | 06:20:00 | |
| Jomsom | Pokhara | Tara Air | TA- CHT | 06:25:00 | 06:45:00 | |
| Pokhara | Jomsom | Tara Air | TA - CHT | 06:50:00 | 07:10:00 | |
| Jomsom | Pokhara | Tara Air | TA - CHT | 07:15:00 | 07:30:00 | |
| Pokhara | Jomsom | Tara Air | TA - CHT | 07:40:00 | 07:55:00 | |
| Jomsom | Pokhara | Tara Air | TA-CHT | 08:00:00 | 08:15:00 | |
| Kathmandu | Khanedada | Goma Air | GAM115 | 14:00:00 | 14:30:00 | |
| Kathmandu | Mountain Flight | Saurya Airlines | S1-101 | 06:30:00 | 07:15:00 | |
| Kathmandu | Mountain Flight | Saurya Airlines | S1-604 | 07:30:00 | 08:15:00 | |
| Kathmandu | Mountain Flight | Saurya Airlines | S1-605 | 07:30:00 | 08:15:00 | |
| Kathmandu | Mountain Flight | Saurya Airlines | S1-601 | 06:30:00 | 07:15:00 | |
| Kathmandu | Mountain Flight | Saurya Airlines | S1-602 | 06:30:00 | 07:15:00 | |
| Kathmandu | Taplejung | Goma Air | GMA118 | 10:30:00 | 11:20:00 | |
| Taplejung | Kathmandu | Goma Air | 119 | 11:35:00 | 12:20:00 | |
| Kathmandu | Tumlingtar | Goma Air | GMA101 | 13:00:00 | 13:40:00 | |
| Tumlingtar | Kahmandu | Goma Air | Gma102 | 13:54:00 | 14:35:00 | |
| Kathmandu | Biratnagar | Saurya Airlines | S1-801 | 09:00:00 | 09:40:00 | |
| Biratnagar | Kathmandu | Saurya Airlines | S1-802 | 09:50:00 | 10:30:00 | |
| Kathmandu | Biratnagar | Saurya Airlines | S1-805 | 12:30:00 | 13:10:00 | |
| Biratnagar | Kathmandu | Saurya Airlines | S1-806 | 13:20:00 | 13:50:00 | |
| Kathmandu | Biratnagar | Saurya Airlines | S1-807 | 16:30:00 | 17:05:00 | |
| Biratnagar | Kathmandu | Saurya Airlines | S1-808 | 17:20:00 | 18:55:00 | |
| Kathmandu | Bhadrapur | Saurya Airlines | S1-901 | 10:30:00 | 11:20:00 | |
| Bhadrapur | Kathmandu | Saurya Airlines | S1-902 | 11:30:00 | 12:20:00 | |
| Kathmandu | Bhadrapur | Saurya Airlines | S1-903 | 12:50:00 | 13:40:00 | |
| Bhadrapur | Kathmandu | Saurya Airlines | S1-904 | 13:50:00 | 14:40:00 | |
| Nepalgunj | Talcha | Goma Air | GMA151 | 08:30:00 | 09:39:00 | |
| Humla | Nepalgunj | Goma Air | GMA142 | 07:30:00 | 08:15:00 | |
| Nepalgunj | Humla | Goma Air | GMA141 | 06:30:00 | 07:15:00 | |
| Kathmandu | Lukla | Tara Airlines | TA 103 | 06:35:00 | 07:10:00 | |
| Kathmandu | Lukla | Tara Airlines | TA CHT | 06:40:00 | 07:15:00 | |
| Kathmandu | Lukla | Tara Airlines | TA CHT | 08:10:00 | 08:45:00 | |
| Kathmandu | Lukla | Tara Airlines | TA CHT | 08:15:00 | 08:50:00 | |
| Kathmandu | Lukla | Tara Airlines | TA CHT | 08:20:00 | 08:55:00 | |
| Kathmandu | Lukla | Tara Airlines | TA CHT | 09:50:00 | 10:25:00 | |
| Kathmandu | Lukla | Tara Airlines | TA CHT | 11:30:00 | 12:05:00 | |
| Kathmandu | Lukla | Tara Airlines | TA CHT | 11:35:00 | 12:10:00 | |
| Kathmandu | Lukla | Tara Airlines | TA CHT | 11:40:00 | 12:15:00 | |
| Kathmandu | Lukla | Tara Airlines | TA CHT | 13:20:00 | 13:55:00 | |
| Kathmandu | Phaplu | Tara Airlines | TA 181 (1,5) | 09:55:00 | 10:30:00 | |
| Kathmandu | Lamidanda | Tara Airlines | TA 191 (3,7) | 10:00:00 | 10:35:00 | |
| Kathmandu | Ramechhap | Tara Airlines | TA 431 (5) | 13:05:00 | 13:30:00 | |
| Lukla | Kathmandu | Tara Airlines | TA CHT | 07:25:00 | 08:00:00 | |
| Lukla | Kathmandu | Tara Airlines | TA CHT | 07:30:00 | 08:05:00 | |
| Lukla | Kathmandu | Tara Airlines | TA CHT | 09:00:00 | 09:35:00 | |
| Lukla | Kathmandu | Tara Airlines | TA CHT | 09:05:00 | 09:40:00 | |
| Lukla | Kathmandu | Tara Airlines | TA CHT | 09:10:00 | 09:45:00 | |
| Lukla | Kathmandu | Tara Airlines | TA CHT | 10:40:00 | 11:15:00 | |
| Lukla | Kathmandu | Tara Airlines | TA CHT | 12:20:00 | 12:55:00 | |
| Lukla | Kathmandu | Tara Airlines | TA CHT | 12:25:00 | 13:00:00 | |
| Lukla | Kathmandu | Tara Airlines | TA CHT | 12:30:00 | 13:05:00 | |
| Lukla | Kathmandu | Tara Airlines | TA CHT | 14:10:00 | 14:45:00 | |
| Phaplu | Kathmandu | Tara Airlines | TA 182 (1,5) | 10:45:00 | 11:20:00 | |
| Lamidanda | Kathmandu | Tara Airlines | TA 192 (3,7) | 10:50:00 | 11:25:00 | |
| Ramechhap | Kathmandu | Tara Airlines | TA 432 (5) | 15:10:00 | 15:35:00 | |
| Nepalgunj | Dolpo | Tara Airlines | TA 717 (1) | 06:30:00 | 07:15:00 | |
| Nepalgunj | Rara | Tara Airlines | TA 715 (5) | 06:30:00 | 07:20:00 | |
| Nepalgunj | Simikot | Tara Airlines | TA 711 (4) | 06:30:00 | 07:30:00 | |
| Nepalgunj | Jumla | Tara Airlines | TA 713 (6) | 06:30:00 | 07:15:00 | |
| Nepalgunj | Bajura | Tara Airlines | TA 722 (3) | 06:30:00 | 07:05:00 | |
| Dolpo | Nepalgunj | Tara Airlines | TA 718 (1) | 07:30:00 | 08:15:00 | |
| Rara | Nepalgunj | Tara Airlines | TA 716 (5) | 07:35:00 | 08:25:00 | |
| Simikot | Nepalgunj | Tara Airlines | TA 712 (4) | 07:45:00 | 08:45:00 | |
| Jumla | Nepalgunj | Tara Airlines | TA 714 (6) | 07:30:00 | 08:15:00 | |
| Bajura | Nepalgunj | Tara Airlines | TA 722 (3) | 07:20:00 | 07:55:00 | |
| Surkhet | Simikot | Tara Airlines | TA 719 (7) | 06:30:00 | 07:15:00 | |
| Surkhet | Dolpo | Tara Airlines | TA 709 (2) | 06:30:00 | 07:10:00 | |
| Surkhet | Jumla | Tara Airlines | TA 723 (2) | 08:20:00 | 08:45:00 | |
| Simikot | Surkhet | Tara Airlines | TA 720 (7) | 07:30:00 | 08:15:00 | |
| Dolpo | Surkhet | Tara Airlines | TA 710 (2) | 07:25:00 | 08:05:00 | |
| Jumla | Surkhet | Tara Airlines | TA 724 (3) | 09:00:00 | 09:25:00 | |
| Kathmandu | Pokhara | Tara Airlines | TA 227 | 15:30:00 | 16:00:00 | |
| Kathmandu | Lukla | Tara Airlines | TA 095 | 06:30:00 | 07:00:00 | |
| Kathmandu | Lukla | Tara Airlines | TA 097 | 08:00:00 | 08:30:00 | |
| Kathmandu | Lukla | Tara Airlines | TA 099 | 09:30:00 | 10:00:00 | |
| Lukla | Kathmandu | Tara Airlines | TA 096 | 07:15:00 | 07:45:00 | |
| Lukla | Kathmandu | Tara Airlines | TA 098 | 08:45:00 | 09:15:00 | |
| Lukla | Kathmandu | Tara Airlines | TA 100 | 10:15:00 | 10:45:00 | |
| Pokhara | Kathmandu | Tara Airlines | TA 228 | 09:30:00 | 10:00:00 | |
| Pokhara | Jomsom | Tara Airlines | TA 193 | 06:30:00 | 06:50:00 | |
| Jomsom | Pokhara | Tara Airlines | TA 194 | 07:05:00 | 07:25:00 | |
| Kathmandu | Mountain Flight | Simrik Airlines | SMA -100 | 06:30:00 | 07:30:00 | |
| Kathmandu | Mountain Flight | Simrik Airlines | SMA-102 | 06:30:00 | 07:30:00 | |
| Kathmandu | Mountain Flight | Simrik Airlines | SMA-200 | 07:45:00 | 08:45:00 | |
| Kathmandu | Mountain Flight | Simrik Airlines | SMA-201 | 07:45:00 | 08:45:00 | |
| Kathmandu | Pokhara | Simrik Airlines | SMA-151 | 10:00:00 | 10:25:00 | |
| Kathmandu | Pokhara | Simrik Airlines | SMA-153 | 12:00:00 | 12:25:00 | |
| Kathmandu | Pokhara | Simrik Airlines | SMA-155 | 14:00:00 | 14:25:00 | |
| Pokhara | Kathmandu | Simrik Airlines | SMA-152 | 10:45:00 | 11:10:00 | |
| pokhara | Kathmandu | Simrik Airlines | SMA-154 | 12:45:00 | 13:10:00 | |
| Pokhara | Kathmadnu | Simrik Airlines | SMA-156 | 14:45:00 | 15:10:00 | |
| Kathmandu | Bhairahwa | Simrik Airlines | SMA-171 | 12:15:00 | 13:55:00 | |
| Bhairahwa | Kathmandu | Simrik Airlines | SMA-172 | 13:05:00 | 12:35:00 | |
| Kathmadu | Simara | Simrik Airlines | SMA-113 | 15:15:00 | 15:30:00 | |
| Simara | Kathmandu | Simrik Airlines | SMA-114 | 15:45:00 | 16:00:00 | |
| Pokhara | Jomsom | Simrik Airlines | RMK 1 | 06:30:00 | 06:45:00 | |
| Pokhara | Jomsom | Simrik Airlines | RMK 3 | 00:07:05 | 00:07:20 | |
| Jomsom | Pokhara | Simrik Airlines | RMK 2 | 06:50:00 | 06:55:00 | |
| Jomsom | Pokhara | Simrik Airlines | RMK 4 | 07:20:00 | 07:35:00 | |
| Kathmandu | Lukla | Goma Air | GMA402 | 07:10:00 | 07:40:00 | |
| Lukla | Kathmandu | Goma Air | GMA401 | 06:30:00 | 07:00:00 | |
| Kathmandu | Lukla | Goma Air | GAM403 | 07:55:00 | 08:24:00 | |
| Lukla | Kathmandu | Goma Air | GAM404 | 08:35:00 | 09:05:00 | |
| Kathmandu | Lukla | Goma Air | GMA405 | 09:20:00 | 09:50:00 | |
| Lukla | Kathmandu | Goma Air | GMA406 | 10:00:00 | 10:30:00 | |
| Kathmandu | Lukla | Goma Air | GMA407 | 10:40:00 | 11:09:00 | |
| Lukla | Kathmandu | Goma Air | GMA408 | 11:20:00 | 11:50:00 | |
| Phaplu | Kathmandu | Goma Air | GMA415 | 12:30:00 | 13:00:00 | |
| Khidanda | Kathmandu | Goma Air | GMA116 | 13:00:00 | 13:30:00 | |
| Talcha | Nepalgunj | Goma Air | GMA152 | 09:50:00 | 10:30:00 | |
| Nepalguj | Jumla | Goma Air | GMA161 | 14:00:00 | 14:35:00 | |
| Jumla | Nepalgunj | Goma Air | GMA162 | 14:45:00 | 15:20:00 | |
| Nepalgunj | Bajura | Goma Air | GMA171 | 11:45:00 | 12:20:00 | |
| Bajura | Nepalgunj | Goma Air | GMA172 | 12:30:00 | 13:05:00 | |
| Pokhara | Jomsom | Goma Air | GA 602 | 00:06:30 | 00:06:45 | |
| Pokhara | Jomsom | Goma Air | GA 604 | 00:06:50 | 00:07:05 | |
| Pokhara | Jomsom | Goma Air | GA 606 | 00:08:05 | 00:08:20 | |
| Jomsom | Pokhara | Goma Air | GA 602 | 00:06:45 | 00:07:00 | |
| Jomsom | Pokhara | Goma Air | GA 603 | 00:06:50 | 00:07:05 | |
| Jomsom | Pokhara | Goma Air | GA 605 | 00:08:30 | 00:08:45 | |
| Pokhara | Bharatpur | Buddha Air | 641 | 00:00:10 | 00:00:10 | |
| Bharatpur | Pokhara | Buddha Air | 642 | 00:00:10 | 00:00:11 | |
| Pokhara | Bhairahwa | Buddha Air | 681 | 00:00:11 | 00:00:11 | |
| Bhairahwa | Pokhara | Buddha Air | 682 | 00:00:11 | 00:00:13 | |