Kathmandu Bharatpur Flight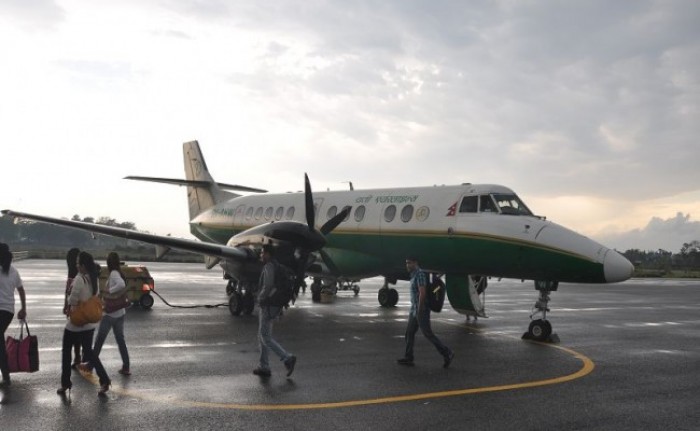 Bharatpur lies in the Terai plains at Chitwan valley on the banks of Narayani River. It acts as the commercial hub of Chitwan region. It is the 5th largest city of Nepal and one of the fastest growing cities of country being near to several parts of country like Pokhara, Kathmandu, Butwal, Birgunj and other. It acts as the gateway to Chitwan National Park area which is served by Bharatpur Airport. It attracts several nature lover tourist to get immerse in wildlife and enjoy several jungle activities like Safari, Jeep Drive, jungle walk, rafting, etc.
Kathmandu Bharatpur flights is of only 25 minutes giving you instant access to famous Chitwan of Nepal. Kathmandu Bharatpur flights is very short and comfortable than travelling by road which gives you plenty of time to visit Chitwan National Park. These Kathmandu to Bharatpur flights are reliable, quick and time saving operated Yeti Airlines and Buddha Air twice a day.
Flight Schedule
| Flight From | Flight To | Airlines | Flight No. | Flight Time | Arrival Time | |
| --- | --- | --- | --- | --- | --- | --- |
| Kathmandu | Pokhara | Yeti Airlines | YT 671 | 08:00:00 | 08:25:00 | |
| Kathmandu | Pokhara | Yeti Airlines | YT 673 | 08:05:00 | 08:30:00 | |
| Kathmandu | Pokhara | Buddha Air | U4 605 | 08:30:00 | 09:00:00 | |
| Kathmandu | Pokhara | Yeti Airlines | YT 675 | 09:10:00 | 09:35:00 | |
| Kathmandu | Pokhara | Buddha Air | U4 611 | 10:10:00 | 10:40:00 | |
| Kathmandu | Pokhara | Yeti Airlines | YT 677 | 10:50:00 | 11:15:00 | |
| Kathmandu | Pokhara | Buddha Air | U4 607 | 12:10:00 | 12:40:00 | |
| Kathmandu | Pokhara | Yeti Airlines | YT 679 | 12:30:00 | 12:55:00 | |
| Kathmandu | Pokhara | Buddha Air | U4 609 | 14:20:00 | 14:50:00 | |
| Kathmandu | Pokhara | Yeti Airlines | YT 683 | 14:50:00 | 15:15:00 | |
| Kathmandu | Pokhara | Yeti Airlines | YT 685 | 15:40:00 | 16:05:00 | |
| Pokhara | Kathmandu | Yeti Airlines | YT 672 | 08:45:00 | 09:10:00 | |
| Pokhara | Kathmandu | Yeti Airlines | YT 674 | 08:50:00 | 09:15:00 | |
| Pokhara | Kathmandu | Buddha Air | U4 606 | 09:20:00 | 09:50:00 | |
| Pokhara | Kathmandu | Yeti Airlines | YT 676 | 09:50:00 | 10:15:00 | |
| Pokhara | Kathmandu | Buddha Air | U4 612 | 11:00:00 | 11:30:00 | |
| Pokhara | Kathmandu | Yeti Airlines | YT 678 | 11:35:00 | 12:00:00 | |
| Pokhara | Kathmandu | Buddha Air | U4 608 | 13:00:00 | 13:30:00 | |
| Pokhara | Kathmandu | Yeti Airlines | YT 680 | 13:15:00 | 13:40:00 | |
| Pokhara | Kathmandu | Buddha Air | U4 610 | 15:10:00 | 15:40:00 | |
| Pokhara | Kathmandu | Yeti Airlines | YT 684 | 15:35:00 | 16:00:00 | |
| Pokhara | Kathmandu | Yeti Airlines | YT 686 | 16:25:00 | 16:50:00 | |
| Kathmandu | Bhairahawa | Yeti Airlines | 175 | 11:50:00 | 12:10:00 | |
| Bhairahawa | Kathmandu | Yeti Airlines | 176 | 12:30:00 | 12:50:00 | |
| Kathmandu | Dhangadhi | Yeti Airlines | 231 | 12:30:00 | 13:40:00 | |
| Dhangadhi | Kathmandu | Yeti Airlines | 232 | 14:00:00 | 15:10:00 | |
| Kathmandu | Mountain Flight | Yeti Airlines | 301 | 06:30:00 | 07:30:00 | |
| Kathmandu | Mountain Flight | Yeti Airlines | 302 | 06:30:00 | 07:30:00 | |
| Kathmandu | Mountain Flight | Yeti Airlines | 304 | 06:30:00 | 07:30:00 | |
| Kathmandu | Mountain Flight | Yeti Airlines | 305 | 06:35:00 | 07:35:00 | |
| Kathmandu | Mountain Flight | Yeti Airlines | 306 | 06:40:00 | 07:40:00 | |
| Kathmandu | Mountain Flight | Yeti Airlines | 307 | 06:45:00 | 07:45:00 | |
| Kathmandu | Mountain Flight | Yeti Airlines | 401 | 07:45:00 | 08:45:00 | |
| Kathmandu | Nepalgunj | Yeti Airlines | 421 | 09:20:00 | 10:15:00 | |
| Nepalgunj | Kathmandu | Yeti Airlines | 422 | 10:35:00 | 11:30:00 | |
| Kathmandu | Nepalgunj | Yeti Airlines | 423 | 15:50:00 | 16:45:00 | |
| Nepalgunj | Kathmandu | Yeti Airlines | 424 | 17:05:00 | 18:00:00 | |
| Kathmandu | Janakpur | Yeti Airlines | 571 | 10:30:00 | 10:55:00 | |
| Janakpur | Kathmandu | Yeti Airlines | 572 | 11:15:00 | 11:40:00 | |
| Kathmandu | Janakpur | Yeti Airlines | 573 | 15:40:00 | 16:05:00 | |
| Janakpur | Kathmandu | Yeti Airlines | 574 | 16:35:00 | 17:00:00 | |
| Kathmandu | Pokhara | Yeti Airlines | 681 | 14:10:00 | 14:35:00 | |
| Pokhara | Kathmandu | Yeti Airlines | 682 | 14:55:00 | 15:20:00 | |
| Kathmandu | Biratnagar | Yeti Airlines | 787 | 09:00:00 | 09:40:00 | |
| Biratnagar | Kathmandu | Yeti Airlines | 788 | 10:00:00 | 10:40:00 | |
| Kathmandu | Biratnagar | Yeti Airlines | 791 | 12:00:00 | 12:40:00 | |
| Biratnagar | Kathmandu | Yeti Airlines | 792 | 13:00:00 | 13:40:00 | |
| Kathmandu | Biratnagar | Yeti Airlines | 793 | 14:30:00 | 15:10:00 | |
| Biratnagar | Kathmandu | Yeti Airlines | 794 | 15:30:00 | 16:10:00 | |
| Kathmandu | Biratnagar | Yeti Airlines | 797 | 16:40:00 | 17:20:00 | |
| Biratnagar | Kathmandu | Yeti Airlines | 798 | 17:40:00 | 18:20:00 | |
| Kathmandu | Bhairahawa | Yeti Airlines | 891 | 09:20:00 | 09:50:00 | |
| Bhairahawa | Kathmandu | Yeti Airlines | 892 | 10:10:00 | 10:40:00 | |
| Kathmandu | Bhairahawa | Yeti Airlines | 893 | 16:30:00 | 17:00:00 | |
| Bhairahawa | Kathmandu | Yeti Airlines | 894 | 17:20:00 | 17:50:00 | |
| Kathmandu | Bhadrapur | Yeti Airlines | 921 | 10:10:00 | 10:55:00 | |
| Bhadrapur | Kathmandu | Yeti Airlines | 922 | 11:15:00 | 12:00:00 | |
| Kathmandu | Bhadrapur | Yeti Airlines | 925 | 13:50:00 | 14:35:00 | |
| Bhadrapur | Kathmandu | Yeti Airlines | 926 | 14:55:00 | 15:40:00 | |
| Kathmandu | Tumlingtar | Yeti Airlines | 751 | 11:10:00 | 11:45:00 | |
| Tumlingtar | Kathmandu | Yeti Airlines | 752 | 12:05:00 | 12:40:00 | |
| Kathmandu | Mountain Flight | Buddha Air | U4 102 | 06:15:00 | 07:15:00 | |
| Kathmandu | Mountain Flight | Buddha Air | U4 104 | 06:15:00 | 07:15:00 | |
| Kathmandu | Mountain Flight | Buddha Air | U4 100 | 06:15:00 | 07:15:00 | |
| Kathmandu | Mountain Flight | Buddha Air | U4 201 | 07:15:00 | 08:15:00 | |
| Kathmandu | Mountain Flight | Buddha Air | U4 202 | 07:15:00 | 08:15:00 | |
| Kathmandu | Mountain Flight | Buddha Air | U4 203 | 07:15:00 | 08:15:00 | |
| Kathmandu | Mountain Flight | Yeti Airlines | U4 204 | 08:00:00 | 09:00:00 | |
| Kathmandu | Bhadrapur | Buddha Air | U4 951 | 10:00:00 | 10:50:00 | |
| Kathmandu | Bhadrapur | Buddha Air | U4 953 | 13:40:00 | 14:30:00 | |
| Kathmandu | Bhairahawa | Buddha Air | U4 851 | 09:00:00 | 09:35:00 | |
| Kathmandu | Bhairahawa | Buddha Air | U4 853 | 13:30:00 | 14:05:00 | |
| Kathmandu | Bhairahawa | Buddha Air | U4 855 | 16:40:00 | 17:15:00 | |
| Kathmandu | Bharatpur | Buddha Air | U4 351 | 10:50:00 | 11:10:00 | |
| Kathmandu | Bharatpur | Buddha Air | U4 353 | 14:20:00 | 14:40:00 | |
| Kathmandu | Biratnagar | Buddha Air | U4 703 | 07:45:00 | 08:25:00 | |
| Kathmandu | Biratnagar | Buddha Air | U4 705 | 10:00:00 | 10:40:00 | |
| Kathmandu | Biratnagar | Buddha Air | U4 707 | 12:20:00 | 13:00:00 | |
| Kathmandu | Biratnagar | Buddha Air | U4 709 | 14:40:00 | 15:20:00 | |
| Kathmandu | Biratnagar | Buddha Air | U4 713 | 15:50:00 | 16:30:00 | |
| Kathmandu | Biratnagar | Buddha Air | U4 711 | 16:50:00 | 17:30:00 | |
| Kathmandu | Dhangadi | Buddha Air | U4 251 | 12:30:00 | 13:40:00 | |
| Kathmandu | Janakpur | Buddha Air | U4 501 | 09:30:00 | 09:55:00 | |
| Kathmandu | Janakpur | Buddha Air | U4 505 | 15:10:00 | 15:35:00 | |
| Kathmandu | Nepalgunj | Buddha Air | U4 451 | 08:00:00 | 09:00:00 | |
| Kathmandu | Nepalgunj | Buddha Air | U4 405 | 16:10:00 | 17:10:00 | |
| Kathmandu | Pokhara | Yeti Airlines | U4 601 | 07:40:00 | 08:10:00 | |
| Kathmandu | Pokhara | Buddha Air | U4 603 | 08:30:00 | 09:00:00 | |
| Kathmandu | Pokhara | Buddha Air | U4 617 | 15:20:00 | 15:50:00 | |
| Kathmandu | Simara | Buddha Air | U4 551 | 09:30:00 | 09:45:00 | |
| Kathmandu | Simara | Buddha Air | U4 553 | 10:30:00 | 10:45:00 | |
| Kathmandu | Simara | Buddha Air | U4 555 | 12:00:00 | 12:15:00 | |
| Kathmandu | Simara | Buddha Air | U4 559 | 14:00:00 | 14:15:00 | |
| Kathmandu | Simara | Buddha Air | U4 561 | 15:00:00 | 15:15:00 | |
| Kathmandu | Simara | Buddha Air | U4 563 | 16:00:00 | 16:15:00 | |
| Kathmandu | Surkhet | Buddha Air | U4 133 | 13:10:00 | 14:15:00 | |
| Kathmandu | Tumlingtar | Buddha Air | U4 281 | 10:20:00 | 10:55:00 | |
| Bhadrapur | Kathmandu | Buddha Air | U4 952 | 11:15:00 | 12:05:00 | |
| Bhadrapur | Kathmandu | Buddha Air | U4 954 | 14:55:00 | 15:45:00 | |
| Bhairahawa | Kathmandu | Buddha Air | U4 852 | 09:55:00 | 10:30:00 | |
| Bhairahawa | Kathmandu | Buddha Air | U4 854 | 14:20:00 | 14:55:00 | |
| Bhairahawa | Kathmandu | Buddha Air | U4 856 | 17:35:00 | 18:10:00 | |
| Bharatpur | Kathmandu | Buddha Air | U4 352 | 11:30:00 | 11:50:00 | |
| Bharatpur | Kathmandu | Buddha Air | U4 356 | 14:55:00 | 15:15:00 | |
| Biratnagar | Kathmandu | Buddha Air | U4 704 | 08:50:00 | 09:30:00 | |
| Biratnagar | Kathmandu | Buddha Air | U4 706 | 11:05:00 | 11:45:00 | |
| Biratnagar | Kathmandu | Buddha Air | U4 708 | 13:25:00 | 14:05:00 | |
| Biratnagar | Kathmandu | Buddha Air | U4 710 | 15:45:00 | 16:25:00 | |
| Biratnagar | Kathmandu | Buddha Air | U4 714 | 16:50:00 | 17:30:00 | |
| Biratnagar | Kathmandu | Buddha Air | U4 712 | 17:55:00 | 18:35:00 | |
| Biratnagar | Tumlingtar | Buddha Air | U4 692 | 11:45:00 | 12:00:00 | |
| Dhangadhi | Kathmandu | Buddha Air | U4 252 | 14:05:00 | 15:15:00 | |
| Janakpur | Kathmandu | Buddha Air | U4 502 | 10:15:00 | 10:40:00 | |
| Janakpur | Kathmandu | Buddha Air | U4 506 | 15:55:00 | 16:20:00 | |
| Nepalgunj | Kathmandu | Buddha Air | U4 452 | 09:20:00 | 10:20:00 | |
| Nepalgunj | Kathmandu | Buddha Air | U4 406 | 17:40:00 | 18:40:00 | |
| Pokhara | Kathmandu | Buddha Air | U4 602 | 08:30:00 | 09:00:00 | |
| Pokhara | Kathmandu | Buddha Air | U4 618 | 16:10:00 | 16:40:00 | |
| Simara | Kathmandu | Buddha Air | U4 552 | 09:50:00 | 10:05:00 | |
| Simara | Kathmandu | Buddha Air | U4 554 | 10:50:00 | 11:05:00 | |
| Simara | Kathmandu | Buddha Air | U4 556 | 12:20:00 | 12:35:00 | |
| Simara | Kathmandu | Buddha Air | U4 560 | 14:20:00 | 14:35:00 | |
| Simara | Kathmandu | Buddha Air | U4 562 | 15:20:00 | 15:35:00 | |
| Simara | Kathmandu | Buddha Air | U4 564 | 16:20:00 | 16:35:00 | |
| Surkhet | Kathmandu | Buddha Air | U4 134 | 14:30:00 | 15:35:00 | |
| Tumlingtar | Biratnagar | Buddha Air | U4 691 | 11:10:00 | 11:25:00 | |
| Tumlingtar | Kathmandu | Buddha Air | U4 282 | 12:20:00 | 12:55:00 | |
| Kathmandu | Lukla | Simrik Airlines | RMK-102 | 07:15:00 | 07:45:00 | |
| Kathmandu | Lukla | Simrik Airlines | RMK-103 | 08:00:00 | 08:30:00 | |
| Lukla | Kathmandu | Simrik Airlines | RMK-104 | 08:45:00 | 09:15:00 | |
| Kathmandu | Lukla | Simrik Airlines | RMK-105 | 09:30:00 | 10:00:00 | |
| Lukla | Kathmandu | Simrik Airlines | RMK-106 | 10:15:00 | 10:45:00 | |
| Kathmandu | Lukla | Simrik Airlines | RMK-107 | 11:00:00 | 11:30:00 | |
| Lukla | Kathmandu | Simrik Airlines | RMK-108 | 11:45:00 | 12:15:00 | |
| Kathmandu | Lukla | Simrik Airlines | RMK-109 | 14:00:00 | 14:30:00 | |
| Lukla | Kathmandu | Simrik Airlines | RMK-110 | 14:45:00 | 15:15:00 | |
| Kathmandu | Lukla | Simrik Airlines | RMK-301 | 06:30:00 | 07:00:00 | |
| Lukla | Kathmandu | Simrik Airlines | RMK-302 | 07:15:00 | 07:45:00 | |
| Kathmandu | Lukla | Simrik Airlines | RMK-303 | 08:00:00 | 08:30:00 | |
| Lukla | Kathmandu | Simrik Airlines | RMK-304 | 08:45:00 | 09:15:00 | |
| Kathmandu | Lukla | Simrik Airlines | RMK-305 | 09:30:00 | 10:00:00 | |
| Lukla | Kathmandu | Simrik Airlines | RMK-306 | 10:15:00 | 10:45:00 | |
| Kathmandu | Lukla | Simrik Airlines | RMK-307 | 11:00:00 | 11:30:00 | |
| Lukla | Kathmandu | Simrik Airlines | RMK-308 | 11:45:00 | 12:15:00 | |
| Phaplu | Kathmandu | Goma Air | GMA416 | 13:00:00 | 13:30:00 | |
| Pokhara | Jomsom | Tara Air | TA - CHT | 06:00:00 | 06:20:00 | |
| Jomsom | Pokhara | Tara Air | TA- CHT | 06:25:00 | 06:45:00 | |
| Pokhara | Jomsom | Tara Air | TA - CHT | 06:50:00 | 07:10:00 | |
| Jomsom | Pokhara | Tara Air | TA - CHT | 07:15:00 | 07:30:00 | |
| Pokhara | Jomsom | Tara Air | TA - CHT | 07:40:00 | 07:55:00 | |
| Jomsom | Pokhara | Tara Air | TA-CHT | 08:00:00 | 08:15:00 | |
| Kathmandu | Khanedada | Goma Air | GAM115 | 14:00:00 | 14:30:00 | |
| Kathmandu | Mountain Flight | Saurya Airlines | S1-101 | 06:30:00 | 07:15:00 | |
| Kathmandu | Mountain Flight | Saurya Airlines | S1-604 | 07:30:00 | 08:15:00 | |
| Kathmandu | Mountain Flight | Saurya Airlines | S1-605 | 07:30:00 | 08:15:00 | |
| Kathmandu | Mountain Flight | Saurya Airlines | S1-601 | 06:30:00 | 07:15:00 | |
| Kathmandu | Mountain Flight | Saurya Airlines | S1-602 | 06:30:00 | 07:15:00 | |
| Kathmandu | Taplejung | Goma Air | GMA118 | 10:30:00 | 11:20:00 | |
| Taplejung | Kathmandu | Goma Air | 119 | 11:35:00 | 12:20:00 | |
| Kathmandu | Tumlingtar | Goma Air | GMA101 | 13:00:00 | 13:40:00 | |
| Tumlingtar | Kahmandu | Goma Air | Gma102 | 13:54:00 | 14:35:00 | |
| Kathmandu | Biratnagar | Saurya Airlines | S1-801 | 09:00:00 | 09:40:00 | |
| Biratnagar | Kathmandu | Saurya Airlines | S1-802 | 09:50:00 | 10:30:00 | |
| Kathmandu | Biratnagar | Saurya Airlines | S1-805 | 12:30:00 | 13:10:00 | |
| Biratnagar | Kathmandu | Saurya Airlines | S1-806 | 13:20:00 | 13:50:00 | |
| Kathmandu | Biratnagar | Saurya Airlines | S1-807 | 16:30:00 | 17:05:00 | |
| Biratnagar | Kathmandu | Saurya Airlines | S1-808 | 17:20:00 | 18:55:00 | |
| Kathmandu | Bhadrapur | Saurya Airlines | S1-901 | 10:30:00 | 11:20:00 | |
| Bhadrapur | Kathmandu | Saurya Airlines | S1-902 | 11:30:00 | 12:20:00 | |
| Kathmandu | Bhadrapur | Saurya Airlines | S1-903 | 12:50:00 | 13:40:00 | |
| Bhadrapur | Kathmandu | Saurya Airlines | S1-904 | 13:50:00 | 14:40:00 | |
| Nepalgunj | Talcha | Goma Air | GMA151 | 08:30:00 | 09:39:00 | |
| Humla | Nepalgunj | Goma Air | GMA142 | 07:30:00 | 08:15:00 | |
| Nepalgunj | Humla | Goma Air | GMA141 | 06:30:00 | 07:15:00 | |
| Kathmandu | Lukla | Tara Airlines | TA 103 | 06:35:00 | 07:10:00 | |
| Kathmandu | Lukla | Tara Airlines | TA CHT | 06:40:00 | 07:15:00 | |
| Kathmandu | Lukla | Tara Airlines | TA CHT | 08:10:00 | 08:45:00 | |
| Kathmandu | Lukla | Tara Airlines | TA CHT | 08:15:00 | 08:50:00 | |
| Kathmandu | Lukla | Tara Airlines | TA CHT | 08:20:00 | 08:55:00 | |
| Kathmandu | Lukla | Tara Airlines | TA CHT | 09:50:00 | 10:25:00 | |
| Kathmandu | Lukla | Tara Airlines | TA CHT | 11:30:00 | 12:05:00 | |
| Kathmandu | Lukla | Tara Airlines | TA CHT | 11:35:00 | 12:10:00 | |
| Kathmandu | Lukla | Tara Airlines | TA CHT | 11:40:00 | 12:15:00 | |
| Kathmandu | Lukla | Tara Airlines | TA CHT | 13:20:00 | 13:55:00 | |
| Kathmandu | Phaplu | Tara Airlines | TA 181 (1,5) | 09:55:00 | 10:30:00 | |
| Kathmandu | Lamidanda | Tara Airlines | TA 191 (3,7) | 10:00:00 | 10:35:00 | |
| Kathmandu | Ramechhap | Tara Airlines | TA 431 (5) | 13:05:00 | 13:30:00 | |
| Lukla | Kathmandu | Tara Airlines | TA CHT | 07:25:00 | 08:00:00 | |
| Lukla | Kathmandu | Tara Airlines | TA CHT | 07:30:00 | 08:05:00 | |
| Lukla | Kathmandu | Tara Airlines | TA CHT | 09:00:00 | 09:35:00 | |
| Lukla | Kathmandu | Tara Airlines | TA CHT | 09:05:00 | 09:40:00 | |
| Lukla | Kathmandu | Tara Airlines | TA CHT | 09:10:00 | 09:45:00 | |
| Lukla | Kathmandu | Tara Airlines | TA CHT | 10:40:00 | 11:15:00 | |
| Lukla | Kathmandu | Tara Airlines | TA CHT | 12:20:00 | 12:55:00 | |
| Lukla | Kathmandu | Tara Airlines | TA CHT | 12:25:00 | 13:00:00 | |
| Lukla | Kathmandu | Tara Airlines | TA CHT | 12:30:00 | 13:05:00 | |
| Lukla | Kathmandu | Tara Airlines | TA CHT | 14:10:00 | 14:45:00 | |
| Phaplu | Kathmandu | Tara Airlines | TA 182 (1,5) | 10:45:00 | 11:20:00 | |
| Lamidanda | Kathmandu | Tara Airlines | TA 192 (3,7) | 10:50:00 | 11:25:00 | |
| Ramechhap | Kathmandu | Tara Airlines | TA 432 (5) | 15:10:00 | 15:35:00 | |
| Nepalgunj | Dolpo | Tara Airlines | TA 717 (1) | 06:30:00 | 07:15:00 | |
| Nepalgunj | Rara | Tara Airlines | TA 715 (5) | 06:30:00 | 07:20:00 | |
| Nepalgunj | Simikot | Tara Airlines | TA 711 (4) | 06:30:00 | 07:30:00 | |
| Nepalgunj | Jumla | Tara Airlines | TA 713 (6) | 06:30:00 | 07:15:00 | |
| Nepalgunj | Bajura | Tara Airlines | TA 722 (3) | 06:30:00 | 07:05:00 | |
| Dolpo | Nepalgunj | Tara Airlines | TA 718 (1) | 07:30:00 | 08:15:00 | |
| Rara | Nepalgunj | Tara Airlines | TA 716 (5) | 07:35:00 | 08:25:00 | |
| Simikot | Nepalgunj | Tara Airlines | TA 712 (4) | 07:45:00 | 08:45:00 | |
| Jumla | Nepalgunj | Tara Airlines | TA 714 (6) | 07:30:00 | 08:15:00 | |
| Bajura | Nepalgunj | Tara Airlines | TA 722 (3) | 07:20:00 | 07:55:00 | |
| Surkhet | Simikot | Tara Airlines | TA 719 (7) | 06:30:00 | 07:15:00 | |
| Surkhet | Dolpo | Tara Airlines | TA 709 (2) | 06:30:00 | 07:10:00 | |
| Surkhet | Jumla | Tara Airlines | TA 723 (2) | 08:20:00 | 08:45:00 | |
| Simikot | Surkhet | Tara Airlines | TA 720 (7) | 07:30:00 | 08:15:00 | |
| Dolpo | Surkhet | Tara Airlines | TA 710 (2) | 07:25:00 | 08:05:00 | |
| Jumla | Surkhet | Tara Airlines | TA 724 (3) | 09:00:00 | 09:25:00 | |
| Kathmandu | Pokhara | Tara Airlines | TA 227 | 15:30:00 | 16:00:00 | |
| Kathmandu | Lukla | Tara Airlines | TA 095 | 06:30:00 | 07:00:00 | |
| Kathmandu | Lukla | Tara Airlines | TA 097 | 08:00:00 | 08:30:00 | |
| Kathmandu | Lukla | Tara Airlines | TA 099 | 09:30:00 | 10:00:00 | |
| Lukla | Kathmandu | Tara Airlines | TA 096 | 07:15:00 | 07:45:00 | |
| Lukla | Kathmandu | Tara Airlines | TA 098 | 08:45:00 | 09:15:00 | |
| Lukla | Kathmandu | Tara Airlines | TA 100 | 10:15:00 | 10:45:00 | |
| Pokhara | Kathmandu | Tara Airlines | TA 228 | 09:30:00 | 10:00:00 | |
| Pokhara | Jomsom | Tara Airlines | TA 193 | 06:30:00 | 06:50:00 | |
| Jomsom | Pokhara | Tara Airlines | TA 194 | 07:05:00 | 07:25:00 | |
| Kathmandu | Mountain Flight | Simrik Airlines | SMA -100 | 06:30:00 | 07:30:00 | |
| Kathmandu | Mountain Flight | Simrik Airlines | SMA-102 | 06:30:00 | 07:30:00 | |
| Kathmandu | Mountain Flight | Simrik Airlines | SMA-200 | 07:45:00 | 08:45:00 | |
| Kathmandu | Mountain Flight | Simrik Airlines | SMA-201 | 07:45:00 | 08:45:00 | |
| Kathmandu | Pokhara | Simrik Airlines | SMA-151 | 10:00:00 | 10:25:00 | |
| Kathmandu | Pokhara | Simrik Airlines | SMA-153 | 12:00:00 | 12:25:00 | |
| Kathmandu | Pokhara | Simrik Airlines | SMA-155 | 14:00:00 | 14:25:00 | |
| Pokhara | Kathmandu | Simrik Airlines | SMA-152 | 10:45:00 | 11:10:00 | |
| pokhara | Kathmandu | Simrik Airlines | SMA-154 | 12:45:00 | 13:10:00 | |
| Pokhara | Kathmadnu | Simrik Airlines | SMA-156 | 14:45:00 | 15:10:00 | |
| Kathmandu | Bhairahwa | Simrik Airlines | SMA-171 | 12:15:00 | 13:55:00 | |
| Bhairahwa | Kathmandu | Simrik Airlines | SMA-172 | 13:05:00 | 12:35:00 | |
| Kathmadu | Simara | Simrik Airlines | SMA-113 | 15:15:00 | 15:30:00 | |
| Simara | Kathmandu | Simrik Airlines | SMA-114 | 15:45:00 | 16:00:00 | |
| Pokhara | Jomsom | Simrik Airlines | RMK 1 | 06:30:00 | 06:45:00 | |
| Pokhara | Jomsom | Simrik Airlines | RMK 3 | 00:07:05 | 00:07:20 | |
| Jomsom | Pokhara | Simrik Airlines | RMK 2 | 06:50:00 | 06:55:00 | |
| Jomsom | Pokhara | Simrik Airlines | RMK 4 | 07:20:00 | 07:35:00 | |
| Kathmandu | Lukla | Goma Air | GMA402 | 07:10:00 | 07:40:00 | |
| Lukla | Kathmandu | Goma Air | GMA401 | 06:30:00 | 07:00:00 | |
| Kathmandu | Lukla | Goma Air | GAM403 | 07:55:00 | 08:24:00 | |
| Lukla | Kathmandu | Goma Air | GAM404 | 08:35:00 | 09:05:00 | |
| Kathmandu | Lukla | Goma Air | GMA405 | 09:20:00 | 09:50:00 | |
| Lukla | Kathmandu | Goma Air | GMA406 | 10:00:00 | 10:30:00 | |
| Kathmandu | Lukla | Goma Air | GMA407 | 10:40:00 | 11:09:00 | |
| Lukla | Kathmandu | Goma Air | GMA408 | 11:20:00 | 11:50:00 | |
| Phaplu | Kathmandu | Goma Air | GMA415 | 12:30:00 | 13:00:00 | |
| Khidanda | Kathmandu | Goma Air | GMA116 | 13:00:00 | 13:30:00 | |
| Talcha | Nepalgunj | Goma Air | GMA152 | 09:50:00 | 10:30:00 | |
| Nepalguj | Jumla | Goma Air | GMA161 | 14:00:00 | 14:35:00 | |
| Jumla | Nepalgunj | Goma Air | GMA162 | 14:45:00 | 15:20:00 | |
| Nepalgunj | Bajura | Goma Air | GMA171 | 11:45:00 | 12:20:00 | |
| Bajura | Nepalgunj | Goma Air | GMA172 | 12:30:00 | 13:05:00 | |
| Pokhara | Jomsom | Goma Air | GA 602 | 00:06:30 | 00:06:45 | |
| Pokhara | Jomsom | Goma Air | GA 604 | 00:06:50 | 00:07:05 | |
| Pokhara | Jomsom | Goma Air | GA 606 | 00:08:05 | 00:08:20 | |
| Jomsom | Pokhara | Goma Air | GA 602 | 00:06:45 | 00:07:00 | |
| Jomsom | Pokhara | Goma Air | GA 603 | 00:06:50 | 00:07:05 | |
| Jomsom | Pokhara | Goma Air | GA 605 | 00:08:30 | 00:08:45 | |
| Pokhara | Bharatpur | Buddha Air | 641 | 00:00:10 | 00:00:10 | |
| Bharatpur | Pokhara | Buddha Air | 642 | 00:00:10 | 00:00:11 | |
| Pokhara | Bhairahwa | Buddha Air | 681 | 00:00:11 | 00:00:11 | |
| Bhairahwa | Pokhara | Buddha Air | 682 | 00:00:11 | 00:00:13 | |
Flight Schedule
| Flight From | Flight To | Airlines | Flight No. | Flight Time | Arrival Time | |
| --- | --- | --- | --- | --- | --- | --- |
| Kathmandu | Pokhara | Yeti Airlines | YT 671 | 08:00:00 | 08:25:00 | |
| Kathmandu | Pokhara | Yeti Airlines | YT 673 | 08:05:00 | 08:30:00 | |
| Kathmandu | Pokhara | Buddha Air | U4 605 | 08:30:00 | 09:00:00 | |
| Kathmandu | Pokhara | Yeti Airlines | YT 675 | 09:10:00 | 09:35:00 | |
| Kathmandu | Pokhara | Buddha Air | U4 611 | 10:10:00 | 10:40:00 | |
| Kathmandu | Pokhara | Yeti Airlines | YT 677 | 10:50:00 | 11:15:00 | |
| Kathmandu | Pokhara | Buddha Air | U4 607 | 12:10:00 | 12:40:00 | |
| Kathmandu | Pokhara | Yeti Airlines | YT 679 | 12:30:00 | 12:55:00 | |
| Kathmandu | Pokhara | Buddha Air | U4 609 | 14:20:00 | 14:50:00 | |
| Kathmandu | Pokhara | Yeti Airlines | YT 683 | 14:50:00 | 15:15:00 | |
| Kathmandu | Pokhara | Yeti Airlines | YT 685 | 15:40:00 | 16:05:00 | |
| Pokhara | Kathmandu | Yeti Airlines | YT 672 | 08:45:00 | 09:10:00 | |
| Pokhara | Kathmandu | Yeti Airlines | YT 674 | 08:50:00 | 09:15:00 | |
| Pokhara | Kathmandu | Buddha Air | U4 606 | 09:20:00 | 09:50:00 | |
| Pokhara | Kathmandu | Yeti Airlines | YT 676 | 09:50:00 | 10:15:00 | |
| Pokhara | Kathmandu | Buddha Air | U4 612 | 11:00:00 | 11:30:00 | |
| Pokhara | Kathmandu | Yeti Airlines | YT 678 | 11:35:00 | 12:00:00 | |
| Pokhara | Kathmandu | Buddha Air | U4 608 | 13:00:00 | 13:30:00 | |
| Pokhara | Kathmandu | Yeti Airlines | YT 680 | 13:15:00 | 13:40:00 | |
| Pokhara | Kathmandu | Buddha Air | U4 610 | 15:10:00 | 15:40:00 | |
| Pokhara | Kathmandu | Yeti Airlines | YT 684 | 15:35:00 | 16:00:00 | |
| Pokhara | Kathmandu | Yeti Airlines | YT 686 | 16:25:00 | 16:50:00 | |
| Kathmandu | Bhairahawa | Yeti Airlines | 175 | 11:50:00 | 12:10:00 | |
| Bhairahawa | Kathmandu | Yeti Airlines | 176 | 12:30:00 | 12:50:00 | |
| Kathmandu | Dhangadhi | Yeti Airlines | 231 | 12:30:00 | 13:40:00 | |
| Dhangadhi | Kathmandu | Yeti Airlines | 232 | 14:00:00 | 15:10:00 | |
| Kathmandu | Mountain Flight | Yeti Airlines | 301 | 06:30:00 | 07:30:00 | |
| Kathmandu | Mountain Flight | Yeti Airlines | 302 | 06:30:00 | 07:30:00 | |
| Kathmandu | Mountain Flight | Yeti Airlines | 304 | 06:30:00 | 07:30:00 | |
| Kathmandu | Mountain Flight | Yeti Airlines | 305 | 06:35:00 | 07:35:00 | |
| Kathmandu | Mountain Flight | Yeti Airlines | 306 | 06:40:00 | 07:40:00 | |
| Kathmandu | Mountain Flight | Yeti Airlines | 307 | 06:45:00 | 07:45:00 | |
| Kathmandu | Mountain Flight | Yeti Airlines | 401 | 07:45:00 | 08:45:00 | |
| Kathmandu | Nepalgunj | Yeti Airlines | 421 | 09:20:00 | 10:15:00 | |
| Nepalgunj | Kathmandu | Yeti Airlines | 422 | 10:35:00 | 11:30:00 | |
| Kathmandu | Nepalgunj | Yeti Airlines | 423 | 15:50:00 | 16:45:00 | |
| Nepalgunj | Kathmandu | Yeti Airlines | 424 | 17:05:00 | 18:00:00 | |
| Kathmandu | Janakpur | Yeti Airlines | 571 | 10:30:00 | 10:55:00 | |
| Janakpur | Kathmandu | Yeti Airlines | 572 | 11:15:00 | 11:40:00 | |
| Kathmandu | Janakpur | Yeti Airlines | 573 | 15:40:00 | 16:05:00 | |
| Janakpur | Kathmandu | Yeti Airlines | 574 | 16:35:00 | 17:00:00 | |
| Kathmandu | Pokhara | Yeti Airlines | 681 | 14:10:00 | 14:35:00 | |
| Pokhara | Kathmandu | Yeti Airlines | 682 | 14:55:00 | 15:20:00 | |
| Kathmandu | Biratnagar | Yeti Airlines | 787 | 09:00:00 | 09:40:00 | |
| Biratnagar | Kathmandu | Yeti Airlines | 788 | 10:00:00 | 10:40:00 | |
| Kathmandu | Biratnagar | Yeti Airlines | 791 | 12:00:00 | 12:40:00 | |
| Biratnagar | Kathmandu | Yeti Airlines | 792 | 13:00:00 | 13:40:00 | |
| Kathmandu | Biratnagar | Yeti Airlines | 793 | 14:30:00 | 15:10:00 | |
| Biratnagar | Kathmandu | Yeti Airlines | 794 | 15:30:00 | 16:10:00 | |
| Kathmandu | Biratnagar | Yeti Airlines | 797 | 16:40:00 | 17:20:00 | |
| Biratnagar | Kathmandu | Yeti Airlines | 798 | 17:40:00 | 18:20:00 | |
| Kathmandu | Bhairahawa | Yeti Airlines | 891 | 09:20:00 | 09:50:00 | |
| Bhairahawa | Kathmandu | Yeti Airlines | 892 | 10:10:00 | 10:40:00 | |
| Kathmandu | Bhairahawa | Yeti Airlines | 893 | 16:30:00 | 17:00:00 | |
| Bhairahawa | Kathmandu | Yeti Airlines | 894 | 17:20:00 | 17:50:00 | |
| Kathmandu | Bhadrapur | Yeti Airlines | 921 | 10:10:00 | 10:55:00 | |
| Bhadrapur | Kathmandu | Yeti Airlines | 922 | 11:15:00 | 12:00:00 | |
| Kathmandu | Bhadrapur | Yeti Airlines | 925 | 13:50:00 | 14:35:00 | |
| Bhadrapur | Kathmandu | Yeti Airlines | 926 | 14:55:00 | 15:40:00 | |
| Kathmandu | Tumlingtar | Yeti Airlines | 751 | 11:10:00 | 11:45:00 | |
| Tumlingtar | Kathmandu | Yeti Airlines | 752 | 12:05:00 | 12:40:00 | |
| Kathmandu | Mountain Flight | Buddha Air | U4 102 | 06:15:00 | 07:15:00 | |
| Kathmandu | Mountain Flight | Buddha Air | U4 104 | 06:15:00 | 07:15:00 | |
| Kathmandu | Mountain Flight | Buddha Air | U4 100 | 06:15:00 | 07:15:00 | |
| Kathmandu | Mountain Flight | Buddha Air | U4 201 | 07:15:00 | 08:15:00 | |
| Kathmandu | Mountain Flight | Buddha Air | U4 202 | 07:15:00 | 08:15:00 | |
| Kathmandu | Mountain Flight | Buddha Air | U4 203 | 07:15:00 | 08:15:00 | |
| Kathmandu | Mountain Flight | Yeti Airlines | U4 204 | 08:00:00 | 09:00:00 | |
| Kathmandu | Bhadrapur | Buddha Air | U4 951 | 10:00:00 | 10:50:00 | |
| Kathmandu | Bhadrapur | Buddha Air | U4 953 | 13:40:00 | 14:30:00 | |
| Kathmandu | Bhairahawa | Buddha Air | U4 851 | 09:00:00 | 09:35:00 | |
| Kathmandu | Bhairahawa | Buddha Air | U4 853 | 13:30:00 | 14:05:00 | |
| Kathmandu | Bhairahawa | Buddha Air | U4 855 | 16:40:00 | 17:15:00 | |
| Kathmandu | Bharatpur | Buddha Air | U4 351 | 10:50:00 | 11:10:00 | |
| Kathmandu | Bharatpur | Buddha Air | U4 353 | 14:20:00 | 14:40:00 | |
| Kathmandu | Biratnagar | Buddha Air | U4 703 | 07:45:00 | 08:25:00 | |
| Kathmandu | Biratnagar | Buddha Air | U4 705 | 10:00:00 | 10:40:00 | |
| Kathmandu | Biratnagar | Buddha Air | U4 707 | 12:20:00 | 13:00:00 | |
| Kathmandu | Biratnagar | Buddha Air | U4 709 | 14:40:00 | 15:20:00 | |
| Kathmandu | Biratnagar | Buddha Air | U4 713 | 15:50:00 | 16:30:00 | |
| Kathmandu | Biratnagar | Buddha Air | U4 711 | 16:50:00 | 17:30:00 | |
| Kathmandu | Dhangadi | Buddha Air | U4 251 | 12:30:00 | 13:40:00 | |
| Kathmandu | Janakpur | Buddha Air | U4 501 | 09:30:00 | 09:55:00 | |
| Kathmandu | Janakpur | Buddha Air | U4 505 | 15:10:00 | 15:35:00 | |
| Kathmandu | Nepalgunj | Buddha Air | U4 451 | 08:00:00 | 09:00:00 | |
| Kathmandu | Nepalgunj | Buddha Air | U4 405 | 16:10:00 | 17:10:00 | |
| Kathmandu | Pokhara | Yeti Airlines | U4 601 | 07:40:00 | 08:10:00 | |
| Kathmandu | Pokhara | Buddha Air | U4 603 | 08:30:00 | 09:00:00 | |
| Kathmandu | Pokhara | Buddha Air | U4 617 | 15:20:00 | 15:50:00 | |
| Kathmandu | Simara | Buddha Air | U4 551 | 09:30:00 | 09:45:00 | |
| Kathmandu | Simara | Buddha Air | U4 553 | 10:30:00 | 10:45:00 | |
| Kathmandu | Simara | Buddha Air | U4 555 | 12:00:00 | 12:15:00 | |
| Kathmandu | Simara | Buddha Air | U4 559 | 14:00:00 | 14:15:00 | |
| Kathmandu | Simara | Buddha Air | U4 561 | 15:00:00 | 15:15:00 | |
| Kathmandu | Simara | Buddha Air | U4 563 | 16:00:00 | 16:15:00 | |
| Kathmandu | Surkhet | Buddha Air | U4 133 | 13:10:00 | 14:15:00 | |
| Kathmandu | Tumlingtar | Buddha Air | U4 281 | 10:20:00 | 10:55:00 | |
| Bhadrapur | Kathmandu | Buddha Air | U4 952 | 11:15:00 | 12:05:00 | |
| Bhadrapur | Kathmandu | Buddha Air | U4 954 | 14:55:00 | 15:45:00 | |
| Bhairahawa | Kathmandu | Buddha Air | U4 852 | 09:55:00 | 10:30:00 | |
| Bhairahawa | Kathmandu | Buddha Air | U4 854 | 14:20:00 | 14:55:00 | |
| Bhairahawa | Kathmandu | Buddha Air | U4 856 | 17:35:00 | 18:10:00 | |
| Bharatpur | Kathmandu | Buddha Air | U4 352 | 11:30:00 | 11:50:00 | |
| Bharatpur | Kathmandu | Buddha Air | U4 356 | 14:55:00 | 15:15:00 | |
| Biratnagar | Kathmandu | Buddha Air | U4 704 | 08:50:00 | 09:30:00 | |
| Biratnagar | Kathmandu | Buddha Air | U4 706 | 11:05:00 | 11:45:00 | |
| Biratnagar | Kathmandu | Buddha Air | U4 708 | 13:25:00 | 14:05:00 | |
| Biratnagar | Kathmandu | Buddha Air | U4 710 | 15:45:00 | 16:25:00 | |
| Biratnagar | Kathmandu | Buddha Air | U4 714 | 16:50:00 | 17:30:00 | |
| Biratnagar | Kathmandu | Buddha Air | U4 712 | 17:55:00 | 18:35:00 | |
| Biratnagar | Tumlingtar | Buddha Air | U4 692 | 11:45:00 | 12:00:00 | |
| Dhangadhi | Kathmandu | Buddha Air | U4 252 | 14:05:00 | 15:15:00 | |
| Janakpur | Kathmandu | Buddha Air | U4 502 | 10:15:00 | 10:40:00 | |
| Janakpur | Kathmandu | Buddha Air | U4 506 | 15:55:00 | 16:20:00 | |
| Nepalgunj | Kathmandu | Buddha Air | U4 452 | 09:20:00 | 10:20:00 | |
| Nepalgunj | Kathmandu | Buddha Air | U4 406 | 17:40:00 | 18:40:00 | |
| Pokhara | Kathmandu | Buddha Air | U4 602 | 08:30:00 | 09:00:00 | |
| Pokhara | Kathmandu | Buddha Air | U4 618 | 16:10:00 | 16:40:00 | |
| Simara | Kathmandu | Buddha Air | U4 552 | 09:50:00 | 10:05:00 | |
| Simara | Kathmandu | Buddha Air | U4 554 | 10:50:00 | 11:05:00 | |
| Simara | Kathmandu | Buddha Air | U4 556 | 12:20:00 | 12:35:00 | |
| Simara | Kathmandu | Buddha Air | U4 560 | 14:20:00 | 14:35:00 | |
| Simara | Kathmandu | Buddha Air | U4 562 | 15:20:00 | 15:35:00 | |
| Simara | Kathmandu | Buddha Air | U4 564 | 16:20:00 | 16:35:00 | |
| Surkhet | Kathmandu | Buddha Air | U4 134 | 14:30:00 | 15:35:00 | |
| Tumlingtar | Biratnagar | Buddha Air | U4 691 | 11:10:00 | 11:25:00 | |
| Tumlingtar | Kathmandu | Buddha Air | U4 282 | 12:20:00 | 12:55:00 | |
| Kathmandu | Lukla | Simrik Airlines | RMK-102 | 07:15:00 | 07:45:00 | |
| Kathmandu | Lukla | Simrik Airlines | RMK-103 | 08:00:00 | 08:30:00 | |
| Lukla | Kathmandu | Simrik Airlines | RMK-104 | 08:45:00 | 09:15:00 | |
| Kathmandu | Lukla | Simrik Airlines | RMK-105 | 09:30:00 | 10:00:00 | |
| Lukla | Kathmandu | Simrik Airlines | RMK-106 | 10:15:00 | 10:45:00 | |
| Kathmandu | Lukla | Simrik Airlines | RMK-107 | 11:00:00 | 11:30:00 | |
| Lukla | Kathmandu | Simrik Airlines | RMK-108 | 11:45:00 | 12:15:00 | |
| Kathmandu | Lukla | Simrik Airlines | RMK-109 | 14:00:00 | 14:30:00 | |
| Lukla | Kathmandu | Simrik Airlines | RMK-110 | 14:45:00 | 15:15:00 | |
| Kathmandu | Lukla | Simrik Airlines | RMK-301 | 06:30:00 | 07:00:00 | |
| Lukla | Kathmandu | Simrik Airlines | RMK-302 | 07:15:00 | 07:45:00 | |
| Kathmandu | Lukla | Simrik Airlines | RMK-303 | 08:00:00 | 08:30:00 | |
| Lukla | Kathmandu | Simrik Airlines | RMK-304 | 08:45:00 | 09:15:00 | |
| Kathmandu | Lukla | Simrik Airlines | RMK-305 | 09:30:00 | 10:00:00 | |
| Lukla | Kathmandu | Simrik Airlines | RMK-306 | 10:15:00 | 10:45:00 | |
| Kathmandu | Lukla | Simrik Airlines | RMK-307 | 11:00:00 | 11:30:00 | |
| Lukla | Kathmandu | Simrik Airlines | RMK-308 | 11:45:00 | 12:15:00 | |
| Phaplu | Kathmandu | Goma Air | GMA416 | 13:00:00 | 13:30:00 | |
| Pokhara | Jomsom | Tara Air | TA - CHT | 06:00:00 | 06:20:00 | |
| Jomsom | Pokhara | Tara Air | TA- CHT | 06:25:00 | 06:45:00 | |
| Pokhara | Jomsom | Tara Air | TA - CHT | 06:50:00 | 07:10:00 | |
| Jomsom | Pokhara | Tara Air | TA - CHT | 07:15:00 | 07:30:00 | |
| Pokhara | Jomsom | Tara Air | TA - CHT | 07:40:00 | 07:55:00 | |
| Jomsom | Pokhara | Tara Air | TA-CHT | 08:00:00 | 08:15:00 | |
| Kathmandu | Khanedada | Goma Air | GAM115 | 14:00:00 | 14:30:00 | |
| Kathmandu | Mountain Flight | Saurya Airlines | S1-101 | 06:30:00 | 07:15:00 | |
| Kathmandu | Mountain Flight | Saurya Airlines | S1-604 | 07:30:00 | 08:15:00 | |
| Kathmandu | Mountain Flight | Saurya Airlines | S1-605 | 07:30:00 | 08:15:00 | |
| Kathmandu | Mountain Flight | Saurya Airlines | S1-601 | 06:30:00 | 07:15:00 | |
| Kathmandu | Mountain Flight | Saurya Airlines | S1-602 | 06:30:00 | 07:15:00 | |
| Kathmandu | Taplejung | Goma Air | GMA118 | 10:30:00 | 11:20:00 | |
| Taplejung | Kathmandu | Goma Air | 119 | 11:35:00 | 12:20:00 | |
| Kathmandu | Tumlingtar | Goma Air | GMA101 | 13:00:00 | 13:40:00 | |
| Tumlingtar | Kahmandu | Goma Air | Gma102 | 13:54:00 | 14:35:00 | |
| Kathmandu | Biratnagar | Saurya Airlines | S1-801 | 09:00:00 | 09:40:00 | |
| Biratnagar | Kathmandu | Saurya Airlines | S1-802 | 09:50:00 | 10:30:00 | |
| Kathmandu | Biratnagar | Saurya Airlines | S1-805 | 12:30:00 | 13:10:00 | |
| Biratnagar | Kathmandu | Saurya Airlines | S1-806 | 13:20:00 | 13:50:00 | |
| Kathmandu | Biratnagar | Saurya Airlines | S1-807 | 16:30:00 | 17:05:00 | |
| Biratnagar | Kathmandu | Saurya Airlines | S1-808 | 17:20:00 | 18:55:00 | |
| Kathmandu | Bhadrapur | Saurya Airlines | S1-901 | 10:30:00 | 11:20:00 | |
| Bhadrapur | Kathmandu | Saurya Airlines | S1-902 | 11:30:00 | 12:20:00 | |
| Kathmandu | Bhadrapur | Saurya Airlines | S1-903 | 12:50:00 | 13:40:00 | |
| Bhadrapur | Kathmandu | Saurya Airlines | S1-904 | 13:50:00 | 14:40:00 | |
| Nepalgunj | Talcha | Goma Air | GMA151 | 08:30:00 | 09:39:00 | |
| Humla | Nepalgunj | Goma Air | GMA142 | 07:30:00 | 08:15:00 | |
| Nepalgunj | Humla | Goma Air | GMA141 | 06:30:00 | 07:15:00 | |
| Kathmandu | Lukla | Tara Airlines | TA 103 | 06:35:00 | 07:10:00 | |
| Kathmandu | Lukla | Tara Airlines | TA CHT | 06:40:00 | 07:15:00 | |
| Kathmandu | Lukla | Tara Airlines | TA CHT | 08:10:00 | 08:45:00 | |
| Kathmandu | Lukla | Tara Airlines | TA CHT | 08:15:00 | 08:50:00 | |
| Kathmandu | Lukla | Tara Airlines | TA CHT | 08:20:00 | 08:55:00 | |
| Kathmandu | Lukla | Tara Airlines | TA CHT | 09:50:00 | 10:25:00 | |
| Kathmandu | Lukla | Tara Airlines | TA CHT | 11:30:00 | 12:05:00 | |
| Kathmandu | Lukla | Tara Airlines | TA CHT | 11:35:00 | 12:10:00 | |
| Kathmandu | Lukla | Tara Airlines | TA CHT | 11:40:00 | 12:15:00 | |
| Kathmandu | Lukla | Tara Airlines | TA CHT | 13:20:00 | 13:55:00 | |
| Kathmandu | Phaplu | Tara Airlines | TA 181 (1,5) | 09:55:00 | 10:30:00 | |
| Kathmandu | Lamidanda | Tara Airlines | TA 191 (3,7) | 10:00:00 | 10:35:00 | |
| Kathmandu | Ramechhap | Tara Airlines | TA 431 (5) | 13:05:00 | 13:30:00 | |
| Lukla | Kathmandu | Tara Airlines | TA CHT | 07:25:00 | 08:00:00 | |
| Lukla | Kathmandu | Tara Airlines | TA CHT | 07:30:00 | 08:05:00 | |
| Lukla | Kathmandu | Tara Airlines | TA CHT | 09:00:00 | 09:35:00 | |
| Lukla | Kathmandu | Tara Airlines | TA CHT | 09:05:00 | 09:40:00 | |
| Lukla | Kathmandu | Tara Airlines | TA CHT | 09:10:00 | 09:45:00 | |
| Lukla | Kathmandu | Tara Airlines | TA CHT | 10:40:00 | 11:15:00 | |
| Lukla | Kathmandu | Tara Airlines | TA CHT | 12:20:00 | 12:55:00 | |
| Lukla | Kathmandu | Tara Airlines | TA CHT | 12:25:00 | 13:00:00 | |
| Lukla | Kathmandu | Tara Airlines | TA CHT | 12:30:00 | 13:05:00 | |
| Lukla | Kathmandu | Tara Airlines | TA CHT | 14:10:00 | 14:45:00 | |
| Phaplu | Kathmandu | Tara Airlines | TA 182 (1,5) | 10:45:00 | 11:20:00 | |
| Lamidanda | Kathmandu | Tara Airlines | TA 192 (3,7) | 10:50:00 | 11:25:00 | |
| Ramechhap | Kathmandu | Tara Airlines | TA 432 (5) | 15:10:00 | 15:35:00 | |
| Nepalgunj | Dolpo | Tara Airlines | TA 717 (1) | 06:30:00 | 07:15:00 | |
| Nepalgunj | Rara | Tara Airlines | TA 715 (5) | 06:30:00 | 07:20:00 | |
| Nepalgunj | Simikot | Tara Airlines | TA 711 (4) | 06:30:00 | 07:30:00 | |
| Nepalgunj | Jumla | Tara Airlines | TA 713 (6) | 06:30:00 | 07:15:00 | |
| Nepalgunj | Bajura | Tara Airlines | TA 722 (3) | 06:30:00 | 07:05:00 | |
| Dolpo | Nepalgunj | Tara Airlines | TA 718 (1) | 07:30:00 | 08:15:00 | |
| Rara | Nepalgunj | Tara Airlines | TA 716 (5) | 07:35:00 | 08:25:00 | |
| Simikot | Nepalgunj | Tara Airlines | TA 712 (4) | 07:45:00 | 08:45:00 | |
| Jumla | Nepalgunj | Tara Airlines | TA 714 (6) | 07:30:00 | 08:15:00 | |
| Bajura | Nepalgunj | Tara Airlines | TA 722 (3) | 07:20:00 | 07:55:00 | |
| Surkhet | Simikot | Tara Airlines | TA 719 (7) | 06:30:00 | 07:15:00 | |
| Surkhet | Dolpo | Tara Airlines | TA 709 (2) | 06:30:00 | 07:10:00 | |
| Surkhet | Jumla | Tara Airlines | TA 723 (2) | 08:20:00 | 08:45:00 | |
| Simikot | Surkhet | Tara Airlines | TA 720 (7) | 07:30:00 | 08:15:00 | |
| Dolpo | Surkhet | Tara Airlines | TA 710 (2) | 07:25:00 | 08:05:00 | |
| Jumla | Surkhet | Tara Airlines | TA 724 (3) | 09:00:00 | 09:25:00 | |
| Kathmandu | Pokhara | Tara Airlines | TA 227 | 15:30:00 | 16:00:00 | |
| Kathmandu | Lukla | Tara Airlines | TA 095 | 06:30:00 | 07:00:00 | |
| Kathmandu | Lukla | Tara Airlines | TA 097 | 08:00:00 | 08:30:00 | |
| Kathmandu | Lukla | Tara Airlines | TA 099 | 09:30:00 | 10:00:00 | |
| Lukla | Kathmandu | Tara Airlines | TA 096 | 07:15:00 | 07:45:00 | |
| Lukla | Kathmandu | Tara Airlines | TA 098 | 08:45:00 | 09:15:00 | |
| Lukla | Kathmandu | Tara Airlines | TA 100 | 10:15:00 | 10:45:00 | |
| Pokhara | Kathmandu | Tara Airlines | TA 228 | 09:30:00 | 10:00:00 | |
| Pokhara | Jomsom | Tara Airlines | TA 193 | 06:30:00 | 06:50:00 | |
| Jomsom | Pokhara | Tara Airlines | TA 194 | 07:05:00 | 07:25:00 | |
| Kathmandu | Mountain Flight | Simrik Airlines | SMA -100 | 06:30:00 | 07:30:00 | |
| Kathmandu | Mountain Flight | Simrik Airlines | SMA-102 | 06:30:00 | 07:30:00 | |
| Kathmandu | Mountain Flight | Simrik Airlines | SMA-200 | 07:45:00 | 08:45:00 | |
| Kathmandu | Mountain Flight | Simrik Airlines | SMA-201 | 07:45:00 | 08:45:00 | |
| Kathmandu | Pokhara | Simrik Airlines | SMA-151 | 10:00:00 | 10:25:00 | |
| Kathmandu | Pokhara | Simrik Airlines | SMA-153 | 12:00:00 | 12:25:00 | |
| Kathmandu | Pokhara | Simrik Airlines | SMA-155 | 14:00:00 | 14:25:00 | |
| Pokhara | Kathmandu | Simrik Airlines | SMA-152 | 10:45:00 | 11:10:00 | |
| pokhara | Kathmandu | Simrik Airlines | SMA-154 | 12:45:00 | 13:10:00 | |
| Pokhara | Kathmadnu | Simrik Airlines | SMA-156 | 14:45:00 | 15:10:00 | |
| Kathmandu | Bhairahwa | Simrik Airlines | SMA-171 | 12:15:00 | 13:55:00 | |
| Bhairahwa | Kathmandu | Simrik Airlines | SMA-172 | 13:05:00 | 12:35:00 | |
| Kathmadu | Simara | Simrik Airlines | SMA-113 | 15:15:00 | 15:30:00 | |
| Simara | Kathmandu | Simrik Airlines | SMA-114 | 15:45:00 | 16:00:00 | |
| Pokhara | Jomsom | Simrik Airlines | RMK 1 | 06:30:00 | 06:45:00 | |
| Pokhara | Jomsom | Simrik Airlines | RMK 3 | 00:07:05 | 00:07:20 | |
| Jomsom | Pokhara | Simrik Airlines | RMK 2 | 06:50:00 | 06:55:00 | |
| Jomsom | Pokhara | Simrik Airlines | RMK 4 | 07:20:00 | 07:35:00 | |
| Kathmandu | Lukla | Goma Air | GMA402 | 07:10:00 | 07:40:00 | |
| Lukla | Kathmandu | Goma Air | GMA401 | 06:30:00 | 07:00:00 | |
| Kathmandu | Lukla | Goma Air | GAM403 | 07:55:00 | 08:24:00 | |
| Lukla | Kathmandu | Goma Air | GAM404 | 08:35:00 | 09:05:00 | |
| Kathmandu | Lukla | Goma Air | GMA405 | 09:20:00 | 09:50:00 | |
| Lukla | Kathmandu | Goma Air | GMA406 | 10:00:00 | 10:30:00 | |
| Kathmandu | Lukla | Goma Air | GMA407 | 10:40:00 | 11:09:00 | |
| Lukla | Kathmandu | Goma Air | GMA408 | 11:20:00 | 11:50:00 | |
| Phaplu | Kathmandu | Goma Air | GMA415 | 12:30:00 | 13:00:00 | |
| Khidanda | Kathmandu | Goma Air | GMA116 | 13:00:00 | 13:30:00 | |
| Talcha | Nepalgunj | Goma Air | GMA152 | 09:50:00 | 10:30:00 | |
| Nepalguj | Jumla | Goma Air | GMA161 | 14:00:00 | 14:35:00 | |
| Jumla | Nepalgunj | Goma Air | GMA162 | 14:45:00 | 15:20:00 | |
| Nepalgunj | Bajura | Goma Air | GMA171 | 11:45:00 | 12:20:00 | |
| Bajura | Nepalgunj | Goma Air | GMA172 | 12:30:00 | 13:05:00 | |
| Pokhara | Jomsom | Goma Air | GA 602 | 00:06:30 | 00:06:45 | |
| Pokhara | Jomsom | Goma Air | GA 604 | 00:06:50 | 00:07:05 | |
| Pokhara | Jomsom | Goma Air | GA 606 | 00:08:05 | 00:08:20 | |
| Jomsom | Pokhara | Goma Air | GA 602 | 00:06:45 | 00:07:00 | |
| Jomsom | Pokhara | Goma Air | GA 603 | 00:06:50 | 00:07:05 | |
| Jomsom | Pokhara | Goma Air | GA 605 | 00:08:30 | 00:08:45 | |
| Pokhara | Bharatpur | Buddha Air | 641 | 00:00:10 | 00:00:10 | |
| Bharatpur | Pokhara | Buddha Air | 642 | 00:00:10 | 00:00:11 | |
| Pokhara | Bhairahwa | Buddha Air | 681 | 00:00:11 | 00:00:11 | |
| Bhairahwa | Pokhara | Buddha Air | 682 | 00:00:11 | 00:00:13 | |