Kathmandu Lamidanda Flight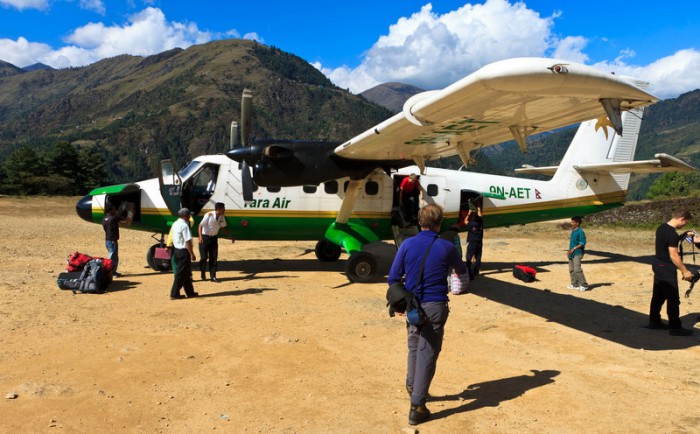 Lamidanda is a village in Khotang District which lies in Eastern Nepal at Sagarmatha Zone bordering with Okhaldhunga District. It is inhabitant by People of several castes like Brahmins, Chhetri, Tamang, Newar and other live here but it is famous for Rais who are well known as Gorkha Soldier for over 200 Years. The transportation facilities is still inadequate but it serves an airport in Lamidanda which lies 25 Km north from Diktel (Headquarter of Khotang District). It serves as the gateway its famous pilgrimage site 'Halesi Mahadev' and this area has lot to thank for Kathmandu Lamidanda Flights.
Lamidanda is 142 Km east from Kathmandu so it is hard to go by bus and it feels very uneasy to travel such long distance. The best way is to take Kathmandu Lamidanda Flights. Kathmandu Lamidanda Flights are of only 35 minutes but only scheduled flights are operated for this airport which are conducted by Tara air and Nepal Air. So, Nepal Flight Booking highly recommend you to make inquiry a week earlier for this Kathmandu Lamidanda Flights.
Flight Schedule
| Flight From | Flight To | Airlines | Flight No. | Flight Time | Arrival Time | |
| --- | --- | --- | --- | --- | --- | --- |
| Kathmandu | Pokhara | Yeti Airlines | YT 671 | 08:00:00 | 08:25:00 | |
| Kathmandu | Pokhara | Yeti Airlines | YT 673 | 08:05:00 | 08:30:00 | |
| Kathmandu | Pokhara | Buddha Air | U4 605 | 08:30:00 | 09:00:00 | |
| Kathmandu | Pokhara | Yeti Airlines | YT 675 | 09:10:00 | 09:35:00 | |
| Kathmandu | Pokhara | Buddha Air | U4 611 | 10:10:00 | 10:40:00 | |
| Kathmandu | Pokhara | Yeti Airlines | YT 677 | 10:50:00 | 11:15:00 | |
| Kathmandu | Pokhara | Buddha Air | U4 607 | 12:10:00 | 12:40:00 | |
| Kathmandu | Pokhara | Yeti Airlines | YT 679 | 12:30:00 | 12:55:00 | |
| Kathmandu | Pokhara | Buddha Air | U4 609 | 14:20:00 | 14:50:00 | |
| Kathmandu | Pokhara | Yeti Airlines | YT 683 | 14:50:00 | 15:15:00 | |
| Kathmandu | Pokhara | Yeti Airlines | YT 685 | 15:40:00 | 16:05:00 | |
| Pokhara | Kathmandu | Yeti Airlines | YT 672 | 08:45:00 | 09:10:00 | |
| Pokhara | Kathmandu | Yeti Airlines | YT 674 | 08:50:00 | 09:15:00 | |
| Pokhara | Kathmandu | Buddha Air | U4 606 | 09:20:00 | 09:50:00 | |
| Pokhara | Kathmandu | Yeti Airlines | YT 676 | 09:50:00 | 10:15:00 | |
| Pokhara | Kathmandu | Buddha Air | U4 612 | 11:00:00 | 11:30:00 | |
| Pokhara | Kathmandu | Yeti Airlines | YT 678 | 11:35:00 | 12:00:00 | |
| Pokhara | Kathmandu | Buddha Air | U4 608 | 13:00:00 | 13:30:00 | |
| Pokhara | Kathmandu | Yeti Airlines | YT 680 | 13:15:00 | 13:40:00 | |
| Pokhara | Kathmandu | Buddha Air | U4 610 | 15:10:00 | 15:40:00 | |
| Pokhara | Kathmandu | Yeti Airlines | YT 684 | 15:35:00 | 16:00:00 | |
| Pokhara | Kathmandu | Yeti Airlines | YT 686 | 16:25:00 | 16:50:00 | |
| Kathmandu | Bhairahawa | Yeti Airlines | 175 | 11:50:00 | 12:10:00 | |
| Bhairahawa | Kathmandu | Yeti Airlines | 176 | 12:30:00 | 12:50:00 | |
| Kathmandu | Dhangadhi | Yeti Airlines | 231 | 12:30:00 | 13:40:00 | |
| Dhangadhi | Kathmandu | Yeti Airlines | 232 | 14:00:00 | 15:10:00 | |
| Kathmandu | Mountain Flight | Yeti Airlines | 301 | 06:30:00 | 07:30:00 | |
| Kathmandu | Mountain Flight | Yeti Airlines | 302 | 06:30:00 | 07:30:00 | |
| Kathmandu | Mountain Flight | Yeti Airlines | 304 | 06:30:00 | 07:30:00 | |
| Kathmandu | Mountain Flight | Yeti Airlines | 305 | 06:35:00 | 07:35:00 | |
| Kathmandu | Mountain Flight | Yeti Airlines | 306 | 06:40:00 | 07:40:00 | |
| Kathmandu | Mountain Flight | Yeti Airlines | 307 | 06:45:00 | 07:45:00 | |
| Kathmandu | Mountain Flight | Yeti Airlines | 401 | 07:45:00 | 08:45:00 | |
| Kathmandu | Nepalgunj | Yeti Airlines | 421 | 09:20:00 | 10:15:00 | |
| Nepalgunj | Kathmandu | Yeti Airlines | 422 | 10:35:00 | 11:30:00 | |
| Kathmandu | Nepalgunj | Yeti Airlines | 423 | 15:50:00 | 16:45:00 | |
| Nepalgunj | Kathmandu | Yeti Airlines | 424 | 17:05:00 | 18:00:00 | |
| Kathmandu | Janakpur | Yeti Airlines | 571 | 10:30:00 | 10:55:00 | |
| Janakpur | Kathmandu | Yeti Airlines | 572 | 11:15:00 | 11:40:00 | |
| Kathmandu | Janakpur | Yeti Airlines | 573 | 15:40:00 | 16:05:00 | |
| Janakpur | Kathmandu | Yeti Airlines | 574 | 16:35:00 | 17:00:00 | |
| Kathmandu | Pokhara | Yeti Airlines | 681 | 14:10:00 | 14:35:00 | |
| Pokhara | Kathmandu | Yeti Airlines | 682 | 14:55:00 | 15:20:00 | |
| Kathmandu | Biratnagar | Yeti Airlines | 787 | 09:00:00 | 09:40:00 | |
| Biratnagar | Kathmandu | Yeti Airlines | 788 | 10:00:00 | 10:40:00 | |
| Kathmandu | Biratnagar | Yeti Airlines | 791 | 12:00:00 | 12:40:00 | |
| Biratnagar | Kathmandu | Yeti Airlines | 792 | 13:00:00 | 13:40:00 | |
| Kathmandu | Biratnagar | Yeti Airlines | 793 | 14:30:00 | 15:10:00 | |
| Biratnagar | Kathmandu | Yeti Airlines | 794 | 15:30:00 | 16:10:00 | |
| Kathmandu | Biratnagar | Yeti Airlines | 797 | 16:40:00 | 17:20:00 | |
| Biratnagar | Kathmandu | Yeti Airlines | 798 | 17:40:00 | 18:20:00 | |
| Kathmandu | Bhairahawa | Yeti Airlines | 891 | 09:20:00 | 09:50:00 | |
| Bhairahawa | Kathmandu | Yeti Airlines | 892 | 10:10:00 | 10:40:00 | |
| Kathmandu | Bhairahawa | Yeti Airlines | 893 | 16:30:00 | 17:00:00 | |
| Bhairahawa | Kathmandu | Yeti Airlines | 894 | 17:20:00 | 17:50:00 | |
| Kathmandu | Bhadrapur | Yeti Airlines | 921 | 10:10:00 | 10:55:00 | |
| Bhadrapur | Kathmandu | Yeti Airlines | 922 | 11:15:00 | 12:00:00 | |
| Kathmandu | Bhadrapur | Yeti Airlines | 925 | 13:50:00 | 14:35:00 | |
| Bhadrapur | Kathmandu | Yeti Airlines | 926 | 14:55:00 | 15:40:00 | |
| Kathmandu | Tumlingtar | Yeti Airlines | 751 | 11:10:00 | 11:45:00 | |
| Tumlingtar | Kathmandu | Yeti Airlines | 752 | 12:05:00 | 12:40:00 | |
| Kathmandu | Mountain Flight | Buddha Air | U4 102 | 06:15:00 | 07:15:00 | |
| Kathmandu | Mountain Flight | Buddha Air | U4 104 | 06:15:00 | 07:15:00 | |
| Kathmandu | Mountain Flight | Buddha Air | U4 100 | 06:15:00 | 07:15:00 | |
| Kathmandu | Mountain Flight | Buddha Air | U4 201 | 07:15:00 | 08:15:00 | |
| Kathmandu | Mountain Flight | Buddha Air | U4 202 | 07:15:00 | 08:15:00 | |
| Kathmandu | Mountain Flight | Buddha Air | U4 203 | 07:15:00 | 08:15:00 | |
| Kathmandu | Mountain Flight | Yeti Airlines | U4 204 | 08:00:00 | 09:00:00 | |
| Kathmandu | Bhadrapur | Buddha Air | U4 951 | 10:00:00 | 10:50:00 | |
| Kathmandu | Bhadrapur | Buddha Air | U4 953 | 13:40:00 | 14:30:00 | |
| Kathmandu | Bhairahawa | Buddha Air | U4 851 | 09:00:00 | 09:35:00 | |
| Kathmandu | Bhairahawa | Buddha Air | U4 853 | 13:30:00 | 14:05:00 | |
| Kathmandu | Bhairahawa | Buddha Air | U4 855 | 16:40:00 | 17:15:00 | |
| Kathmandu | Bharatpur | Buddha Air | U4 351 | 10:50:00 | 11:10:00 | |
| Kathmandu | Bharatpur | Buddha Air | U4 353 | 14:20:00 | 14:40:00 | |
| Kathmandu | Biratnagar | Buddha Air | U4 703 | 07:45:00 | 08:25:00 | |
| Kathmandu | Biratnagar | Buddha Air | U4 705 | 10:00:00 | 10:40:00 | |
| Kathmandu | Biratnagar | Buddha Air | U4 707 | 12:20:00 | 13:00:00 | |
| Kathmandu | Biratnagar | Buddha Air | U4 709 | 14:40:00 | 15:20:00 | |
| Kathmandu | Biratnagar | Buddha Air | U4 713 | 15:50:00 | 16:30:00 | |
| Kathmandu | Biratnagar | Buddha Air | U4 711 | 16:50:00 | 17:30:00 | |
| Kathmandu | Dhangadi | Buddha Air | U4 251 | 12:30:00 | 13:40:00 | |
| Kathmandu | Janakpur | Buddha Air | U4 501 | 09:30:00 | 09:55:00 | |
| Kathmandu | Janakpur | Buddha Air | U4 505 | 15:10:00 | 15:35:00 | |
| Kathmandu | Nepalgunj | Buddha Air | U4 451 | 08:00:00 | 09:00:00 | |
| Kathmandu | Nepalgunj | Buddha Air | U4 405 | 16:10:00 | 17:10:00 | |
| Kathmandu | Pokhara | Yeti Airlines | U4 601 | 07:40:00 | 08:10:00 | |
| Kathmandu | Pokhara | Buddha Air | U4 603 | 08:30:00 | 09:00:00 | |
| Kathmandu | Pokhara | Buddha Air | U4 617 | 15:20:00 | 15:50:00 | |
| Kathmandu | Simara | Buddha Air | U4 551 | 09:30:00 | 09:45:00 | |
| Kathmandu | Simara | Buddha Air | U4 553 | 10:30:00 | 10:45:00 | |
| Kathmandu | Simara | Buddha Air | U4 555 | 12:00:00 | 12:15:00 | |
| Kathmandu | Simara | Buddha Air | U4 559 | 14:00:00 | 14:15:00 | |
| Kathmandu | Simara | Buddha Air | U4 561 | 15:00:00 | 15:15:00 | |
| Kathmandu | Simara | Buddha Air | U4 563 | 16:00:00 | 16:15:00 | |
| Kathmandu | Surkhet | Buddha Air | U4 133 | 13:10:00 | 14:15:00 | |
| Kathmandu | Tumlingtar | Buddha Air | U4 281 | 10:20:00 | 10:55:00 | |
| Bhadrapur | Kathmandu | Buddha Air | U4 952 | 11:15:00 | 12:05:00 | |
| Bhadrapur | Kathmandu | Buddha Air | U4 954 | 14:55:00 | 15:45:00 | |
| Bhairahawa | Kathmandu | Buddha Air | U4 852 | 09:55:00 | 10:30:00 | |
| Bhairahawa | Kathmandu | Buddha Air | U4 854 | 14:20:00 | 14:55:00 | |
| Bhairahawa | Kathmandu | Buddha Air | U4 856 | 17:35:00 | 18:10:00 | |
| Bharatpur | Kathmandu | Buddha Air | U4 352 | 11:30:00 | 11:50:00 | |
| Bharatpur | Kathmandu | Buddha Air | U4 356 | 14:55:00 | 15:15:00 | |
| Biratnagar | Kathmandu | Buddha Air | U4 704 | 08:50:00 | 09:30:00 | |
| Biratnagar | Kathmandu | Buddha Air | U4 706 | 11:05:00 | 11:45:00 | |
| Biratnagar | Kathmandu | Buddha Air | U4 708 | 13:25:00 | 14:05:00 | |
| Biratnagar | Kathmandu | Buddha Air | U4 710 | 15:45:00 | 16:25:00 | |
| Biratnagar | Kathmandu | Buddha Air | U4 714 | 16:50:00 | 17:30:00 | |
| Biratnagar | Kathmandu | Buddha Air | U4 712 | 17:55:00 | 18:35:00 | |
| Biratnagar | Tumlingtar | Buddha Air | U4 692 | 11:45:00 | 12:00:00 | |
| Dhangadhi | Kathmandu | Buddha Air | U4 252 | 14:05:00 | 15:15:00 | |
| Janakpur | Kathmandu | Buddha Air | U4 502 | 10:15:00 | 10:40:00 | |
| Janakpur | Kathmandu | Buddha Air | U4 506 | 15:55:00 | 16:20:00 | |
| Nepalgunj | Kathmandu | Buddha Air | U4 452 | 09:20:00 | 10:20:00 | |
| Nepalgunj | Kathmandu | Buddha Air | U4 406 | 17:40:00 | 18:40:00 | |
| Pokhara | Kathmandu | Buddha Air | U4 602 | 08:30:00 | 09:00:00 | |
| Pokhara | Kathmandu | Buddha Air | U4 618 | 16:10:00 | 16:40:00 | |
| Simara | Kathmandu | Buddha Air | U4 552 | 09:50:00 | 10:05:00 | |
| Simara | Kathmandu | Buddha Air | U4 554 | 10:50:00 | 11:05:00 | |
| Simara | Kathmandu | Buddha Air | U4 556 | 12:20:00 | 12:35:00 | |
| Simara | Kathmandu | Buddha Air | U4 560 | 14:20:00 | 14:35:00 | |
| Simara | Kathmandu | Buddha Air | U4 562 | 15:20:00 | 15:35:00 | |
| Simara | Kathmandu | Buddha Air | U4 564 | 16:20:00 | 16:35:00 | |
| Surkhet | Kathmandu | Buddha Air | U4 134 | 14:30:00 | 15:35:00 | |
| Tumlingtar | Biratnagar | Buddha Air | U4 691 | 11:10:00 | 11:25:00 | |
| Tumlingtar | Kathmandu | Buddha Air | U4 282 | 12:20:00 | 12:55:00 | |
| Kathmandu | Lukla | Simrik Airlines | RMK-102 | 07:15:00 | 07:45:00 | |
| Kathmandu | Lukla | Simrik Airlines | RMK-103 | 08:00:00 | 08:30:00 | |
| Lukla | Kathmandu | Simrik Airlines | RMK-104 | 08:45:00 | 09:15:00 | |
| Kathmandu | Lukla | Simrik Airlines | RMK-105 | 09:30:00 | 10:00:00 | |
| Lukla | Kathmandu | Simrik Airlines | RMK-106 | 10:15:00 | 10:45:00 | |
| Kathmandu | Lukla | Simrik Airlines | RMK-107 | 11:00:00 | 11:30:00 | |
| Lukla | Kathmandu | Simrik Airlines | RMK-108 | 11:45:00 | 12:15:00 | |
| Kathmandu | Lukla | Simrik Airlines | RMK-109 | 14:00:00 | 14:30:00 | |
| Lukla | Kathmandu | Simrik Airlines | RMK-110 | 14:45:00 | 15:15:00 | |
| Kathmandu | Lukla | Simrik Airlines | RMK-301 | 06:30:00 | 07:00:00 | |
| Lukla | Kathmandu | Simrik Airlines | RMK-302 | 07:15:00 | 07:45:00 | |
| Kathmandu | Lukla | Simrik Airlines | RMK-303 | 08:00:00 | 08:30:00 | |
| Lukla | Kathmandu | Simrik Airlines | RMK-304 | 08:45:00 | 09:15:00 | |
| Kathmandu | Lukla | Simrik Airlines | RMK-305 | 09:30:00 | 10:00:00 | |
| Lukla | Kathmandu | Simrik Airlines | RMK-306 | 10:15:00 | 10:45:00 | |
| Kathmandu | Lukla | Simrik Airlines | RMK-307 | 11:00:00 | 11:30:00 | |
| Lukla | Kathmandu | Simrik Airlines | RMK-308 | 11:45:00 | 12:15:00 | |
| Phaplu | Kathmandu | Goma Air | GMA416 | 13:00:00 | 13:30:00 | |
| Pokhara | Jomsom | Tara Air | TA - CHT | 06:00:00 | 06:20:00 | |
| Jomsom | Pokhara | Tara Air | TA- CHT | 06:25:00 | 06:45:00 | |
| Pokhara | Jomsom | Tara Air | TA - CHT | 06:50:00 | 07:10:00 | |
| Jomsom | Pokhara | Tara Air | TA - CHT | 07:15:00 | 07:30:00 | |
| Pokhara | Jomsom | Tara Air | TA - CHT | 07:40:00 | 07:55:00 | |
| Jomsom | Pokhara | Tara Air | TA-CHT | 08:00:00 | 08:15:00 | |
| Kathmandu | Khanedada | Goma Air | GAM115 | 14:00:00 | 14:30:00 | |
| Kathmandu | Mountain Flight | Saurya Airlines | S1-101 | 06:30:00 | 07:15:00 | |
| Kathmandu | Mountain Flight | Saurya Airlines | S1-604 | 07:30:00 | 08:15:00 | |
| Kathmandu | Mountain Flight | Saurya Airlines | S1-605 | 07:30:00 | 08:15:00 | |
| Kathmandu | Mountain Flight | Saurya Airlines | S1-601 | 06:30:00 | 07:15:00 | |
| Kathmandu | Mountain Flight | Saurya Airlines | S1-602 | 06:30:00 | 07:15:00 | |
| Kathmandu | Taplejung | Goma Air | GMA118 | 10:30:00 | 11:20:00 | |
| Taplejung | Kathmandu | Goma Air | 119 | 11:35:00 | 12:20:00 | |
| Kathmandu | Tumlingtar | Goma Air | GMA101 | 13:00:00 | 13:40:00 | |
| Tumlingtar | Kahmandu | Goma Air | Gma102 | 13:54:00 | 14:35:00 | |
| Kathmandu | Biratnagar | Saurya Airlines | S1-801 | 09:00:00 | 09:40:00 | |
| Biratnagar | Kathmandu | Saurya Airlines | S1-802 | 09:50:00 | 10:30:00 | |
| Kathmandu | Biratnagar | Saurya Airlines | S1-805 | 12:30:00 | 13:10:00 | |
| Biratnagar | Kathmandu | Saurya Airlines | S1-806 | 13:20:00 | 13:50:00 | |
| Kathmandu | Biratnagar | Saurya Airlines | S1-807 | 16:30:00 | 17:05:00 | |
| Biratnagar | Kathmandu | Saurya Airlines | S1-808 | 17:20:00 | 18:55:00 | |
| Kathmandu | Bhadrapur | Saurya Airlines | S1-901 | 10:30:00 | 11:20:00 | |
| Bhadrapur | Kathmandu | Saurya Airlines | S1-902 | 11:30:00 | 12:20:00 | |
| Kathmandu | Bhadrapur | Saurya Airlines | S1-903 | 12:50:00 | 13:40:00 | |
| Bhadrapur | Kathmandu | Saurya Airlines | S1-904 | 13:50:00 | 14:40:00 | |
| Nepalgunj | Talcha | Goma Air | GMA151 | 08:30:00 | 09:39:00 | |
| Humla | Nepalgunj | Goma Air | GMA142 | 07:30:00 | 08:15:00 | |
| Nepalgunj | Humla | Goma Air | GMA141 | 06:30:00 | 07:15:00 | |
| Kathmandu | Lukla | Tara Airlines | TA 103 | 06:35:00 | 07:10:00 | |
| Kathmandu | Lukla | Tara Airlines | TA CHT | 06:40:00 | 07:15:00 | |
| Kathmandu | Lukla | Tara Airlines | TA CHT | 08:10:00 | 08:45:00 | |
| Kathmandu | Lukla | Tara Airlines | TA CHT | 08:15:00 | 08:50:00 | |
| Kathmandu | Lukla | Tara Airlines | TA CHT | 08:20:00 | 08:55:00 | |
| Kathmandu | Lukla | Tara Airlines | TA CHT | 09:50:00 | 10:25:00 | |
| Kathmandu | Lukla | Tara Airlines | TA CHT | 11:30:00 | 12:05:00 | |
| Kathmandu | Lukla | Tara Airlines | TA CHT | 11:35:00 | 12:10:00 | |
| Kathmandu | Lukla | Tara Airlines | TA CHT | 11:40:00 | 12:15:00 | |
| Kathmandu | Lukla | Tara Airlines | TA CHT | 13:20:00 | 13:55:00 | |
| Kathmandu | Phaplu | Tara Airlines | TA 181 (1,5) | 09:55:00 | 10:30:00 | |
| Kathmandu | Lamidanda | Tara Airlines | TA 191 (3,7) | 10:00:00 | 10:35:00 | |
| Kathmandu | Ramechhap | Tara Airlines | TA 431 (5) | 13:05:00 | 13:30:00 | |
| Lukla | Kathmandu | Tara Airlines | TA CHT | 07:25:00 | 08:00:00 | |
| Lukla | Kathmandu | Tara Airlines | TA CHT | 07:30:00 | 08:05:00 | |
| Lukla | Kathmandu | Tara Airlines | TA CHT | 09:00:00 | 09:35:00 | |
| Lukla | Kathmandu | Tara Airlines | TA CHT | 09:05:00 | 09:40:00 | |
| Lukla | Kathmandu | Tara Airlines | TA CHT | 09:10:00 | 09:45:00 | |
| Lukla | Kathmandu | Tara Airlines | TA CHT | 10:40:00 | 11:15:00 | |
| Lukla | Kathmandu | Tara Airlines | TA CHT | 12:20:00 | 12:55:00 | |
| Lukla | Kathmandu | Tara Airlines | TA CHT | 12:25:00 | 13:00:00 | |
| Lukla | Kathmandu | Tara Airlines | TA CHT | 12:30:00 | 13:05:00 | |
| Lukla | Kathmandu | Tara Airlines | TA CHT | 14:10:00 | 14:45:00 | |
| Phaplu | Kathmandu | Tara Airlines | TA 182 (1,5) | 10:45:00 | 11:20:00 | |
| Lamidanda | Kathmandu | Tara Airlines | TA 192 (3,7) | 10:50:00 | 11:25:00 | |
| Ramechhap | Kathmandu | Tara Airlines | TA 432 (5) | 15:10:00 | 15:35:00 | |
| Nepalgunj | Dolpo | Tara Airlines | TA 717 (1) | 06:30:00 | 07:15:00 | |
| Nepalgunj | Rara | Tara Airlines | TA 715 (5) | 06:30:00 | 07:20:00 | |
| Nepalgunj | Simikot | Tara Airlines | TA 711 (4) | 06:30:00 | 07:30:00 | |
| Nepalgunj | Jumla | Tara Airlines | TA 713 (6) | 06:30:00 | 07:15:00 | |
| Nepalgunj | Bajura | Tara Airlines | TA 722 (3) | 06:30:00 | 07:05:00 | |
| Dolpo | Nepalgunj | Tara Airlines | TA 718 (1) | 07:30:00 | 08:15:00 | |
| Rara | Nepalgunj | Tara Airlines | TA 716 (5) | 07:35:00 | 08:25:00 | |
| Simikot | Nepalgunj | Tara Airlines | TA 712 (4) | 07:45:00 | 08:45:00 | |
| Jumla | Nepalgunj | Tara Airlines | TA 714 (6) | 07:30:00 | 08:15:00 | |
| Bajura | Nepalgunj | Tara Airlines | TA 722 (3) | 07:20:00 | 07:55:00 | |
| Surkhet | Simikot | Tara Airlines | TA 719 (7) | 06:30:00 | 07:15:00 | |
| Surkhet | Dolpo | Tara Airlines | TA 709 (2) | 06:30:00 | 07:10:00 | |
| Surkhet | Jumla | Tara Airlines | TA 723 (2) | 08:20:00 | 08:45:00 | |
| Simikot | Surkhet | Tara Airlines | TA 720 (7) | 07:30:00 | 08:15:00 | |
| Dolpo | Surkhet | Tara Airlines | TA 710 (2) | 07:25:00 | 08:05:00 | |
| Jumla | Surkhet | Tara Airlines | TA 724 (3) | 09:00:00 | 09:25:00 | |
| Kathmandu | Pokhara | Tara Airlines | TA 227 | 15:30:00 | 16:00:00 | |
| Kathmandu | Lukla | Tara Airlines | TA 095 | 06:30:00 | 07:00:00 | |
| Kathmandu | Lukla | Tara Airlines | TA 097 | 08:00:00 | 08:30:00 | |
| Kathmandu | Lukla | Tara Airlines | TA 099 | 09:30:00 | 10:00:00 | |
| Lukla | Kathmandu | Tara Airlines | TA 096 | 07:15:00 | 07:45:00 | |
| Lukla | Kathmandu | Tara Airlines | TA 098 | 08:45:00 | 09:15:00 | |
| Lukla | Kathmandu | Tara Airlines | TA 100 | 10:15:00 | 10:45:00 | |
| Pokhara | Kathmandu | Tara Airlines | TA 228 | 09:30:00 | 10:00:00 | |
| Pokhara | Jomsom | Tara Airlines | TA 193 | 06:30:00 | 06:50:00 | |
| Jomsom | Pokhara | Tara Airlines | TA 194 | 07:05:00 | 07:25:00 | |
| Kathmandu | Mountain Flight | Simrik Airlines | SMA -100 | 06:30:00 | 07:30:00 | |
| Kathmandu | Mountain Flight | Simrik Airlines | SMA-102 | 06:30:00 | 07:30:00 | |
| Kathmandu | Mountain Flight | Simrik Airlines | SMA-200 | 07:45:00 | 08:45:00 | |
| Kathmandu | Mountain Flight | Simrik Airlines | SMA-201 | 07:45:00 | 08:45:00 | |
| Kathmandu | Pokhara | Simrik Airlines | SMA-151 | 10:00:00 | 10:25:00 | |
| Kathmandu | Pokhara | Simrik Airlines | SMA-153 | 12:00:00 | 12:25:00 | |
| Kathmandu | Pokhara | Simrik Airlines | SMA-155 | 14:00:00 | 14:25:00 | |
| Pokhara | Kathmandu | Simrik Airlines | SMA-152 | 10:45:00 | 11:10:00 | |
| pokhara | Kathmandu | Simrik Airlines | SMA-154 | 12:45:00 | 13:10:00 | |
| Pokhara | Kathmadnu | Simrik Airlines | SMA-156 | 14:45:00 | 15:10:00 | |
| Kathmandu | Bhairahwa | Simrik Airlines | SMA-171 | 12:15:00 | 13:55:00 | |
| Bhairahwa | Kathmandu | Simrik Airlines | SMA-172 | 13:05:00 | 12:35:00 | |
| Kathmadu | Simara | Simrik Airlines | SMA-113 | 15:15:00 | 15:30:00 | |
| Simara | Kathmandu | Simrik Airlines | SMA-114 | 15:45:00 | 16:00:00 | |
| Pokhara | Jomsom | Simrik Airlines | RMK 1 | 06:30:00 | 06:45:00 | |
| Pokhara | Jomsom | Simrik Airlines | RMK 3 | 00:07:05 | 00:07:20 | |
| Jomsom | Pokhara | Simrik Airlines | RMK 2 | 06:50:00 | 06:55:00 | |
| Jomsom | Pokhara | Simrik Airlines | RMK 4 | 07:20:00 | 07:35:00 | |
| Kathmandu | Lukla | Goma Air | GMA402 | 07:10:00 | 07:40:00 | |
| Lukla | Kathmandu | Goma Air | GMA401 | 06:30:00 | 07:00:00 | |
| Kathmandu | Lukla | Goma Air | GAM403 | 07:55:00 | 08:24:00 | |
| Lukla | Kathmandu | Goma Air | GAM404 | 08:35:00 | 09:05:00 | |
| Kathmandu | Lukla | Goma Air | GMA405 | 09:20:00 | 09:50:00 | |
| Lukla | Kathmandu | Goma Air | GMA406 | 10:00:00 | 10:30:00 | |
| Kathmandu | Lukla | Goma Air | GMA407 | 10:40:00 | 11:09:00 | |
| Lukla | Kathmandu | Goma Air | GMA408 | 11:20:00 | 11:50:00 | |
| Phaplu | Kathmandu | Goma Air | GMA415 | 12:30:00 | 13:00:00 | |
| Khidanda | Kathmandu | Goma Air | GMA116 | 13:00:00 | 13:30:00 | |
| Talcha | Nepalgunj | Goma Air | GMA152 | 09:50:00 | 10:30:00 | |
| Nepalguj | Jumla | Goma Air | GMA161 | 14:00:00 | 14:35:00 | |
| Jumla | Nepalgunj | Goma Air | GMA162 | 14:45:00 | 15:20:00 | |
| Nepalgunj | Bajura | Goma Air | GMA171 | 11:45:00 | 12:20:00 | |
| Bajura | Nepalgunj | Goma Air | GMA172 | 12:30:00 | 13:05:00 | |
| Pokhara | Jomsom | Goma Air | GA 602 | 00:06:30 | 00:06:45 | |
| Pokhara | Jomsom | Goma Air | GA 604 | 00:06:50 | 00:07:05 | |
| Pokhara | Jomsom | Goma Air | GA 606 | 00:08:05 | 00:08:20 | |
| Jomsom | Pokhara | Goma Air | GA 602 | 00:06:45 | 00:07:00 | |
| Jomsom | Pokhara | Goma Air | GA 603 | 00:06:50 | 00:07:05 | |
| Jomsom | Pokhara | Goma Air | GA 605 | 00:08:30 | 00:08:45 | |
| Pokhara | Bharatpur | Buddha Air | 641 | 00:00:10 | 00:00:10 | |
| Bharatpur | Pokhara | Buddha Air | 642 | 00:00:10 | 00:00:11 | |
| Pokhara | Bhairahwa | Buddha Air | 681 | 00:00:11 | 00:00:11 | |
| Bhairahwa | Pokhara | Buddha Air | 682 | 00:00:11 | 00:00:13 | |
Flight Schedule
| Flight From | Flight To | Airlines | Flight No. | Flight Time | Arrival Time | |
| --- | --- | --- | --- | --- | --- | --- |
| Kathmandu | Pokhara | Yeti Airlines | YT 671 | 08:00:00 | 08:25:00 | |
| Kathmandu | Pokhara | Yeti Airlines | YT 673 | 08:05:00 | 08:30:00 | |
| Kathmandu | Pokhara | Buddha Air | U4 605 | 08:30:00 | 09:00:00 | |
| Kathmandu | Pokhara | Yeti Airlines | YT 675 | 09:10:00 | 09:35:00 | |
| Kathmandu | Pokhara | Buddha Air | U4 611 | 10:10:00 | 10:40:00 | |
| Kathmandu | Pokhara | Yeti Airlines | YT 677 | 10:50:00 | 11:15:00 | |
| Kathmandu | Pokhara | Buddha Air | U4 607 | 12:10:00 | 12:40:00 | |
| Kathmandu | Pokhara | Yeti Airlines | YT 679 | 12:30:00 | 12:55:00 | |
| Kathmandu | Pokhara | Buddha Air | U4 609 | 14:20:00 | 14:50:00 | |
| Kathmandu | Pokhara | Yeti Airlines | YT 683 | 14:50:00 | 15:15:00 | |
| Kathmandu | Pokhara | Yeti Airlines | YT 685 | 15:40:00 | 16:05:00 | |
| Pokhara | Kathmandu | Yeti Airlines | YT 672 | 08:45:00 | 09:10:00 | |
| Pokhara | Kathmandu | Yeti Airlines | YT 674 | 08:50:00 | 09:15:00 | |
| Pokhara | Kathmandu | Buddha Air | U4 606 | 09:20:00 | 09:50:00 | |
| Pokhara | Kathmandu | Yeti Airlines | YT 676 | 09:50:00 | 10:15:00 | |
| Pokhara | Kathmandu | Buddha Air | U4 612 | 11:00:00 | 11:30:00 | |
| Pokhara | Kathmandu | Yeti Airlines | YT 678 | 11:35:00 | 12:00:00 | |
| Pokhara | Kathmandu | Buddha Air | U4 608 | 13:00:00 | 13:30:00 | |
| Pokhara | Kathmandu | Yeti Airlines | YT 680 | 13:15:00 | 13:40:00 | |
| Pokhara | Kathmandu | Buddha Air | U4 610 | 15:10:00 | 15:40:00 | |
| Pokhara | Kathmandu | Yeti Airlines | YT 684 | 15:35:00 | 16:00:00 | |
| Pokhara | Kathmandu | Yeti Airlines | YT 686 | 16:25:00 | 16:50:00 | |
| Kathmandu | Bhairahawa | Yeti Airlines | 175 | 11:50:00 | 12:10:00 | |
| Bhairahawa | Kathmandu | Yeti Airlines | 176 | 12:30:00 | 12:50:00 | |
| Kathmandu | Dhangadhi | Yeti Airlines | 231 | 12:30:00 | 13:40:00 | |
| Dhangadhi | Kathmandu | Yeti Airlines | 232 | 14:00:00 | 15:10:00 | |
| Kathmandu | Mountain Flight | Yeti Airlines | 301 | 06:30:00 | 07:30:00 | |
| Kathmandu | Mountain Flight | Yeti Airlines | 302 | 06:30:00 | 07:30:00 | |
| Kathmandu | Mountain Flight | Yeti Airlines | 304 | 06:30:00 | 07:30:00 | |
| Kathmandu | Mountain Flight | Yeti Airlines | 305 | 06:35:00 | 07:35:00 | |
| Kathmandu | Mountain Flight | Yeti Airlines | 306 | 06:40:00 | 07:40:00 | |
| Kathmandu | Mountain Flight | Yeti Airlines | 307 | 06:45:00 | 07:45:00 | |
| Kathmandu | Mountain Flight | Yeti Airlines | 401 | 07:45:00 | 08:45:00 | |
| Kathmandu | Nepalgunj | Yeti Airlines | 421 | 09:20:00 | 10:15:00 | |
| Nepalgunj | Kathmandu | Yeti Airlines | 422 | 10:35:00 | 11:30:00 | |
| Kathmandu | Nepalgunj | Yeti Airlines | 423 | 15:50:00 | 16:45:00 | |
| Nepalgunj | Kathmandu | Yeti Airlines | 424 | 17:05:00 | 18:00:00 | |
| Kathmandu | Janakpur | Yeti Airlines | 571 | 10:30:00 | 10:55:00 | |
| Janakpur | Kathmandu | Yeti Airlines | 572 | 11:15:00 | 11:40:00 | |
| Kathmandu | Janakpur | Yeti Airlines | 573 | 15:40:00 | 16:05:00 | |
| Janakpur | Kathmandu | Yeti Airlines | 574 | 16:35:00 | 17:00:00 | |
| Kathmandu | Pokhara | Yeti Airlines | 681 | 14:10:00 | 14:35:00 | |
| Pokhara | Kathmandu | Yeti Airlines | 682 | 14:55:00 | 15:20:00 | |
| Kathmandu | Biratnagar | Yeti Airlines | 787 | 09:00:00 | 09:40:00 | |
| Biratnagar | Kathmandu | Yeti Airlines | 788 | 10:00:00 | 10:40:00 | |
| Kathmandu | Biratnagar | Yeti Airlines | 791 | 12:00:00 | 12:40:00 | |
| Biratnagar | Kathmandu | Yeti Airlines | 792 | 13:00:00 | 13:40:00 | |
| Kathmandu | Biratnagar | Yeti Airlines | 793 | 14:30:00 | 15:10:00 | |
| Biratnagar | Kathmandu | Yeti Airlines | 794 | 15:30:00 | 16:10:00 | |
| Kathmandu | Biratnagar | Yeti Airlines | 797 | 16:40:00 | 17:20:00 | |
| Biratnagar | Kathmandu | Yeti Airlines | 798 | 17:40:00 | 18:20:00 | |
| Kathmandu | Bhairahawa | Yeti Airlines | 891 | 09:20:00 | 09:50:00 | |
| Bhairahawa | Kathmandu | Yeti Airlines | 892 | 10:10:00 | 10:40:00 | |
| Kathmandu | Bhairahawa | Yeti Airlines | 893 | 16:30:00 | 17:00:00 | |
| Bhairahawa | Kathmandu | Yeti Airlines | 894 | 17:20:00 | 17:50:00 | |
| Kathmandu | Bhadrapur | Yeti Airlines | 921 | 10:10:00 | 10:55:00 | |
| Bhadrapur | Kathmandu | Yeti Airlines | 922 | 11:15:00 | 12:00:00 | |
| Kathmandu | Bhadrapur | Yeti Airlines | 925 | 13:50:00 | 14:35:00 | |
| Bhadrapur | Kathmandu | Yeti Airlines | 926 | 14:55:00 | 15:40:00 | |
| Kathmandu | Tumlingtar | Yeti Airlines | 751 | 11:10:00 | 11:45:00 | |
| Tumlingtar | Kathmandu | Yeti Airlines | 752 | 12:05:00 | 12:40:00 | |
| Kathmandu | Mountain Flight | Buddha Air | U4 102 | 06:15:00 | 07:15:00 | |
| Kathmandu | Mountain Flight | Buddha Air | U4 104 | 06:15:00 | 07:15:00 | |
| Kathmandu | Mountain Flight | Buddha Air | U4 100 | 06:15:00 | 07:15:00 | |
| Kathmandu | Mountain Flight | Buddha Air | U4 201 | 07:15:00 | 08:15:00 | |
| Kathmandu | Mountain Flight | Buddha Air | U4 202 | 07:15:00 | 08:15:00 | |
| Kathmandu | Mountain Flight | Buddha Air | U4 203 | 07:15:00 | 08:15:00 | |
| Kathmandu | Mountain Flight | Yeti Airlines | U4 204 | 08:00:00 | 09:00:00 | |
| Kathmandu | Bhadrapur | Buddha Air | U4 951 | 10:00:00 | 10:50:00 | |
| Kathmandu | Bhadrapur | Buddha Air | U4 953 | 13:40:00 | 14:30:00 | |
| Kathmandu | Bhairahawa | Buddha Air | U4 851 | 09:00:00 | 09:35:00 | |
| Kathmandu | Bhairahawa | Buddha Air | U4 853 | 13:30:00 | 14:05:00 | |
| Kathmandu | Bhairahawa | Buddha Air | U4 855 | 16:40:00 | 17:15:00 | |
| Kathmandu | Bharatpur | Buddha Air | U4 351 | 10:50:00 | 11:10:00 | |
| Kathmandu | Bharatpur | Buddha Air | U4 353 | 14:20:00 | 14:40:00 | |
| Kathmandu | Biratnagar | Buddha Air | U4 703 | 07:45:00 | 08:25:00 | |
| Kathmandu | Biratnagar | Buddha Air | U4 705 | 10:00:00 | 10:40:00 | |
| Kathmandu | Biratnagar | Buddha Air | U4 707 | 12:20:00 | 13:00:00 | |
| Kathmandu | Biratnagar | Buddha Air | U4 709 | 14:40:00 | 15:20:00 | |
| Kathmandu | Biratnagar | Buddha Air | U4 713 | 15:50:00 | 16:30:00 | |
| Kathmandu | Biratnagar | Buddha Air | U4 711 | 16:50:00 | 17:30:00 | |
| Kathmandu | Dhangadi | Buddha Air | U4 251 | 12:30:00 | 13:40:00 | |
| Kathmandu | Janakpur | Buddha Air | U4 501 | 09:30:00 | 09:55:00 | |
| Kathmandu | Janakpur | Buddha Air | U4 505 | 15:10:00 | 15:35:00 | |
| Kathmandu | Nepalgunj | Buddha Air | U4 451 | 08:00:00 | 09:00:00 | |
| Kathmandu | Nepalgunj | Buddha Air | U4 405 | 16:10:00 | 17:10:00 | |
| Kathmandu | Pokhara | Yeti Airlines | U4 601 | 07:40:00 | 08:10:00 | |
| Kathmandu | Pokhara | Buddha Air | U4 603 | 08:30:00 | 09:00:00 | |
| Kathmandu | Pokhara | Buddha Air | U4 617 | 15:20:00 | 15:50:00 | |
| Kathmandu | Simara | Buddha Air | U4 551 | 09:30:00 | 09:45:00 | |
| Kathmandu | Simara | Buddha Air | U4 553 | 10:30:00 | 10:45:00 | |
| Kathmandu | Simara | Buddha Air | U4 555 | 12:00:00 | 12:15:00 | |
| Kathmandu | Simara | Buddha Air | U4 559 | 14:00:00 | 14:15:00 | |
| Kathmandu | Simara | Buddha Air | U4 561 | 15:00:00 | 15:15:00 | |
| Kathmandu | Simara | Buddha Air | U4 563 | 16:00:00 | 16:15:00 | |
| Kathmandu | Surkhet | Buddha Air | U4 133 | 13:10:00 | 14:15:00 | |
| Kathmandu | Tumlingtar | Buddha Air | U4 281 | 10:20:00 | 10:55:00 | |
| Bhadrapur | Kathmandu | Buddha Air | U4 952 | 11:15:00 | 12:05:00 | |
| Bhadrapur | Kathmandu | Buddha Air | U4 954 | 14:55:00 | 15:45:00 | |
| Bhairahawa | Kathmandu | Buddha Air | U4 852 | 09:55:00 | 10:30:00 | |
| Bhairahawa | Kathmandu | Buddha Air | U4 854 | 14:20:00 | 14:55:00 | |
| Bhairahawa | Kathmandu | Buddha Air | U4 856 | 17:35:00 | 18:10:00 | |
| Bharatpur | Kathmandu | Buddha Air | U4 352 | 11:30:00 | 11:50:00 | |
| Bharatpur | Kathmandu | Buddha Air | U4 356 | 14:55:00 | 15:15:00 | |
| Biratnagar | Kathmandu | Buddha Air | U4 704 | 08:50:00 | 09:30:00 | |
| Biratnagar | Kathmandu | Buddha Air | U4 706 | 11:05:00 | 11:45:00 | |
| Biratnagar | Kathmandu | Buddha Air | U4 708 | 13:25:00 | 14:05:00 | |
| Biratnagar | Kathmandu | Buddha Air | U4 710 | 15:45:00 | 16:25:00 | |
| Biratnagar | Kathmandu | Buddha Air | U4 714 | 16:50:00 | 17:30:00 | |
| Biratnagar | Kathmandu | Buddha Air | U4 712 | 17:55:00 | 18:35:00 | |
| Biratnagar | Tumlingtar | Buddha Air | U4 692 | 11:45:00 | 12:00:00 | |
| Dhangadhi | Kathmandu | Buddha Air | U4 252 | 14:05:00 | 15:15:00 | |
| Janakpur | Kathmandu | Buddha Air | U4 502 | 10:15:00 | 10:40:00 | |
| Janakpur | Kathmandu | Buddha Air | U4 506 | 15:55:00 | 16:20:00 | |
| Nepalgunj | Kathmandu | Buddha Air | U4 452 | 09:20:00 | 10:20:00 | |
| Nepalgunj | Kathmandu | Buddha Air | U4 406 | 17:40:00 | 18:40:00 | |
| Pokhara | Kathmandu | Buddha Air | U4 602 | 08:30:00 | 09:00:00 | |
| Pokhara | Kathmandu | Buddha Air | U4 618 | 16:10:00 | 16:40:00 | |
| Simara | Kathmandu | Buddha Air | U4 552 | 09:50:00 | 10:05:00 | |
| Simara | Kathmandu | Buddha Air | U4 554 | 10:50:00 | 11:05:00 | |
| Simara | Kathmandu | Buddha Air | U4 556 | 12:20:00 | 12:35:00 | |
| Simara | Kathmandu | Buddha Air | U4 560 | 14:20:00 | 14:35:00 | |
| Simara | Kathmandu | Buddha Air | U4 562 | 15:20:00 | 15:35:00 | |
| Simara | Kathmandu | Buddha Air | U4 564 | 16:20:00 | 16:35:00 | |
| Surkhet | Kathmandu | Buddha Air | U4 134 | 14:30:00 | 15:35:00 | |
| Tumlingtar | Biratnagar | Buddha Air | U4 691 | 11:10:00 | 11:25:00 | |
| Tumlingtar | Kathmandu | Buddha Air | U4 282 | 12:20:00 | 12:55:00 | |
| Kathmandu | Lukla | Simrik Airlines | RMK-102 | 07:15:00 | 07:45:00 | |
| Kathmandu | Lukla | Simrik Airlines | RMK-103 | 08:00:00 | 08:30:00 | |
| Lukla | Kathmandu | Simrik Airlines | RMK-104 | 08:45:00 | 09:15:00 | |
| Kathmandu | Lukla | Simrik Airlines | RMK-105 | 09:30:00 | 10:00:00 | |
| Lukla | Kathmandu | Simrik Airlines | RMK-106 | 10:15:00 | 10:45:00 | |
| Kathmandu | Lukla | Simrik Airlines | RMK-107 | 11:00:00 | 11:30:00 | |
| Lukla | Kathmandu | Simrik Airlines | RMK-108 | 11:45:00 | 12:15:00 | |
| Kathmandu | Lukla | Simrik Airlines | RMK-109 | 14:00:00 | 14:30:00 | |
| Lukla | Kathmandu | Simrik Airlines | RMK-110 | 14:45:00 | 15:15:00 | |
| Kathmandu | Lukla | Simrik Airlines | RMK-301 | 06:30:00 | 07:00:00 | |
| Lukla | Kathmandu | Simrik Airlines | RMK-302 | 07:15:00 | 07:45:00 | |
| Kathmandu | Lukla | Simrik Airlines | RMK-303 | 08:00:00 | 08:30:00 | |
| Lukla | Kathmandu | Simrik Airlines | RMK-304 | 08:45:00 | 09:15:00 | |
| Kathmandu | Lukla | Simrik Airlines | RMK-305 | 09:30:00 | 10:00:00 | |
| Lukla | Kathmandu | Simrik Airlines | RMK-306 | 10:15:00 | 10:45:00 | |
| Kathmandu | Lukla | Simrik Airlines | RMK-307 | 11:00:00 | 11:30:00 | |
| Lukla | Kathmandu | Simrik Airlines | RMK-308 | 11:45:00 | 12:15:00 | |
| Phaplu | Kathmandu | Goma Air | GMA416 | 13:00:00 | 13:30:00 | |
| Pokhara | Jomsom | Tara Air | TA - CHT | 06:00:00 | 06:20:00 | |
| Jomsom | Pokhara | Tara Air | TA- CHT | 06:25:00 | 06:45:00 | |
| Pokhara | Jomsom | Tara Air | TA - CHT | 06:50:00 | 07:10:00 | |
| Jomsom | Pokhara | Tara Air | TA - CHT | 07:15:00 | 07:30:00 | |
| Pokhara | Jomsom | Tara Air | TA - CHT | 07:40:00 | 07:55:00 | |
| Jomsom | Pokhara | Tara Air | TA-CHT | 08:00:00 | 08:15:00 | |
| Kathmandu | Khanedada | Goma Air | GAM115 | 14:00:00 | 14:30:00 | |
| Kathmandu | Mountain Flight | Saurya Airlines | S1-101 | 06:30:00 | 07:15:00 | |
| Kathmandu | Mountain Flight | Saurya Airlines | S1-604 | 07:30:00 | 08:15:00 | |
| Kathmandu | Mountain Flight | Saurya Airlines | S1-605 | 07:30:00 | 08:15:00 | |
| Kathmandu | Mountain Flight | Saurya Airlines | S1-601 | 06:30:00 | 07:15:00 | |
| Kathmandu | Mountain Flight | Saurya Airlines | S1-602 | 06:30:00 | 07:15:00 | |
| Kathmandu | Taplejung | Goma Air | GMA118 | 10:30:00 | 11:20:00 | |
| Taplejung | Kathmandu | Goma Air | 119 | 11:35:00 | 12:20:00 | |
| Kathmandu | Tumlingtar | Goma Air | GMA101 | 13:00:00 | 13:40:00 | |
| Tumlingtar | Kahmandu | Goma Air | Gma102 | 13:54:00 | 14:35:00 | |
| Kathmandu | Biratnagar | Saurya Airlines | S1-801 | 09:00:00 | 09:40:00 | |
| Biratnagar | Kathmandu | Saurya Airlines | S1-802 | 09:50:00 | 10:30:00 | |
| Kathmandu | Biratnagar | Saurya Airlines | S1-805 | 12:30:00 | 13:10:00 | |
| Biratnagar | Kathmandu | Saurya Airlines | S1-806 | 13:20:00 | 13:50:00 | |
| Kathmandu | Biratnagar | Saurya Airlines | S1-807 | 16:30:00 | 17:05:00 | |
| Biratnagar | Kathmandu | Saurya Airlines | S1-808 | 17:20:00 | 18:55:00 | |
| Kathmandu | Bhadrapur | Saurya Airlines | S1-901 | 10:30:00 | 11:20:00 | |
| Bhadrapur | Kathmandu | Saurya Airlines | S1-902 | 11:30:00 | 12:20:00 | |
| Kathmandu | Bhadrapur | Saurya Airlines | S1-903 | 12:50:00 | 13:40:00 | |
| Bhadrapur | Kathmandu | Saurya Airlines | S1-904 | 13:50:00 | 14:40:00 | |
| Nepalgunj | Talcha | Goma Air | GMA151 | 08:30:00 | 09:39:00 | |
| Humla | Nepalgunj | Goma Air | GMA142 | 07:30:00 | 08:15:00 | |
| Nepalgunj | Humla | Goma Air | GMA141 | 06:30:00 | 07:15:00 | |
| Kathmandu | Lukla | Tara Airlines | TA 103 | 06:35:00 | 07:10:00 | |
| Kathmandu | Lukla | Tara Airlines | TA CHT | 06:40:00 | 07:15:00 | |
| Kathmandu | Lukla | Tara Airlines | TA CHT | 08:10:00 | 08:45:00 | |
| Kathmandu | Lukla | Tara Airlines | TA CHT | 08:15:00 | 08:50:00 | |
| Kathmandu | Lukla | Tara Airlines | TA CHT | 08:20:00 | 08:55:00 | |
| Kathmandu | Lukla | Tara Airlines | TA CHT | 09:50:00 | 10:25:00 | |
| Kathmandu | Lukla | Tara Airlines | TA CHT | 11:30:00 | 12:05:00 | |
| Kathmandu | Lukla | Tara Airlines | TA CHT | 11:35:00 | 12:10:00 | |
| Kathmandu | Lukla | Tara Airlines | TA CHT | 11:40:00 | 12:15:00 | |
| Kathmandu | Lukla | Tara Airlines | TA CHT | 13:20:00 | 13:55:00 | |
| Kathmandu | Phaplu | Tara Airlines | TA 181 (1,5) | 09:55:00 | 10:30:00 | |
| Kathmandu | Lamidanda | Tara Airlines | TA 191 (3,7) | 10:00:00 | 10:35:00 | |
| Kathmandu | Ramechhap | Tara Airlines | TA 431 (5) | 13:05:00 | 13:30:00 | |
| Lukla | Kathmandu | Tara Airlines | TA CHT | 07:25:00 | 08:00:00 | |
| Lukla | Kathmandu | Tara Airlines | TA CHT | 07:30:00 | 08:05:00 | |
| Lukla | Kathmandu | Tara Airlines | TA CHT | 09:00:00 | 09:35:00 | |
| Lukla | Kathmandu | Tara Airlines | TA CHT | 09:05:00 | 09:40:00 | |
| Lukla | Kathmandu | Tara Airlines | TA CHT | 09:10:00 | 09:45:00 | |
| Lukla | Kathmandu | Tara Airlines | TA CHT | 10:40:00 | 11:15:00 | |
| Lukla | Kathmandu | Tara Airlines | TA CHT | 12:20:00 | 12:55:00 | |
| Lukla | Kathmandu | Tara Airlines | TA CHT | 12:25:00 | 13:00:00 | |
| Lukla | Kathmandu | Tara Airlines | TA CHT | 12:30:00 | 13:05:00 | |
| Lukla | Kathmandu | Tara Airlines | TA CHT | 14:10:00 | 14:45:00 | |
| Phaplu | Kathmandu | Tara Airlines | TA 182 (1,5) | 10:45:00 | 11:20:00 | |
| Lamidanda | Kathmandu | Tara Airlines | TA 192 (3,7) | 10:50:00 | 11:25:00 | |
| Ramechhap | Kathmandu | Tara Airlines | TA 432 (5) | 15:10:00 | 15:35:00 | |
| Nepalgunj | Dolpo | Tara Airlines | TA 717 (1) | 06:30:00 | 07:15:00 | |
| Nepalgunj | Rara | Tara Airlines | TA 715 (5) | 06:30:00 | 07:20:00 | |
| Nepalgunj | Simikot | Tara Airlines | TA 711 (4) | 06:30:00 | 07:30:00 | |
| Nepalgunj | Jumla | Tara Airlines | TA 713 (6) | 06:30:00 | 07:15:00 | |
| Nepalgunj | Bajura | Tara Airlines | TA 722 (3) | 06:30:00 | 07:05:00 | |
| Dolpo | Nepalgunj | Tara Airlines | TA 718 (1) | 07:30:00 | 08:15:00 | |
| Rara | Nepalgunj | Tara Airlines | TA 716 (5) | 07:35:00 | 08:25:00 | |
| Simikot | Nepalgunj | Tara Airlines | TA 712 (4) | 07:45:00 | 08:45:00 | |
| Jumla | Nepalgunj | Tara Airlines | TA 714 (6) | 07:30:00 | 08:15:00 | |
| Bajura | Nepalgunj | Tara Airlines | TA 722 (3) | 07:20:00 | 07:55:00 | |
| Surkhet | Simikot | Tara Airlines | TA 719 (7) | 06:30:00 | 07:15:00 | |
| Surkhet | Dolpo | Tara Airlines | TA 709 (2) | 06:30:00 | 07:10:00 | |
| Surkhet | Jumla | Tara Airlines | TA 723 (2) | 08:20:00 | 08:45:00 | |
| Simikot | Surkhet | Tara Airlines | TA 720 (7) | 07:30:00 | 08:15:00 | |
| Dolpo | Surkhet | Tara Airlines | TA 710 (2) | 07:25:00 | 08:05:00 | |
| Jumla | Surkhet | Tara Airlines | TA 724 (3) | 09:00:00 | 09:25:00 | |
| Kathmandu | Pokhara | Tara Airlines | TA 227 | 15:30:00 | 16:00:00 | |
| Kathmandu | Lukla | Tara Airlines | TA 095 | 06:30:00 | 07:00:00 | |
| Kathmandu | Lukla | Tara Airlines | TA 097 | 08:00:00 | 08:30:00 | |
| Kathmandu | Lukla | Tara Airlines | TA 099 | 09:30:00 | 10:00:00 | |
| Lukla | Kathmandu | Tara Airlines | TA 096 | 07:15:00 | 07:45:00 | |
| Lukla | Kathmandu | Tara Airlines | TA 098 | 08:45:00 | 09:15:00 | |
| Lukla | Kathmandu | Tara Airlines | TA 100 | 10:15:00 | 10:45:00 | |
| Pokhara | Kathmandu | Tara Airlines | TA 228 | 09:30:00 | 10:00:00 | |
| Pokhara | Jomsom | Tara Airlines | TA 193 | 06:30:00 | 06:50:00 | |
| Jomsom | Pokhara | Tara Airlines | TA 194 | 07:05:00 | 07:25:00 | |
| Kathmandu | Mountain Flight | Simrik Airlines | SMA -100 | 06:30:00 | 07:30:00 | |
| Kathmandu | Mountain Flight | Simrik Airlines | SMA-102 | 06:30:00 | 07:30:00 | |
| Kathmandu | Mountain Flight | Simrik Airlines | SMA-200 | 07:45:00 | 08:45:00 | |
| Kathmandu | Mountain Flight | Simrik Airlines | SMA-201 | 07:45:00 | 08:45:00 | |
| Kathmandu | Pokhara | Simrik Airlines | SMA-151 | 10:00:00 | 10:25:00 | |
| Kathmandu | Pokhara | Simrik Airlines | SMA-153 | 12:00:00 | 12:25:00 | |
| Kathmandu | Pokhara | Simrik Airlines | SMA-155 | 14:00:00 | 14:25:00 | |
| Pokhara | Kathmandu | Simrik Airlines | SMA-152 | 10:45:00 | 11:10:00 | |
| pokhara | Kathmandu | Simrik Airlines | SMA-154 | 12:45:00 | 13:10:00 | |
| Pokhara | Kathmadnu | Simrik Airlines | SMA-156 | 14:45:00 | 15:10:00 | |
| Kathmandu | Bhairahwa | Simrik Airlines | SMA-171 | 12:15:00 | 13:55:00 | |
| Bhairahwa | Kathmandu | Simrik Airlines | SMA-172 | 13:05:00 | 12:35:00 | |
| Kathmadu | Simara | Simrik Airlines | SMA-113 | 15:15:00 | 15:30:00 | |
| Simara | Kathmandu | Simrik Airlines | SMA-114 | 15:45:00 | 16:00:00 | |
| Pokhara | Jomsom | Simrik Airlines | RMK 1 | 06:30:00 | 06:45:00 | |
| Pokhara | Jomsom | Simrik Airlines | RMK 3 | 00:07:05 | 00:07:20 | |
| Jomsom | Pokhara | Simrik Airlines | RMK 2 | 06:50:00 | 06:55:00 | |
| Jomsom | Pokhara | Simrik Airlines | RMK 4 | 07:20:00 | 07:35:00 | |
| Kathmandu | Lukla | Goma Air | GMA402 | 07:10:00 | 07:40:00 | |
| Lukla | Kathmandu | Goma Air | GMA401 | 06:30:00 | 07:00:00 | |
| Kathmandu | Lukla | Goma Air | GAM403 | 07:55:00 | 08:24:00 | |
| Lukla | Kathmandu | Goma Air | GAM404 | 08:35:00 | 09:05:00 | |
| Kathmandu | Lukla | Goma Air | GMA405 | 09:20:00 | 09:50:00 | |
| Lukla | Kathmandu | Goma Air | GMA406 | 10:00:00 | 10:30:00 | |
| Kathmandu | Lukla | Goma Air | GMA407 | 10:40:00 | 11:09:00 | |
| Lukla | Kathmandu | Goma Air | GMA408 | 11:20:00 | 11:50:00 | |
| Phaplu | Kathmandu | Goma Air | GMA415 | 12:30:00 | 13:00:00 | |
| Khidanda | Kathmandu | Goma Air | GMA116 | 13:00:00 | 13:30:00 | |
| Talcha | Nepalgunj | Goma Air | GMA152 | 09:50:00 | 10:30:00 | |
| Nepalguj | Jumla | Goma Air | GMA161 | 14:00:00 | 14:35:00 | |
| Jumla | Nepalgunj | Goma Air | GMA162 | 14:45:00 | 15:20:00 | |
| Nepalgunj | Bajura | Goma Air | GMA171 | 11:45:00 | 12:20:00 | |
| Bajura | Nepalgunj | Goma Air | GMA172 | 12:30:00 | 13:05:00 | |
| Pokhara | Jomsom | Goma Air | GA 602 | 00:06:30 | 00:06:45 | |
| Pokhara | Jomsom | Goma Air | GA 604 | 00:06:50 | 00:07:05 | |
| Pokhara | Jomsom | Goma Air | GA 606 | 00:08:05 | 00:08:20 | |
| Jomsom | Pokhara | Goma Air | GA 602 | 00:06:45 | 00:07:00 | |
| Jomsom | Pokhara | Goma Air | GA 603 | 00:06:50 | 00:07:05 | |
| Jomsom | Pokhara | Goma Air | GA 605 | 00:08:30 | 00:08:45 | |
| Pokhara | Bharatpur | Buddha Air | 641 | 00:00:10 | 00:00:10 | |
| Bharatpur | Pokhara | Buddha Air | 642 | 00:00:10 | 00:00:11 | |
| Pokhara | Bhairahwa | Buddha Air | 681 | 00:00:11 | 00:00:11 | |
| Bhairahwa | Pokhara | Buddha Air | 682 | 00:00:11 | 00:00:13 | |